The second NFL title contest to be played today, January 20, is the AFC Championship game. The game has a scheduled 6:40 pm ET kickoff and will be played on the Chiefs home turf, Arrowhead Stadium in Kansas City, MO. Our Chiefs vs Patriots pick has Kansas City favored by 3.0 points. When these two teams met in the regular season on October 14 at Gillette Stadium in Foxboro, MA, New England took the game 43-40. As can be seen, the three-point spread is due to Kansas City's home-field edge today.
Young vs Old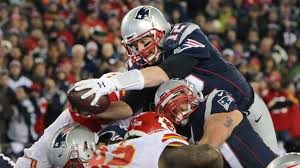 Obviously, this Chiefs vs Patriots pick features two very talented quarterbacks, Tom Brady and Patrick Mahomes. Brady, who is 41 years old, had a productive season, passing for over 4,300 yards and 29 TDs. He completed 65.8% of his passes this season while throwing 11 INTs and being sacked 21 times. Brady likes to spread out his passes amongst his receivers. He has five pass catchers with 500 or more yardsand each has three or more TD catches. His top receiver is the elusive Julian Edelman, who covered 850 yards on 74 receptions. Edelman scored six times. James White led the team with seven TD catches and 87 receptions.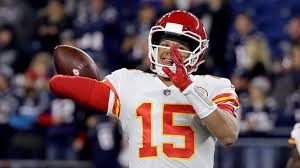 Mahomes, who's 23 years old and in his second NFL season, tossed 50 TD passes this season and 12 picks. Completing 66.0% of his passes, He threw for over 5,000 yards while being sacked 26 times. Mahomes tends to focus on two massive talents, WR Tyreek Hill and TE Travis Kelce. Hill caught 87 passes for close to 1,500 yards and scored 12 touchdowns. Kelce took in 103 passes for over 1,300 yards. He scored 10 TDs. WR Sammy Watkins is also a solid talent. He caught 40 passes and scored three times this season.
Who has the advantage? In terms of depth and experience, the Pats do. KC has the edge when it comes to top receiving talent. Brady versus Mahomes? You have to go with Brady, just because.
Edge: New England
Will Defenses Perform Well?
A big question for our Chiefs vs Patriots pick concerns defense. The New England defense has performed well, limiting opponents to 20.3 PPG. Kansas City has allowed opponents 26.3 PPG. The Pats have been tough versus the run, holding teams to 112.7 YPG. Their passing D has given up 246.4 YPG. New England tops the Chiefs in both areas, as KC is allowing 132.1 YPG in rushing and 273.4 YPG in passing.
The Pats grabbed 18 picks, forced 16 fumbles, and recovered 10. They've posted a mediocre 30 sacks. Kansas City does bring some excellent stats to the game. They made 52 sacks, 89.5 TFL, and forced 25 fumbles while recovering 12. The Chiefs' secondary took in15 INTs. If the Pats' secondary is weak, the Chiefs' is weaker. We're giving New England a slight advantage.
Edge: New England
Keys to Chiefs vs Patriots Pick
New England offensive line, which was stellar vs Chargers, allowed RB Sony Michele to succeed
Pats' red zone D overall better than KC's by 9 points, but 9 points worse on road
Can Chiefs run?
Mahomes inexperience vs Brady's playoff chops
Chief pass rushers need to pressure Brady
Edge: Even
Our Kansas City vs New England Spread Pick
Our Chiefs vs Patriots pick is going with New England on the road. We do think that the Patriots will be able to make headway against the KC defense. At the same time, we expect this to be a close one. New England gets three points, and we'll take that. For the over/under on this game, click here.
Summary Chiefs vs Patriots Pick – New England at +3.0