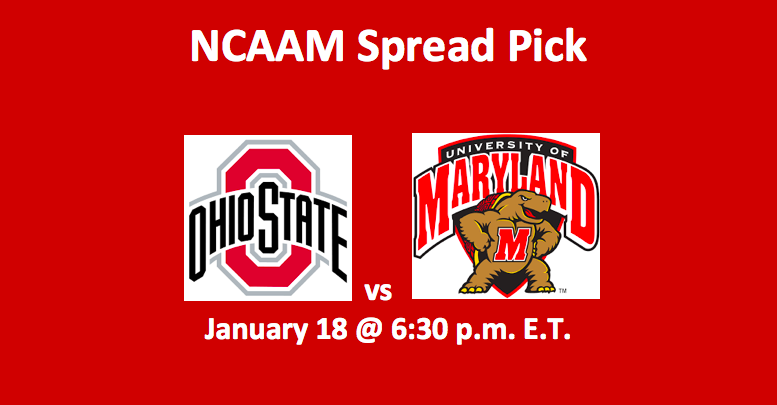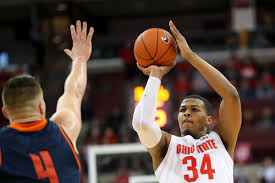 The Ohio State Buckeyes (12-4 Overall, 2-3 Big 10) welcome the #19 Maryland Terrapins (15-3 Overall, 6-1 Big 10) tonight for a 6:30 pm ET tipoff at Value City Arena in Columbus, OH. Our OSU versus Maryland pick has the struggling Buckeyes favored by 3.0 to 3.5 over the streaking Terrapins. After going on a six-game winning streak, Ohio State has lost their last three games, including an 86-77 loss to #8 Michigan State. OSU last played on January 12 when they were beaten by Iowa 72-62. On the other hand, the Terrapins are on a six-game winning streak and are 8-2 for their last 10 games. Their last half-dozen wins include a 74-72 victory over #24 Nebraska and a big 78-75 win over #22 Indiana. They last played on January 14 when they beat Wisconsin 64-60.
Important Statistical Differences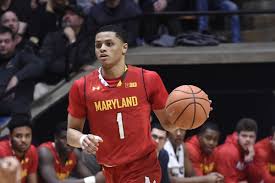 Statistically, these two teams are just about equal in almost every category. Along with each scoring about 76 PPG and allowing 65 PPG, shooting percentages in every area are with a point or two. But there's one specific area that could be important in this game. That's rebounds per game and, along with that, the sub-category of offensive rebounds per game. Here's how these two stats compare and what their significance may be in deciding which way to bet this matchup between the Buckeyes and Terrapins.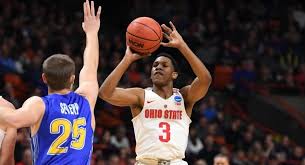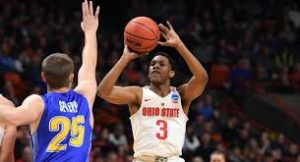 OSU is bringing down 36 RPG and Maryland 40 RPG. Along with that, the Buckeyes are capturing 9.8 ORPG while the Terrapins are grabbing 12 ORPG. That's a takeaway of four overall for Maryland and 2.2 when it comes to additional shots. Depending on accuracy, that can give Maryland anywhere from six to 12 additional points in the game. Then again, OSU is putting up one more three-point shot per game than the visitors. With the two teams hitting about 36% of their threes, that extra show lessens the Terrapins' rebounding advantage as the home team has the possibility of being +3 points on threes.
Still, our OSU versus Maryland pick, gives the Terrapins a slight advantage here.
Edge: Maryland
Players
If you're looking for the better of the two starting five, then Maryland takes that specific category. However, if you're considering overall depth and guys who can give you solid minutes that include point production, OSU tops the Terrapins.
Maryland
The Terrapin backcourt is strong, as junior Anthony Cowan Jr. provides excellent shooting chops and fine ball distribution skills. Cowan is averaging 17.8 PPG and 4.4 APG. He leads the team in both areas. In front, sophomore forward Bruno Fernando is second in points per game with 14.6 and first in rebounds with 9.9. He's also hitting 68% of his field goals and 40% of his threes while making 2.2 BPG. Freshman forward Jalen Smith is also a very dangerous shooter, connecting on 50% of his field goals while putting in 12.2 PPG and taking down 7.4 RPG. Also watch freshman guard Eric Ayala, as he's completing 47% of his field goals and three-point shots.
Ohio State
For the Buckeyes, two players make this team go. In front, it's sophomore forward Kaleb Wesson, and in back, it's senior guard C.J. Jackson. Wesson is averaging 16.4 PPG and taking in 6.9 RPG. Jackson, who's second on the team in scoring, has been good for 12.9 PPG and 3.9 APG. Wesson is hitting 32% of his threes and Jackson 41%. Freshman guard Luther Mohammed, a 45% shooter from the field and 42% from downtown, is putting in 9.5 APG. Four players are good for approximately 7.5 PPG each.
In considering each team's roster, our OSU versus Maryland pick finds that the Terrapins have a better inside game and, also, an outside game that's a bit more on target than tonight's opponents. We do like OSU's depth, but we find Maryland tops the Buckeyes when it comes to player personnel.
Edge: Maryland
Five Keys to OSU vs Maryland
Maryland can and must control boards
OSU has to outdo Terrapins at perimeter
Can Buckeye bench come up big?
Terrapins have three starters who can put up points quickly
All other things being equal, Maryland should keep it close
Edge: Maryland
Our OSU Versus Maryland Pick
Here we go with our OSU versus Maryland pick. The spread is small, partly due to the recent travails of the Buckeyes and also because these two teams are very close when it comes to stats. But we do think that the Terrapin starters have a bit more going for them, and that they will perform well tonight. Our OSU vs Maryland pick is the visiting Terrapins at +3.5. For another analysis of this college basketball game, check out Ryan's preview of Ohio State and Maryland.
Summary Ohio State vs Maryland Pick- Maryland at +3.5