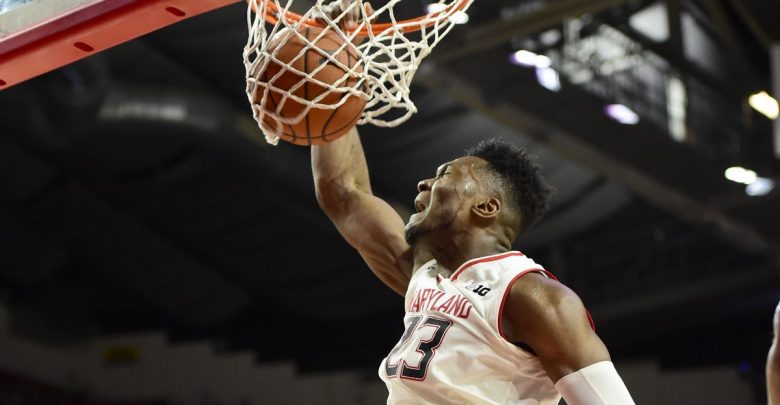 The college basketball weekend gets started off right with a marquee Big Ten matchup between the no. 19 Maryland Terrapins and Ohio State Buckeyes. At home, the Buckeyes are listed as 2.5-point favorites.
At the moment, the Terrapins appear to be the best team in the Big Ten outside the state of Michigan. After surviving a comeback attempt from Wisconsin on Monday night, Maryland has won six games in a row to make them 15-3 overall and 6-1 in conference play. To be fair, the Terrapins are lacking marquee wins outside the league, but they've taken care of business against the Big Ten portion of their schedule.
The Buckeyes, on the other hand, have lost their last three games, falling to Michigan State, Rutgers, and Iowa. Early-season wins against the likes of Cincinnati and Creighton are now a distant memory for Ohio State. Despite going 10-1 in the non-conference season, the Buckeyes have fallen into the middle of the pack in the Big Ten despite being 12-4 overall.
A Matter of Youth
Despite a couple of seniors mixed in, the backbone of Ohio State's team is made up of freshmen and sophomores. The Buckeyes appear to be lacking both leadership and consistency. Whether it's a poor offensive showing or an abundance of turnovers, something has inevitably gone wrong for the Buckeyes since the calendar flipped to January to prevent them from winning games.
The only real solution for Ohio State to get back on track, especially against a red-hot Maryland team, is for their young players to start growing up. Sophomore Kaleb Wesson is the team's leading scorer, but he was held to just two points last time out against Iowa. The Buckeyes surely can't survive such a poor performance from their best player. If Wesson and the other young players can't start showing more consistency, it'll be up to senior C.J. Jackson and grad transfer Keyshawn Woods to step up and take ownership of the team.
Do No Wrong
Three of Maryland's last five games have been decided by four points or less, but the Terrapins have always found a way to pull out the win. Junior Anthony Cowan has been a big reason why. He's averaging 21 points per game during that five-game stretch. His prowess as a scorer is helping to free up freshmen sharpshooters Eric Ayala and Aaron Wiggins, who are both shooting over 40% from the perimeter.
Meanwhile, the Terrapins have two big men in the frontcourt who are capable scorers, which has become a rarity in college basketball. Both Bruno Fernando and Jalen Smith are listed at 6'10'' and averaging double figures. Either one is capable of going off for a big game on any given night. Perhaps more importantly, the pair combines for 17 rebounds and over three blocks per game, as they impact games in multiple ways.
Overwhelmed
Ohio State should have a nice home-court advantage on a Friday night, which should be helpful. But they've also lost to quality opponents in Syracuse and Michigan State at home, so Columbus isn't exactly a fortress. Ultimately, the young Buckeyes will be overwhelmed by the balance and overall talent Maryland can put on the floor. The Terps have too many scorers who can hurt Ohio State. Bet on Maryland beating Ohio State as a road underdog.