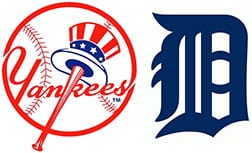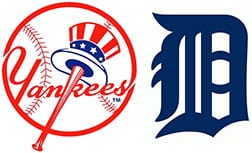 Overview
The Detroit Tigers are in Yankee Stadium again today where they take on the Yankees in the second game of a three game series. The Yankees won the first game on another surprisingly good outing from CC Sabathia who pitched seven scoreless innings.
Head to Head Trends
Tigers are 19-40 in the last 59 meetings in New York.
Tigers are 0-8 in Verlanders last 8 road starts vs. Yankees.
New York Yankees (-125)
The New York Yankees are 4th in the American League East with a 31-30 record 5.5 games out of 1st place. It was just a couple weeks ago the Yankees were struggling and couldn't buy a hit but it looks like they are finally hitting the way most people thought they would batting .300 as a team and averaging 5.20 runs per game over their last 10 games.
On the hill for the Yankees in this one is Masahiro Tanaka who is 3-1 with a 2.76 ERA on the season. Tanaka is quietly putting together a solid season he may be flying a bit under the radar because he has just 3 wins on the season but the Yankees have won 8 of his starts and he's also allowed 2 runs or less in 10 of his 12 starts this season.
New York Yankees Trends
Yankees are 5-0 in their last 5 overall.
Yankees are 5-0 in Tanakas last 5 home starts.
Detroit Tigers (+115)
The Detroit Tigers are 4th in the American League Central with a 30-30 record 4 games back of the 1st place Cleveland Indians. The Tigers have played some decent ball this season but it seems like they are either red hot or ice cold with not much middle ground. The Tigers just finished a 5 game win streak a few days ago but since then they have lost their last 2 games so lets hope this is another one of their red hot to ice cold streaks they have been on most of the season.
Starting for the Tigers today is Justin Verlander who is 5-5 with a 3.97 ERA in 12 starts this season. Verlander is off to a fine start this season with 9 of his 12 starts being quality starts he just had a couple outings that he got knocked around pretty good in.
Detroit Tigers Trends
Tigers are 1-5 in their last 6 road games.
Tigers are 3-13 in Verlanders last 16 starts vs. American League East.
Conclusion
I like the New York Yankees over the Tigers again today. I think it's just too hard to go against the Yankees the way they are hitting the ball right now and with a with a pitcher like Tanaka on the mound I think they will be hard to beat today.
Free Pick: New York Yankees -125