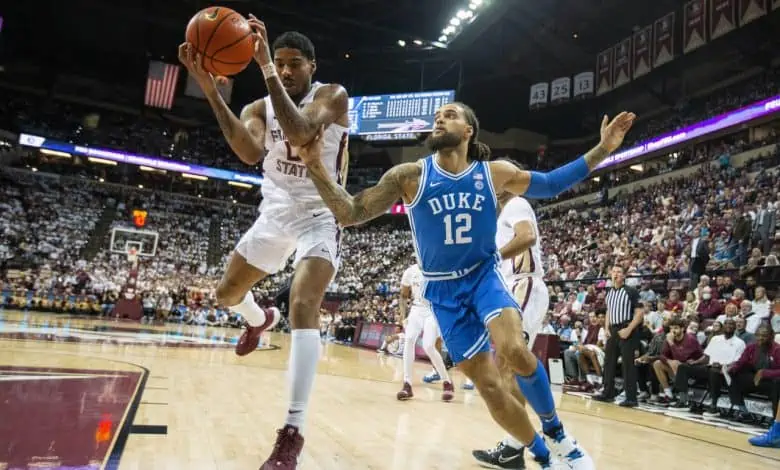 Oddsmakers aren't swayed by a Seminoles upset earlier in the season heading into the February 19th Florida State at Duke betting matchup. FSU beat Duke 79-78 in OT back on January 18th in Tallahassee as +5.5 underdogs. That wasn't a very good momentum builder though, as the Seminoles are just 2-6 since then.
Duke is a huge -15 point favorite on Saturday night, and they are 14-2 at Cameron Indoor Stadium this season. The Blue Devils could also be without head coach Mike Kryzyzewski though as he missed the second half of Tuesday's 76-74 home win over Wake Forest after he fell ill at the break. 49% of the public sill likes the Blue Devils to cover this huge number.
Injuries Getting to Florida State
It's hard to fault coach Leonard Hamilton or even the Florida State players for their current stretch of six losses in the last seven games because this is a shell of a team that FSU expected to have right now. That's because injuries have taken their toll, causing arguably the Seminoles' five best players to be sidelined for the February 19th Florida State at Duke betting contest.
Leading scorer Caleb Mills (12.7 ppg) is questionable with an ankle injury while Malik Osborne (10 ppg) was lost for the season on January 26th with following surgery on his ankle. It doesn't stop there for FSU though, with Anthony Polite 9.7 ppg) out indefinitely with a wrist ailment and RayQuan Evans injuring his knee in Tuesday's win over Clemson. 7'4″ center Naheem McLeod has also missed the last four games with a finger injury and could be out until the postseason.
The good news for Florida State is that even with all these injuries they were able to snap a six game losing streak with an 81-80 home win over Clemson on Tuesday. The bad news is that victory came thanks to 28 points from Evans so if he cannot go at Cameron Indoor that will be yet another a huge blow for FSU.
Who Coaches Duke?
The Blue Devils are being kind of mum about Krzyzewski's status, but the hall-of-famer did say he was "feeling better" in an interview with ESPNU radio this week. You certainly don't want to put Coach K's health in jeopardy, but at the same time this is his penultimate game at Cameron Indoor, closing out on the court named after him with a visit from North Carolina on March 5th.
Former Blue Devil player Jon Scheyer took the helm in the 2nd half on Tuesday against Wake Forest, but the Demon Deacons outscored Duke 41-34 over the final 20 minutes. Wake Forest is also a quality team at 21-7 on the season.
Free February 19th Wake Forest at Duke Betting Pick
Regardless of who coaches, Duke should coast to a win here just because of all the injuries the Seminoles are facing right now. FSU was able to get a win this week, but they were also matched up against a Clemson team that is just 4-11 in the conference. Duke had won five straight in the head to head series prior to the loss last month, but all those games were within 10 points or less too. 15 is way too many in this conference matchup.
Duke 77 – Florida State 69
Free Pick: Florida State +15