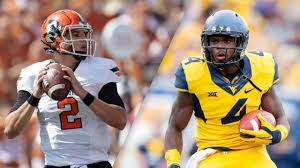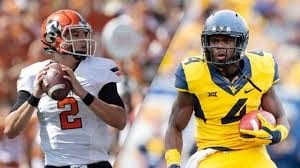 In this free college pick Oklahoma plays West Virginia in a major Big 12 showdown. The #9 Oklahoma Sooners (8-2 Overall, 7-0 Big 12) will face a big challenge from the #14 West Virginia Mountaineers (8-1 Overall, 5-2 Big 12), To understand the challenge for in this game, Oklahoma has scored 442 points, while West Virginia has allowed just 185 points. At the same time, the Sooners have given up 308 points, but the Mountaineers have scored 290. When you compare those stats West Virginia has a bit of an advantage in this contest. But do they really?
Over their last five games, the Sooners are perfect. They've beat Kansas State 38-17, Texas Tech 66-59, and Kansas 53-6. Their past two games saw them get by Iowa State 34-24 and, last week, Baylor 45-24. There were times at the start of the season that Oklahoma struggled against their opponents even though they are stacked with offensive weapons.
In their last five games, the Mountaineers are 4-1. Their one loss was to Oklahoma State 37-20. On either side of that game are two wins. They beat Texas Tech 48-17 and TCU 34-10. After losing to OSU, they went on to victories against Kansas 48-21 and Texas 24-20.
Oklahoma Sooners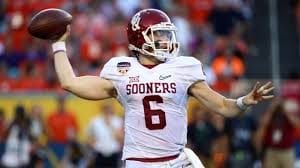 It's true that the Sooners are putting 44.2 PPG on the board. However, they are also allowing 30.8 PPG. This is their dilemma today. Plus, West Virginia is holding teams 20.6 PPG. The Sooners will look to attack through the air and on the ground.
QB Baker Mayfield (72 COMP%, 33 TDs, 7 INTs) is a dynamic passer. His prime receiver is Dede Westbrook (68 REC, 1284 YDs, 18.4 AVG, 14 TDs). Plus, Oklahoma has plenty of other guys who can grab passes. RBs Joe Mixon and Samaje Perine bring solid and powerful running chops to the field.
West Virginia Mountaineers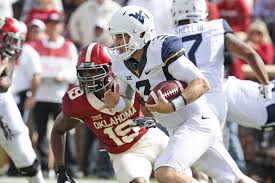 The Mountaineers are averaging 32.2 PPG on offense. Plus, as noted, they bring a very stubborn and tenacious defense to the gridiron. QB Skyler Howard (64.5 COMP%, 17 TDs, 9 INTs) will look to connect with Daikiel Shorts (51 REC, 753 YDs, 14.8 AVG, 4 TDs) and Shelton Gibson (35 REC, 701 YDs, 20 AVG, 6 TDs). The Sooners are allowing opponents close to 300 yards in the air.
At the same time, RBs Justin Crawford (98 ATT, 599 YDs, 6.1 AVG, 4 TDs) and Rushel Shell (104 ATT, 505 YDs, 4.9 AVG, 5 TDs) will be looking to create a running presence against a team that's allowing 132.4 YPG on the ground.
The Mountaineers will have to work extra hard to stop what is an explosive offense. We're unsure if they will be able to do so. The Sooners bring a lot of offensive tools and power to the field.
Free College Pick Oklahoma Plays West Virginia
In our free college pick Oklahoma plays West Virginia and we have noted one very important thing. Over the course of the season, the Oklahoma defense has shown marked improvement. They've done much better, as of late especially against the passing game. Also, it's true teams score quite a bit against the Sooners, but that's often after Oklahoma has run up the score.
This game looks to be for the Big 12 Championship. At -3.0, we like Oklahoma. The game will be played at West Virginia on Saturday, November 19. Kickoff is 8 p.m.
Free College Pick Oklahoma Plays West Virginia: Oklahoma at -3.0