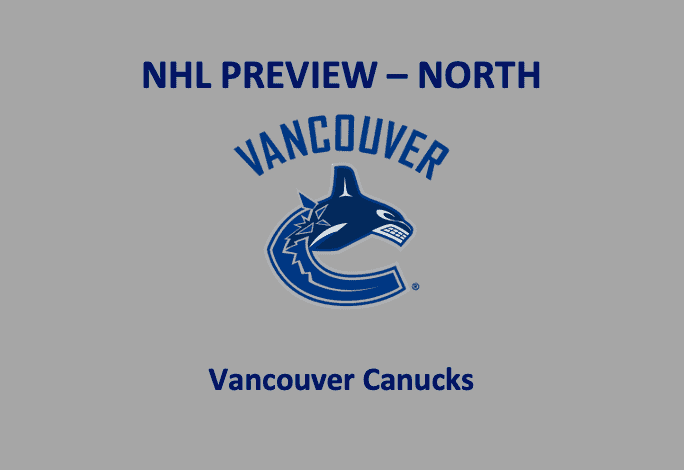 Our Vancouver Canucks Preview 2021 finds that this season's version of this team looks solid in front. Plus, the defense looks good. Goaltending was an issue last season, and could be one this season. Last year, the Canucks recorded 78 points as they posted a 37-27-6 record. Vancouver finished third in the Pacific Division and seventh in the Western Conference. In the playoffs, they beat Minnesota three games to one in the Qualifying Round. Advancing to the First Round, the Canucks beat the reigning Stanley Cup champs, the St. Louis Blues, four games to two. Vancouver took their Second Round series to a full seven games, losing to Vegas. It was a good run. In this COVID-influenced season, the Canucks will play in the North Division.
Canucks Forwards
Much of what was a successful frontline last season returns. This group is deep and able to score. The first line includes Elias Pettersson at center with J.T. Miller on the left and Brock Boeser on the right. On the Canucks, Pettersson and Miller tied for the scoring lead with 27 goals each. Miller notched 45 assists and Pettersson 39. They were part of the fourth-best powerplay unit in the league (24.2%) as they each recorded 16 assists. Miller scored nine PP goals and Pettersson. In terms of plus/minus, Pettersson was +16 and Miller +11. Linemate Boeser, who was +4, tallied 16 goals and 45 total points.
Bo Horvat is back to anchor the center spot on the second line. He accumulated 22 goals and 31 assists with 12 goals and four assists on the powerplay. Last season's linemate Tanner Pearson returns to play left wing. He was good for 21 goals and 24 assists, which included two short-handed goals and one assist when a man down. He was -4. The duo will be joined by rookie Nils Hoglander on right wing. Hoglander, who was the 40th overall pick in the 2019 draft, comes from the Swedish Elite League. In 41 games, the then 19-year-old scored nine goals and recorded seven assists. In the World Juniors, he accumulated 11 points in seven games as he aided the team in winning the tournament's bronze medal.
Third Line
The third line also looks solid with center Brandon Sutter, left wing Tyler Motte and right wing Jake Virtanen joining forces. Sutter, who is 31-years-old and a 10-year NHL veteran, played in 44 games last season. Sutter, who played just 70 games over the past two seasons, has seen his output drop dramatically. Over that time, he's recorded 12 goals and 11 assists. Hopefully, he can stay healthy and get back to putting up about 25 points this season. Motte, who played in 34 games last season, recorded four goals, four assists, and a plus/minus of -10. Motte is a physical player who does a good job on the penalty kill. Virtanen was solid last season, putting up 16 goals and 16 assists, including six powerplay goals and three powerplay assists.
Vancouver Canucks Preview 2021 – Defense
The Vancouver defense includes returning players Alexander Edler, Tyler Myers, and Quinn Hughes. Edler, who was +13, scored five goals and recorded 28 assists. He was +13. On the left, Edler, a fine playmaker, recorded six PP assists and one goal. Seven-year veteran, Nate Schmidt comes to the Canucks after spending four seasons with the Caps and three with the Knights. Last season in 59 games with Vegas he was +11 with 31 points, which included 24 assists. He's a fine addition to this defense.
On the second line, Hughes is a sound on offense but needs to upgrade his defensive chops. Although he recorded 53 points, including 45 assists with 22 of them on the powerplay, his plus/minus was at -10. On the right side, Travis Hamonic joins the Canucks from the Flames. The 10-year veteran was formerly a hitter who also recorded a good number of assists. As of late, his production has fallen off.
Finally, on the third line, Meyers is on the right and rookie Olli Juolevi is on the left. Meyers, who played in 68 games last season, was -7 with 21 points, including six goals. Juolevi is noted for his high energy and solid play at both ends of the ice. The young defenseman should be a good addition to the Canucks.
Vancouver Goaltending
Our Vancouver Canucks Preview 2021 observes that last season's starting netminder Jacob Markstrom has gone to Calgary. With that event, the Canucks signed former Washington Capitals goaltender Braden Holtby to a two-year. $8.6 million deal. Last year, at the age of 30 and in his 10th NHL season, Holtby posted his worst career numbers. Included was .897 SV%, 3.11 GAA, and .468 QS%. This could certainly be a rebound year for the former Vezina Trophy-winner and NHL All-Star.
Last season, backup goalie Thatcher Demko saw his share of starts. He went 13-10-2. Demko posted a 3.06 GAA and .905 SV%. He had a quality start percentage of .600. Demko's numbers were better than Holtby and even, to a degree than Markstrom. He also saw quite a bit of postseason experience and performed well. Demko is a fine backup, and should be able to provide quality relief for the aging Holtby.
Vancouver Canucks Preview 2021: Outlook
Our Vancouver Canucks Preview 2021 find that this team has a solid shot at making it into the postseason. Of course, they're in the North Division, which is comprised entirely of the NHL's seven Canadian teams. We do think that the Canucks are one of the better teams in this division.
2021 Vancouver Canucks Season Preview: Projection
Record: 30-21-5, 65 points
Finish: 3rd in North Division