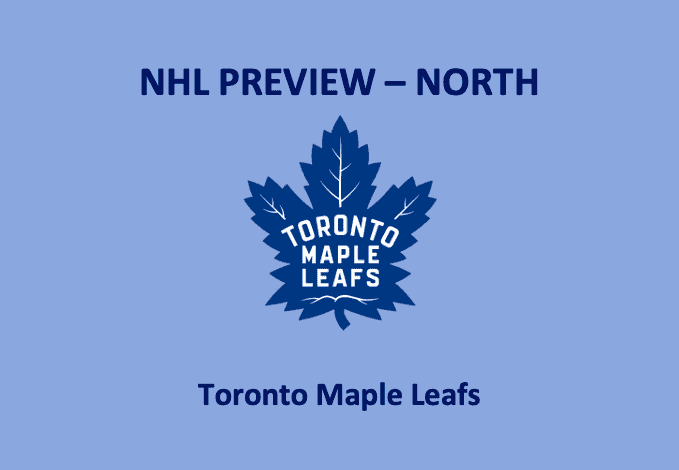 Our Toronto Maple Leafs Preview 2021 notes that last year this team was knocked out of the postseason by the Columbus Bluejackets in the Qualifying Round. The series went the full five games. Toronto finished eighth in the Eastern Conference with a record of 36-25-9 (.579). Toronto's 3.39 GF ranked third in the NHL. On the other hand, their 3.17 GA was 26th in the league. Thus, their defense really put them at a disadvantage. The Maple Leafs were sixth in powerplay percentage (23.1%). However, their penalty kill, which was 21st (77.7%), worked against their success. This is a team that desperately needs better D. Plus, we can't help but note that Toronto's netminding is not as strong as one would like it to be.
Maple Leafs Forwards
The Maple Leafs have a lot of scoring potential. The first line includes center Auston Matthews who led the team with 47 goals and 80 points. His plus/minus was 19. Plus, Matthews had 12 PPG and 13 PPA. Winger Mitch Marner, who notched 51 assists and posted 67 points, joins him. He has six PPG and 18 PPA. Making this line even richer is the arrival of veteran Joe Thornton. Thorton starts his 23rd NHL season arriving at Toronto after spending the last 15 seasons with the Sharks. The former Hart Trophy winner recorded just seven goals and was -19. He also had 24 assists. To be effective, Thornton must step it up. If he can't, the Leafs will have to make adjustments.
The second line is also impressive. Center John Tavares recorded 26 goals and 34 assists for 60 points. He scored seven PPG and 14 PPA. On right wing, William Nylander brings a penchant for scoring and setting up plays, He recorded 31 goals and 28 assists. Jimmy Vesey rounds out the second line. Coming from Buffalo, Vesey had 20 points and was +12 over 64 games. The plus/minus is impressive. However, more point production would help.
Although the third line is definitely a step down, they can still do some damage. Led by center Alexander Kerfoot, who had 28 points, the line includes Zach Hyman on right wing. Hyman played well last season scoring 21 goals and dishing off 16 assists. He was +13. On left wing,
Ilya Mikheyev was +7 and accumulated 23 points. These guys will contribute.
Toronto Maple Leafs Preview 2021 – Defense
Last season, blueliner Morgan Rielly was out of the lineup more than he was in. Thus, it was not a typical season for the veteran D-man who in 2018-2019 scored 20 goals, dished off 52 assists, and was +24. Additionally, he recorded 114 blocks and 61 hits. Ironically, last season, it was a block, as a puck caught him in the foot, knocking him off the ice. In 47 games, he had three goals, 24 assists, 67 blocks, and 38 hits. If he is healthy, and he should be, Rielly will be a massive force. Joining him on the right, T.J. Brodie comes to the Leafs after playing 10 seasons with Calgary. His production and stamina have diminished. If he can rev it up, Brodie could post double-digit blocks and record 40 or more points. He could be a solid replacement for Tyler Barrie who went to the Oilers.
Also on defense are Jake Muzzin, Justin Holl, Travis Dermott, and Zach Bogosian. Along with 23 points last season, the powerful Muzzin recorded 109 hits and 110 blocks. Last year, in his first full season with Toronto, Holl had 83 blocks, 89 hits, and 18 points. He was an impressive +13. Travis Dermott won't give you many points, but he also won't give up many. Consequently, he was +14 last season with 58 blocks, 76 hits, and 23 takeaways. Last year, Bogosian played with Tampa Bay and Buffalo. There aren't a lot of points here. However, the potential is there for around 80 or more blocks and about an equal number of hits.
Toronto Goaltending
Our Toronto Maple Leafs Preview 2021 notes that goalie Jack Campbell and Frederik Andersen were 39th and 40th in goals against average with 2.80 and 2.85 marks. Anderson posted a .909 save percentage while Campbell came in at .904. Last season, with the Kings and Leafs, Campbell was 11-12-3. Anderson was 29-13-7. Although both goalies are overall solid, neither is spectacular. If one of them were, the Leafs would be an exceedingly dangerous team. However, we think that this duo is suspect and will see some tough runs especially when playing teams like Calgary, Edmonton, and Vancouver.
Toronto Maple Leafs Preview 2021: Outlook
Our Toronto Maple Leafs Preview 2021 finds that this team certainly has some fine scoring chops. They will score points. Plus, they possess some fine defensive players. However, Toronto does get thin on D. As a result, they struggle in this area. This is a question mark for the Leafs. Still, the big question concerning this team is its goaltending, which is not as good as it needs to be. Campbell and Anderson are about average and average netmindiong doesn't take you far in the NHL. Look for the Toronto Maple Leafs to certainly have their ups and downs today. Big questions plague an aging Joe Thornton. A short 56-game season could be helpful when it comes to those players who are older.
2021 Toronto Maple Leafs Season Preview: Projection
Record: 25-28-3, 53 points
Finish: 6th in the North Division