NBA Picks
NBA Pick: Rockets at Heat – November 1, 2015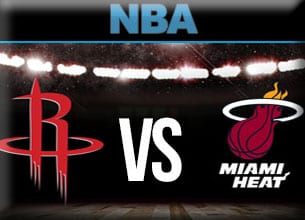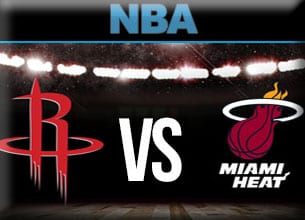 The Houston Rockets have started off the 2015-16 NBA season in a self-proclaimed "funk", as they've dropped to 0-2 behind a bad loss to the Denver Nuggets and a tough defeat by the hands of the defending champion Warriors. That 0-2 start also comes on Houston's home floor, while star scorer James Harden hasn't brought his shot to the beginning of the season. It's been ugly, and now the Rockets will have to go get their first win of the new season in South Beach, where they'll take on Dwyane Wade and the Miami Heat. Miami has had a little more luck in the early going, as they topped the Hornets in Wednesday's opener, but fell to the Cavaliers on Friday night. Neither team will be interested in losing this one, as the Rockets can ill afford a nasty 0-3 start and Miami would probably prefer to stay above .500.
Matchup History
This really isn't a very storied matchup, as the Heat and Rockets have only faced each other 56 times. Miami dominated the Rockets when LeBron James was in town, but split the regular season series in his final year with the team. Last season, with James fleeing for Cleveland, the Heat struggled against Harden and Dwight Howard, losing both games. They weren't close, either, as Houston forced a faster pace and put 100+ points on Miami in both matchups, while the Heat never topped 91 points in either game. Miami is much healthier and stronger this time around, but last year's results could possibly tell us all we need to know.
Rockets Preview
Houston looked very sluggish in their opening loss to the Nuggets, which was odd because everyone knew it was going to be an up-tempo game. The Rockets shot poorly and didn't defend, and the absence of Dwight Howard (suspension) didn't help. Friday night's performance was a little better and probably had more to do with Golden State simply being the better team, but the Rockets still didn't get much out of Harden and Howard wasn't great in his return to the court. Houston could have an adjustment period with new starting point guard Ty Lawson working his way into the system, but if they can push the pace in Miami on Saturday night, they could find a way to win in the process.
Rockets starting power forward Terrence Jones (cut above right eye) is out for Sunday's game against the Heat.

— Ira Winderman (@IraHeatBeat) October 31, 2015
Heat Preview
Miami continues to play at a fairly slow pace, as they're averaging 98 points per game in their first two contests. That's helped them on the defensive side, too, however, as they're allowing the same amount of points per game. Miami looked strong overall on Wednesday, as they handled the Hornets in their season opener. Things got tougher in Cleveland against the Cavs, and while the Heat kept things fairly close through the first three quarters, they didn't have the offense to keep up with LeBron James co. when it was all said and done. That issue could become a problem for them against talented offenses and Houston certainly qualifies. It doesn't hurt that the Rockets aren't operating at 100% capacity right now, but this is a dangerous game for the Heat after an emotional meeting with James and the Cavs.
The Pick
In watching Miami so far this year, Hassan Whiteside feels like an offensive disappointment and this offense settles for the mid-range game far too often. Miami is going to be able to explode at times due to Gerald Green off the bench and a pretty strong starting five, but the Rockets have the advantage in just about every main category. Houston's only real issue so far has been defense, as I trust the shots will start falling and the flow will be better with Lawson leading the offense. I think Houston's offense comes together a bit more in this one – it kind of has to – in order for the Rockets to prevent an 0-3 start. Dwight Howard should play more in this one and should dominate Whiteside, while Harden won't let Wade dictate anything he does. The Rockets are the better team and for the first time this year I think they look/act like it.
I'll take the Rockets to win and cover the +2 Spread at Bookmaker.