At 9 p.m. tonight, Sunday, May 7, the Houston Rockets will try to even their NBA West Semifinals series with the Sam Antonio Spurs. The Spurs lead the series two games to one. This round of the 2017 NBA playoffs started off well for the Rockets as they beat the Spurs 126-99. Game two, which like game one was played in San Antonio, was a different story as the Spurs took the Rockets down 121-96. The third game, which was played on May 5 in Houston, saw the Spurs beat the Rockets 103-92. Tonight's game, which will be in Houston, has the Rockets at -5.0. Here's our Rockets play Spurs 2017 NBA West Semifinals free pick.
Important Players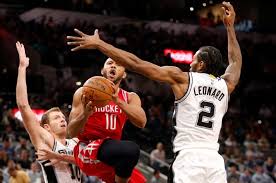 Once again, the guy not on the floor, Tony Parker who was injured in the second game of this series, could have a huge effect. Although the Spurs did not seem to miss him in the last game, there could be a cumulative effect associated with his injury. The Spurs have a sound frontcourt that includes SF Kawhi Leonard and PF LaMarcus Aldridge. Leonard leads the team in points with 29.8 per game and is second in rebounds with 7.1 per game. Aldridge is tops in rebbies with 7.3 per game and is scoring on average 14.9 PPG.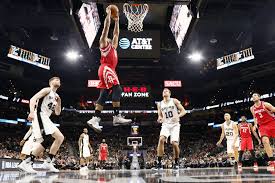 Houston has one of the best in the league in SG James Harden. Harden is averaging 30.3 PPG and 8.0 APG. That assist mark is low and indicates that Harden may be trying to be too much of a one-man team. That seems to have been the problem in the last two losses. Expect him to set up more plays tonight. That means that players like PG Pat Beverley and center Clint Capela may see the ball more and get additional shots. Each is averaging about 10.5 PPG, while Capela is grabbing a team-leading 8.1 RPG.
Five keys to the Game
Team play is essential to winning
Harden needs to make at least 10 assists to win
Can the Spurs continue to play well without Parker?
Can the Spurs control the boards like they need to?
Will more Rockets be involved in the game?
Rockets Play Spurs 2017 NBA West Semifinals Free Pick
We like Houston at home with the noted adjustments made. If Harden involves teammates early, the Rockets have a good shot at winning. The Spurs will look to play tough inside and dominate the boards. However, that won't be easy. Our Rockets play Spurs 2017 NBA West Semifinals free pick is Houston at -5.0.
Rockets Play Spurs 2017 NBA West Semifinals Free Pick: Rockets at -5.0