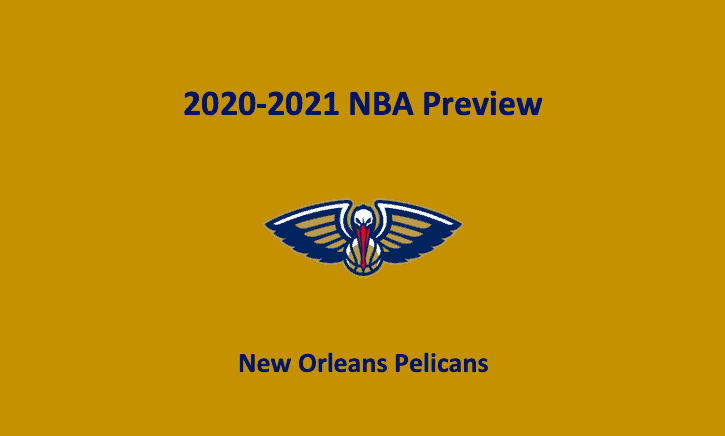 Our New Orleans preview 2020 – 2021 observes that the Pelicans finished with a record of 30-42. They were last in the Southwest Division. The Pelicans were 14 games behind first-place Houston. In the Western Conference, New Orleans was 13th. They were 22.5 games away from the first-place Los Angeles Lakers. The Pelicans have been in the NBA for 17 seasons. In that time, they've been to the playoffs seven times. They have never made it past the conference semifinals. Their last playoff appearance was in 2018 when they lost in the Western Conference Semifinals to the Golden State Warriors four games to one.
New Orleans Preview 2020 – 2021 – Stats
The Pelicans averaged 115.8 PPG (5th). That was solid. However, the 117.1 PPG they allowed opponents was not solid at all. On the other hand, they averaged 46.5 RPG (5th) and 26.8 APG (3rd). Their shooting rates came in at 46.5 FG% (13th), 37.0 3PT% (7th), and 72.9 FT% (29th). Their turnovers averaged 15.9 PG (30th). New Orleans was 19th in steals with 7.5 PG and 13th in blocks with 5.0 PG. Opponents averaged 44.8 RPG (13th), 24.5 APG (14th), and 13.9 TO (16th). Opposing teams were good on 46.5% of their field goals, ranking 19th. On three-pointers, they hit 36.1%, which was 18th.
New Orleans Roster
The New Orleans backcourt brings together the young talent of point guard Lonzo Ball and the experienced, veteran presence of shooting guard Eric Bledsoe. In front, Brandon Ingram and Zion Williamson are two young players who possess a huge upside, while dependable vet center Steven Adams should be a stabilizing influence. Center Steven Adams needs to increase his output. There are some fine players on offense, but they need to expand their output.
New Orleans Preview – Backcourt
After two years with the Los Angeles Lakers, point guard Lonzo Ball came to the Pelicans last season. At point guard, Ball, who averaged 32.1 MPG hit 40.3% of his field goals and 37.5% of his threes. Ball averaged 11.8 PPG, 7.0 APG, and 6.1 RPG. He made 1.4 SPG. Ball, who's extremely talented, could post breakthrough numbers this season. In 10 seasons, shooting guard Eric Bledsoe has played with the Clippers, Suns, and Bucks. Last year with Milwaukee, he averaged 14.9 PPG, 5.4 APG, and 4.6 RPG. He shot 47.4 % from the floor and 34.4% from downtown. In his career, Bledsoe has averaged 1.4 SPG.
Pelicans Preview – Frontcourt
After playing three seasons with the Lakers, small forward Brandon Ingram came to New Orleans. In his first season with the Pelicans, he averaged a hefty 23.8 PPG, 6.1 RPG, and 4.2 APG. Ingram posted 1.0 SPG. In his initial NBA season last year, power forward Zion Williamson appeared in and started 24 games. Averaging 27.8 MPG, he hit for 22.5 PPG and 6.3 RPG. Williamson connected on 58.3% of his field goals and 42.9 % of his threes. He could contribute a lot more this season. Our New Orleans preview 2020 – 2021 notes that in his career, center Steven Adams, who comes to New Orleans after spending seven seasons with Oklahoma City, averaged 9.8 PPG, 9.3 RPG, and 1.1 BPG. He's a 58.9% shooter.
Pelicans Bench
At the point, Kira Lewis Jr. subs in as does starting shooting guard Eric Bledsoe. Lewis comes to the Pelicans as the 13th overall draft pick. The guard played two seasons at Alabama, averaging 15.9 PPG, 4.0 APG, and 4.8 RPG. He posted just over one steal per game. He's a solid shooter and fine defender. At the same time, JJ Redick rolls into the two-guard spot as well as small forward. Last season, Redick, in his first season with the Pelicans, averaged 15.3 PPG and 2.5 RPG while shooting 45.3% from virtually anywhere on the floor. Nickeil Alexander-Walker also comes in off the bench at shooting guard. In his one-year in the NBA, Alexander-Walker averaged 5.7 PPG while playing 12.6 MPG.
Josh Hart plays small forward, while Ingram comes in at the power spot, as does Wenyen Gabriel (Day-to-Day). Hart put up 10.1 PPG and 6.5 RPG while making 1.0 SPG. In his fourth NBA season, he looks to expand on his contributions. He was good on 42.3% of his field goals and 34.3% of his threes. Gabriel is in his third NBA season. This is his third team in that amount of time. Last season, he averaged 5.5 MPG hitting 35.3% of his field goals. He played in just 11 games.
Jaxson Hayes and Willy Hernangomez both come in at center. In his first season last year, Hayes averaged 16.4 MPG over 64 games. He recorded 7.4 PPG and 4.0 RPG. Hernangomez comes to the Pelicans after playing a little more than a year with the Knicks and a bit more than two with Charlotte. His last season with the Hornets, he played 12.1 MPG while averaging 6.1 PPG and 5.4 RPG. He shot 53.2% from the floor.
New Orleans Preview 2020 – 2021 – Coaching
Our New Orleans preview 2020 – 2021 notes that head coach Stan Van Gundy started his coaching career in 1981 as an assistant with the Wisconsin Badgers. He coached in the college ranks until 1995 when he joined the Heat as an assistant. Van Gundy became Miami's head coach in 2003. In 2005, he lost the job with the Heat. In 2007, Van Gundy became the head coach for the Magic. After five years, he was let go. In 2007, he coached the Pistons for four seasons. Van Gundy came to the Pelicans this year.
For Van Gundy, the key to offense is in reducing turnovers. As he notes, turnovers eradicate scoring chances for your team and set up easy scoring opportunities for your opponents. Offensive rebounds are less important than getting back on defense in the transition to stop opponents from scoring on the transition. The coach emphasizes pushing the ball up the court quickly and creating offense from the inside out. He wants his teams to play at a fast pace. Quick decisions, setting up quality scoring opportunities, and unselfish play are all part of his scheme. He utilizes a one-in, four-out offense.
New Orleans – Pluses and Minuses
Fine potential in PG Lonzo Ball
Big upside with Zion Williamson
Plenty of young talent
Need to cut down on turnovers
Big test for Van Gundy
Must reduce opponent point production
New Orleans Preview 2020 – 2021 – Final Word
Our New Orleans preview 2020 – 2021 finds that this team has a lot of potential. But can they come through? Will head coach Steve Van Gundy be able to get this team up to speed? With Williamson, Ingram, and Ball on this team, we do expect to see progress. However, the Pelicans are definitely a work-in-progress. It will take time for them to mature.
New Orleans Pelicans Projection – 34-38 Fifth-Place, Southwest Division