NBA Picks
NBA Pick: Cleveland Cavaliers at San Antonio Spurs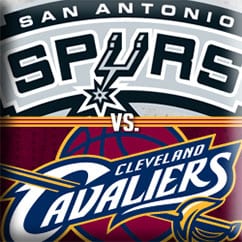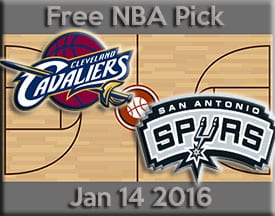 NBA fans could be getting a taste of what this year's NBA Finals could like look on Thursday night, when the Cleveland Cavaliers head to San Antonio to battle the Spurs. Cleveland has done a solid job staying among the Eastern Conference's top teams despite not being fully healthy for much of the year, while the Spurs have quietly posted the league's second best record. Can LeBron James and co. flex their muscle in a tough road environment, or will Tim Duncan and the seasoned Spurs hold firm and keep a perfect record at home?
Matchup History
It's funny to talk about a potential title series between these two teams because we've seen it before and we've also seen LeBron James himself against these Spurs two other times (with the Miami Heat). It's not just hype, in other words, and this game is going to serve as a huge measuring stick for a now healthy Cleveland squad. That being said, these two teams don't have that big of a history from a long view, as they've faced off just 87 times during the regular season in history (Spurs lead, 57-40). That's got everything to do with being in opposite conferences, while the lone time they met off in the Finals, the Spurs wiped the floor with James and the Cavs in a 4-0 sweep. A win for Cleveland on Thursday night won't make up for that, but it could bring the Cavs one step closer to vindication.
Cavaliers Preview (+6)
Not much can be said about Cleveland that hasn't been already. They weren't healthy at all to start the year, but now Kyrie Irving and Iman Shumpert are back and suddenly they're looking quite good en route to a strong 8-game winning streak. Everyone is talking about the Warriors (three losses) and San Antonio (six losses), but the Cavs are quietly right behind them (nine losses) and sit atop the entire Eastern Conference with the #1 overall record. LeBron James has spear-headed a very good defense (allowing just over 95 points per game) and Irving's return gives a decent offense even more hope going forward. Whether or not that all mixes together to help Cleveland win a ninth straight game and hand the Spurs their first home loss of the 2015-16 season, of course, remains to be determined.
Spurs Preview (-6)
San Antonio was a title hopeful last year even as a pretty old and tired group. They lost a brutal 7-game series in round one and returned this year with major reinforcements in big men LaMarcus Aldridge and David West. Backed by more star power and improved depth, the Spurs are off to an amazing 34-6 start. The craziest part is even with Golden State looking unstoppable, the Spurs are just three games back from holding the #1 record in the Western Conference – as well as the entire league. The Spurs have done it with their classic team ball approach on offense, while also smothering the opposition by allowing just 89 points per game. They've really done most of their damage at home, too, where they're a blistering 22-0 on the year. They're even hotter than the Cavs, too, as they enter Thursday night riding a sick 9-game winning streak of their own.
The Pick
Something has to and will break tonight, as both of these teams are white hot with 8+ wins in a row. The odds favor the Spurs for several key reasons: they're perfect on their home floor, Cleveland is a suspect 12-8 on the road, the Spurs have a more fluid offense and the Spurs also have a stingier defense.
The ATS numbers support San Antonio, as Cleveland is a weak 1-5-1 ATS in their last seven road contests and San Antonio is a comfy 25-9 ATS in their last 34 home games. Cleveland has also specifically come up short in this series specifically, going just 3-9 against the spread in their last 12 meetings against the Spurs.
The reality is that we have two very good teams here and as staggering as the Spurs have been at home, this game could go either way. Because of that I'll take the Spurs to win, but the Cavs to beat the spread.