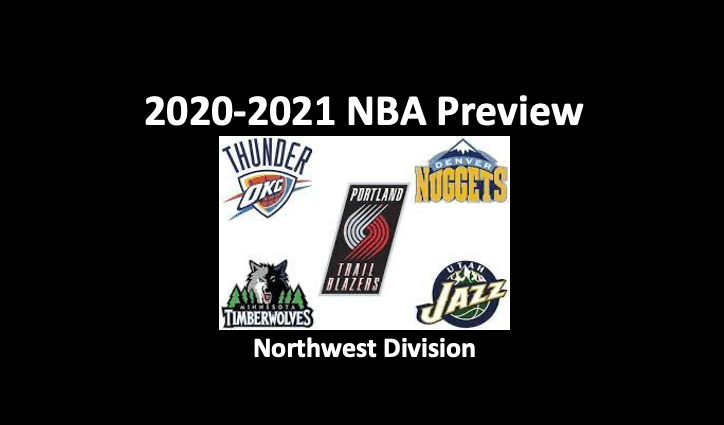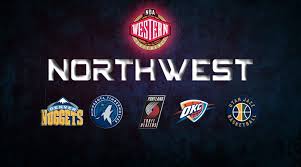 Our NBA Northwest Division preview 2020 – 2021 projects some movement in this division. We expect the Denver Nuggets to finish at the top of this group of five. Also, we envision the Portland Trail Blazers moving up from fourth to second place. After that, it's the Utah Jazz in the middle of the pack. All three of these teams have a chance of winning a playoff berth.
We expect the Minnesota Timberwolves to struggle to get to .500. Finally, we pick the Oklahoma City Thunder to finish last. That's quite a fall from last season when they ended up second in the Northwest just 1.5 games behind the first-place Denver Nuggets.
Last Season
Last season, four teams in this division had a shot at the postseason. Three of them made it to the playoffs. The Denver Nuggets topped the division with a 46-27 record. They earned the third seed in the West. Right behind the Nuggets, it was the Oklahoma City Thunder with 44 wins and 28 losses. The Thunder got the fifth seed. Right behind Oklahoma City, actually tied with them, were the Utah Jazz. The Jazz also posted a 44-28 record. That was good enough for the sixth seed. Finally, the Portland Trail Blazers and Memphis Grizzlies ended up having to meet in a play-in game. That was on August 15. The Trail Blazers beat the Grizzlies 126-122. Thus, Portland was the eighth and final seed in the Western Conference.
Of the four teams that qualified, only Denver made it out of the First Round. They won their series against Utah 4-3. In the First Round, the first-seed Los Angeles Lakers beat Portland four games to one and the Houston Rockets beat Oklahoma City four games to three. In the Conference Semifinals, the Nuggets went on to beat the LA Clippers four games to three. Then, the Lakers took down the Nuggets in the Western Conference Finals 4-1.
NBA Northwest Division Preview 2020 – 2021 – Teams
Denver Nuggets – Head coach Michael Malone has a premium backcourt featuring PG Jamal Murray and SG Gary Harris. Plus, the frontcourt looks to be highly competitive. The Nuggets feature an exceptional defense, but they need more points. We expect this season that they will find additional offense.
Minnesota Timberwolves – Rookie Anthony Edwards, this year's number one NBA pick, arrives and will be part of what is a very sound starting five. A good number of players are deadeye shots from virtually anywhere on the court. Head coach Ryan Saunders, who has a multi-year contract, is connected with and admired by his players. Despite having a talented roster, the Wolves will struggle on defense. That will be their undoing.
Oklahoma City Thunder – Mark Daigneault makes his debut as an NBA head coach. Overall, this is a young team that is talented but inexperienced. Positives include veteran center Al Horford, an exceptional two-way player, and a very tough defense. However, the team is thin at guard, needs more offense, and brings a bench that is unknown.
Portland Trail Blazers – This team is deep in the backcourt and thin in terms of depth in front. One issue in the paint is the fact that starting power forward Zach Collins is out, which means the Blazers must rely on aging vet Carmelo Anthony more than they might like. However, we project that head coach Terry Stotts will have success. The team needs to reduce opponent three-point production.
Utah Jazz – Quin Snyder is a fine coach who has a roster filled with premium three-point shooters. Although the Jazz have many fine shooters, they were 18th in point production last year. What helped was the fact the Utah's defense was quite sound. The starting five are versatile and talented. However, Utah's bench is thin.
NBA Northwest Division Preview 2020 – 2021 – Projection
Our NBA Northwest Division preview 2020 – 2021 projects the following end of the season standings:
Denver Nuggets*
Portland Trail Blazers*
Utah Jazz*
Minnesota Timberwolves
Oklahoma City Thunder
*Playoff team
Northwest Division – Pluses and Minuses
Nugget defense is strong and offense is ready to reach new heights
Denver must be stronger on the boards
Timberwolves are young and talented
Minnesota will in time get its act together
Thunder has a lot of talent
Oklahoma City starters are overall young and bench is new
Trail Blazers Lillard and McCollum are one of NBA's top backcourts
Portland bench in front is thin
Jazz can hit threes at a high rate
Utah's younger players must reach new levels
NBA Northwest Division Preview 2020 – 2021 – Final Word
Our NBA Northwest Division preview 2020 – 2021 projects that both the Nuggets and Jazz will once again be playoff-bound. Plus, we see the Trail Blazers as having an easier time getting into the post season. A young Thunder team will take some time to come together. They have potential but will have a hard time fulfilling it this season. The Timberwolves are pretty much in the same position as they were last year. There are a lot of unknowns concerning both Oklahoma City and Minnesota.