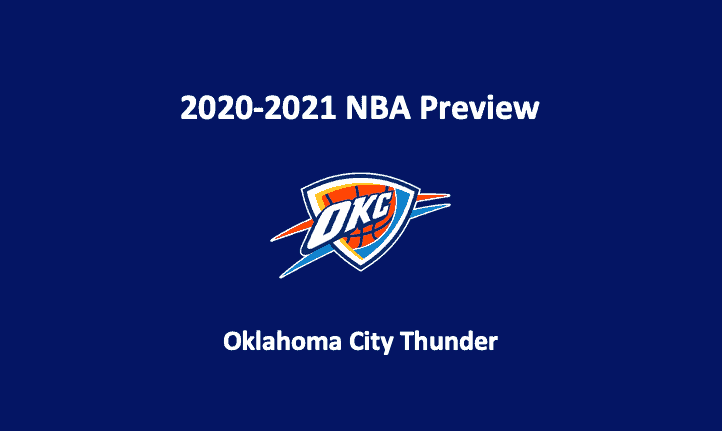 Our Oklahoma City preview 2020 – 2021 sees this team as still being competitive. Last season, the Thunder finished second in the Northwest Division to the Denver Nuggets. With a 44-28 record, they ended up 1.5 games out of first place. Plus, Oklahoma City finished tied with the Utah Jazz. The Thunder were the fifth-seed in the Western Conference. In the playoffs, they met the Houston Rockets in the First Round, losing to the team from Texas in seven games.
Oklahoma City Preview 2020 – 2021 – Stats
The Oklahoma City Thunder finished 21st in scoring last season, as they averaged 110.4 PPG. Oklahoma City was eighth in field-goal percentage (46.8%) and 17th in threes (35.5%). They were strong at the free-throw line, completing 79.6% (7th). Other stats included 42.9 RPG (23rd), 21.7 APG (28th), 7.6 SPG (17th), and 4.6 BPG (20th). Although none of those numbers are outstanding, many are overall midrange and good enough. The Thunder did well in protecting the ball. They ranked seventh in turnovers, averaging 13.0 per game.
What helped this team last season was their defense. Consequently, the 108.4 PPG (7th) they allowed opponents was a huge help. That gave them a PF/PA differential of +1.9 (12th). The Thunder posted differentials of -1.9 RPG (22nd), +1.2 FG% (10th), and +1.4 3PT% (8th). The team turnover differential of -0.6 ranked 21st.
Oklahoma City Roster
This is a very young group of starters. The average amount of time for four of the five starters comes to 1.7 seasons. For this team to succeed, the new starters will really need to step up. Meanwhile, long-time NBA veteran Al Horford starts at center. One of Horford's jobs will be keeping his compatriots focused on being productive and composed when things get tough. Many of the backups are young and fairly inexperienced or aging out of the league. Depth is a concern.
Oklahoma City Preview – Backcourt
After one season with the Clippers, point guard Shai Gilgeous-Alexander came to the Thunder last year. In his initial season with Oklahoma City, he played 34.7 MPG, averaging 19.0 PPG, 3.3 APG, and 5.9 RPG. His shooting percentages come in at 47.1 FG%, 34.7 3PT%, and 80.7 FT%. He posted 1.1 SPG. In his second NBA season last year, SG Hamidou Diallo saw his role with Oklahoma City expand. Although he started just three of 46 games, Diallo averaged 19.5 MPG. He was good for 6.9 RPG and 3.6 APG. His 44.6 field-goal percentage was impressive. However, Diallo's 28.1 3PT% was unimpressive. He starts this season.
Thunder Preview – Frontcourt
Like Diallo, small forward Luguentz Dort moves into a starting role. Last year, his first NBA season, Dort averaged 22.8 MPG, 6.8 PPG, and 2.3 RPG. He was sound from the field, completing 39.5% of his attempts. However, his three-point success rate was just 29.7%. Power forward Darius Bazley, who was the 23rd pick overall last year, scored 4.6 PPG and grabbed 4.0 RPG. In his initial season, Bazley averaged 18.5 MPG while completing 39.4% of his field goals and 34.8% of his three-pointers.
Center Al Horford is the veteran of this starting five. Horford starts his 14th NBA season and comes to the Thunder from Philadelphia. Last year he averaged 11.9 PPG, 6.8 RPG, and 4.0 APG. Plus, he was good on 45.0% of his shots from the field and 35.0% from the arc. Along with being a fine player, our Oklahoma City preview 2020 – 2021 finds that Horford is a solid leader.
Thunder Bench
In the back, George Hill and Theo Maledon sub in at the point. Hill, who played with the Bucks the last two seasons, is a 12-year veteran. Last season, he shot 51.6% and averaged 9.4 PPG. Maledon, a second-round, 34th overall pick this year, comes to the team with refined scoring chops. These two are also the primary subs at shooting guard.
Justin Jackson and Trevor Ariza (Day-to-Day) back up at small forward, while Ariza also rotates in at the power position. Jackson comes to the Thunder after playing with Dallas last season, averaging 5.5 PPG and 2.4 RPG. Ariza, who's played 16 seasons, arrives at Oklahoma City after spending time with the Portland Trail Blazers and Sacramento Kings last-season. Over the years, his productivity has diminished. Aleksej Pokusevski, another power forward, was drafted this year. He was the 17th overall pick. Pokusevski, who played a bit in the Euro League, brings some decent shooting chops.
The center spot includes Mike Muscala, a nine-year vet, and Vincent Poirier, who played with Boston last season and comes to the Thunder for his second NBA season. Both will rotate in, but neither seems to bring much scoring potential.
Oklahoma City Preview 2020 – 2021 – Coaching
Our Oklahoma City preview 2020 – 2021 notes that Mark Daigneault joined the team as an assistant in 2019 and was named head coach in 2020. He replaced Bill Donovan who was head coach from 2015-2020. Donovan and Thunder management mutually agreed to not renew his contract. This marks Daigneault's premiere as an NBA head coach.
He considers himself a player's coach, meaning Daigneault wants to know each of his team members. That includes what drives them, where they come from, and what they want to achieve. The better he knows each and every one of his players, the better his chances are of being able to help them elevate their play and the more likely each one will fit into the structure of his schemes. He believes in putting himself in each player's shoes.
Oklahoma City – Pluses and Minuses
Young, talented starting four
Center Horford is a major talent
Thunder D is tough
Guys off the bench are an unknown
Thunder needs more offense
Thin at guard
Oklahoma City Preview 2020 – 2021 – Final Word
Our Oklahoma City preview 2020 – 2021 sees this team as stumbling this season. This basketball club is comprised of a lot of talented but overall untested players, as well as some fine vets. The starting backcourt duo has a big upside, but threes are an issue at the shooting position. The Oklahoma City Thunder look to be at best tested this season. We expect it will be a year of growth. It will be tough for this team to make the postseason.
Oklahoma City Projection – 30-42 Fifth-Place, Northwest Division