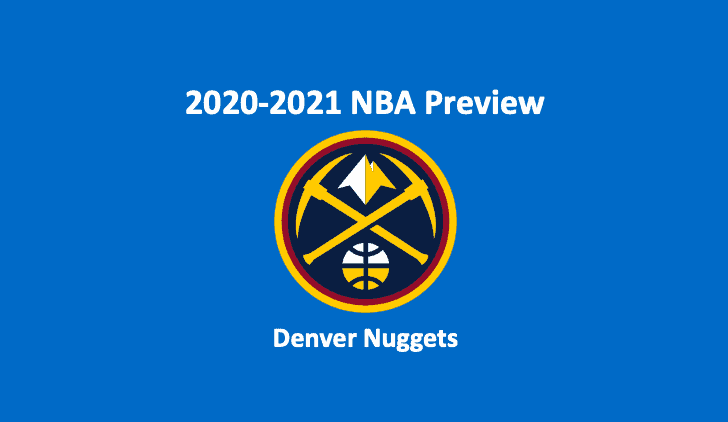 Our Denver Nuggets preview 2020 – 2021 finds that this team had a productive 2019-2020 season. They finished with a record of 46-27. Denver won the Northwest Division by 1.5 games with the Oklahoma City Thunder and Utah Jazz coming in second. In terms of the Western Conference, the Nuggets finished third. The Los Angeles Lakers topped the conference and finished seven games ahead of Denver. At playoff time, Denver defeated Utah in the First Round four games to three. Next, in the Conference Semifinals, the Nuggets beat the LA Clippers. Once again, that series went the full seven games. However, Denver met its match in Western Conference Finals when the Los Angeles Lakes beat them four games to one.
Denver Nuggets Preview 2020 – 2021 – Stats
The Nuggets averaged 111.3 PPG (19th) while completing 47.3% of their field goals. That was the fourth-best rate in the NBA. Although, this team finished 15th in three-point percentage (35.9%), that stat did not affect them greatly, as the Nuggets were 26th in three-point attempts. They were 16th in free throws, hitting 77.7%. Denver struggled on the boards, bringing down just 44.1 RPG (20th). The turnovers came in at 13.1 per game, which was the seven-fewest in the NBA. This team was 19th in blocks, however, they finished ninth in steals.
Opponents averaged 109.2 PPG (11th). That gave the Nuggets a PF/PA differential of +2.1 (11th). In terms of shooting, opponents averaged 46.3 FG% (15th) and 35.8 3PT% (17th). Regarding rebounding differential, Denver ended up 11th, as they were +1.4. In turnover differential, the Nuggets were 20th at -0.6.
Denver Roster
Jamal Murray and Gary Harris are a fine duo. Both are excellent on offense and defense. The frontcourt includes long-time vet Paul Millsap, veteran center Nikola Jokic, and second-year pro Michael Porter. This is a fine trio, however, there's no denying Millsap's age and possible stamina issues. The backcourt is fairly deep, but the front needs additional help off the bench.
Denver Nuggets Preview – Backcourt
Over the past five seasons, PG Jamal Murray has matured into a fine two-way player. Last year, his shooting stats included a 45.6 FG% and 34.6 3PT5. He was good on 88.1% of his frees. Last season, he averaged 18.5 PPG, 4.8 APG, and 4.0 RPG. Murray also recorded 1.1 SPG. Across from Murray is SG Gary Harris. Harris is also a fine offensive and defensive force. Consequently, last year the six-year Denver vet averaged 10.4 PPG, 2.9 RPG, and 1.4 SPG. He's a 42.0% field-goal shooter and was good on 33.9% of his threes.
Nuggets Preview – Frontcourt
The frontcourt includes small forward Michael Porter Jr., power forward Paul Millsap, and center Nikola Jokic. In his first season as an NBA player last year, Porter averaged 16.4 MPG. He proved to be a fine shooter from just about anywhere on the court, averaging 50.9 FG%, 42.2 3PT%, and 83.3 FT%. He recorded 9.3 PPG and 4.7 RPG. Porter should see his contributions expand precipitously this season.
PF Millsap starts his 15th NBA season this year and his fourth with the Nuggets. Last season, he played a healthy 24.3 MPG, averaging 11.6 PPG and 5.7 RPG. He shot in the mid-40s from the field and from downtown. Now in his sixth NBA season, Jokic has shown that he's a solid performer. Our Denver Nuggets preview 2020 – 2021 notes that last season the potential double-double center averaged 19.9 PPG, 9.7 RPG, and 7.0 APG. He also posted 1.2 SPG. Jokic was good on 31.4% of his threes and 52.8% of his field goals.
Nuggets Bench
With the Nuggets last season, PG Monte Morris, who averaged 22.4 MPG, was good for 9.0 PPG, while PJ Dozier gave the team 5.8 PPG and 14.2 MPG. Shooting guard Facundo Campazzo comes to the team after playing five seasons in Argentina and Spain. He's a capable 40-percent shooter and also a sound defender. Nine-year veteran Will Barton (Day-to-Day), who starts his sixth-season with the Nuggets, averaged 15.1 PPG, 6.3 RPG, and 3.7 APG. Barton is still dealing with a knee injury that affected him during the playoffs. He also plays small forward.
Also coming in at small forward is second-year man Vlatko Cancar. Cancar, who averaged just 3.2 MPG and played in 14 games last season, is known for his accurate shot. JaMychal Green comes off the bench to play either power forward or center. A six-year NBA veteran, Green averaged 20.7 MPG, 6.8 PPG, and 6.2 RPG. Starting small forward Michael Porter Jr. fills in at the power spot, while starting power forward Millsap comes in at center.
Denver Nuggets Preview 2020 – 2021 – Coaching
Michael Malone has been coaching the Nuggets since 2015. Malone broke into the NBA in 2001 as an assistant with the New York Knicks. His first NBA head coaching gig was with the Sacramento Kings. He started with the Kings in 2013. At the start of his second season with Sacramento, he was fired after going 11-14. In his initial season with Sacramento, Malone went 28-54. Our Denver Nuggets preview 2020 – 2021 notes that although Malone had a shaky first three seasons with the team going 119-127, the last two have resulted in the club finishing first in the division. Under Malone, the Nuggets have a 16-17 playoff record.
As a coach, Malone has proven to be a team-builder who's able to get all of the players to buy into his theories and schemes. Malone emphasizes individual growth, team continuity, and due diligence. Taking responsibility is important for everyone when it comes to performance. He tends to focus on defense over offense, and some say, that can have a negative effect on the team's ability to produce points and win.
Denver – Pluses and Minuses
Solid defense but need to continue to improve
Good field-goal success rate
Sound in steals
Need to turn around turnover differential
More scoring!
Must command boards
Denver Nuggets Preview 2020 – 2021 – Final Word
Our Denver Nuggets preview 2020 – 2021 finds that this team should be competitive, as they have been for the past two seasons. Their defense is very good and their offense certainly has potential. Coach Malone needs to better balance this team's defense and offense. The fact is this team needs to create more offense. Better rebounding could help a lot.
Denver Nuggets Projection – 48-24 First-Place, Northwest Division</h4