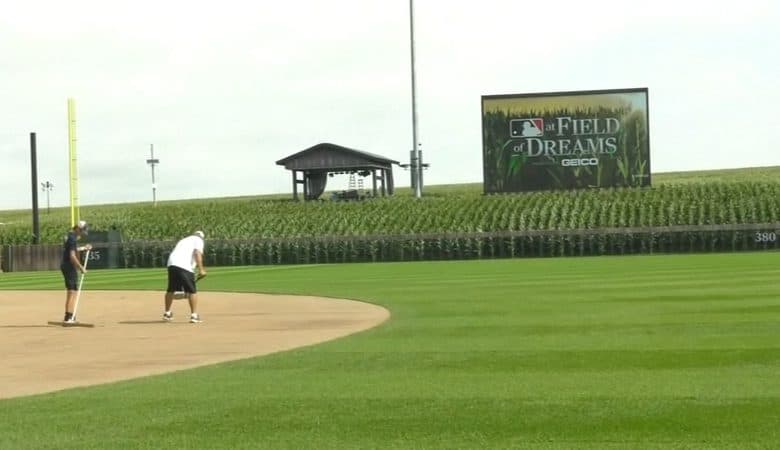 They built it, and now they come to Dyersville, IA for the August 12 Yankees vs White Sox "Field of Dreams" game. This meeting should be an exciting one, but the Yankees are without a lot of key players because of injuries and COVID protocols while Chicago manager Tony La Russa will miss the game to tend to a death in his family.
The White Sox are a -160 favorite in this one, and while you'd think they'd have a home field advantage with the close proximity to Chicago there are only 8,000 fans in attendance and people have come from all over the U.S to see this game. The Yankees also have some major questions at pitcher, putting them at +147 underdogs.
Yankees a Tough Play with Their Pitching
New York was able to take two of three in Kansas City this week despite having to shift around their pitching rotation. Gerritt Cole (COVID) is one of six starting pitchers on the injured list for the Yankees, and the team used an opener and six hurlers total in Wednesday's 5-2 win over KC as -143 favorites.
New York survived the unknown on the mound Wednesday, but it's the known that has fans worried about in the August 12th Yankees vs White Sox contest. Andrew Heaney (7-8, 5.45 ERA) makes his third start for NYY, allowing 8 ER over 10.0 IP so far. The left-hander gave up 4 HR to the Orioles on August 2nd, but the Yankees have been able to split his two starts so far.
Injuries and COVID protocols are not just ravaging the Yankees pitching staff, but their lineup as well. Gleyber Torres (thumb), Gary Sanchez (COVID), and Anthony Rizzo (COVID) will all miss this historic contest. New York still managed 12 hits on Wednesday, and scored 17 runs over the three games with the Royals. New York has a tough offensive test against Lance Lynn on Thursday though.
Another Strong Outing From Lynn?
Chicago definitely has the pitching edge in this one, with Lance Lynn (10-3, 2.12 ERA) continuing to pad his resume for a possible AL Cy Young award. The right-hander pitched 6.0 IP of 1-run ball vs. the Cubs in his last time out, bouncing back from 3 ER allowed over 5.0 IP to the Indians the game before that.
Lynn has now allowed an ER or less in six of his last seven starts. The right-hander will be making his first start vs. the Yankees this year, holding the current New York lineup to a .227 average (15-66) in his career. Aaron Judge is 3 for 8 (.375) with 2 HR vs. Lynn however.
This game won't be played on the original Field of Dreams (300 to left, 350 to center, and 315 to right), but there should still be plenty of offense on Thursday. Look for Jose Abreu to be a big part of that, as he has hit 3 HRs in 10 AB in his career vs. Heaney. Eloy Jimenez also has 4 HR and 10 RBI over the past 6 games.
Free August 12th Yankees vs White Sox Pick
It's a very unique game, but it would only be fitting that the White Sox would win the inaugural contest at Field of Dreams in honor of Shoeless Joe Jackson. Heaney being on the bump for New York definitely helps make that happen.
White Sox 6 – Yankees 5
Free Pick: White Sox -160