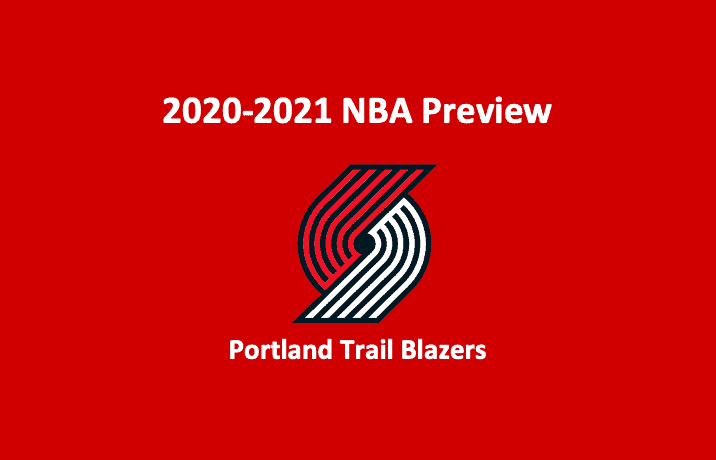 Our Portland preview 2020 – 2021 observes that this team finished third and 11.5 games out of first place. At 35-39, the Trail Blazers finished tied with the Memphis Grizzlies for the eighth and final Western Conference playoff spot. They managed to take that contest and ended up playing the Los Angeles Laker, the top seed in the West. The Trail Blazers were eliminated by the Lakers in five games. Under coach Terry Stotts, who's been coaching the Blazers for eight years, they have made the playoffs seven straight years. In that seven-year run, Portland has made it to the Western Conference Finals once. That was in 2018-2019 when they lost to the Golden State Warriors in four games.
Portland Preview 2020 – 2021 – Stats
The Trail Blazers were sixth in points per game, averaging 115.0 PPG and third in three-point percentage, draining 37.7% of his shots. Their 46.3% field-goal success rate ranked 10th in the NBA. Portland also hit 80.4% of their frees, which was third in the league. The Blazers grabbed 45.3 RPG (12th), 12.4 TO (4th), and 6.1 BPG (2nd). Two areas where this team struggled were assists, as they dished off 20.6 APG (30th), and steals, which came in at 6.3 SPG (28th).
Portland allowed opponents 116.1 PPG (26th), which gave them a PF/PA differential of -1.1. Opponent shooting stats include a 45.6 FG% (11th) and 38.3 3PT% (29th). The Blazers also allowed opponents 46.9 RPG (27th) and 24.9 APG (19th). They certainly had issues in trying to control their opponents, which compromised their attempts to win.
Portland Roster
The Blazers feature a fine starting two in the backcourt. Plus, the guys coming off the bench can shoot. The frontcourt is good, but it's thin. There is versatility in the paint. Plus, although Carmelo Anthony is aging, he still has something to offer. There's worry about wear and tear on the guys in the paint. Center Jusuf Nurkic is the guy who's the cornerstone of this group.
Portland Preview – Backcourt
Point guard Damian Lillard is the real thing. An excellent two-way player, Lillard averaged 30.0 PPG. 8.0 APG, and 1.1 SPG. He can hit from anywhere on the court, and no matter where he does launch the ball from, Lillard is a 40-plus percent shooter. He's also a high 80 to low 90-percent foul shooter. Across from Lillard, shooting guard CJ McCollum is another 40-plus percentage shooter. Last season, he averaged 22.2 PPG, 4.4 APG, and 4.2 RPG. Together, Lillard and McCollum are one of the best backcourt duos in the NBA.
Trail Blazers Preview – Frontcourt
In the paint and around the rim, Portland starts Derrick Jones Jr. at small forward, Robert Covington at power forward, and Jusuf Nurkic at center. Jones comes to Portland from Miami where last season, he averaged 8.5 PPG and 3.9 RPG while averaging 23.3 MPG. Covington, a seven-year vet who played for Houston and Minnesota last season, offers 12.7 PPG, 5.7 RPG, and 1.7 SPG. He's a 41% field-goal shooter and a 36% three-point shooter. Center Nurkic is a double-double front man who averaged 17.6 PPG and 10.3 RPG. He's connected on 49.5% of his shots from the field and 88.6% from the foul line. Our Portland preview 2020 – 2021 notes that both the power and small forward spots are a bit tenuous especially with starting power player Zach Collins out as he continues his rehab efforts.
Trail Blazers Bench
In the backcourt, point guards Anfernee Simons (Day-to-Day), a 40.4% shooter, and CJ McCollum, the starting shooting guard, offer backup. Shooting guard Gary Trent Jr. and Rodney Hood come in to relieve McCollum. Trent, now in his third NBA season, averaged 8.9 PPG and a 44.4% field-goal rate last year. Hood, a six-year NBA veteran, averaged 11.0 PPG and 3.4 RPG. He is virtually a 50% shooter from anywhere on the court and 84% from the free-throw line. Hood is a fine inside/out player who is also a fine small forward.
Also, in front, small forward Nassir Little is ready to play. Little, who can also swing over to the power spot, was the 25th overall pick in last year's draft. Last season, he averaged 11.9 MPG, hitting 43.0% of his field goals but just 23.7% of his threes. All-star veteran Carmelo Anthony provides backup at power forward and Enes Kanter at center. Anthony, who played in 58 games for Portland last year, averaged 15.4 PP and 6.3 RPG. Note, he's a solid shooter in every way. Center Enes Kanter returns to the Trail Blazers after spending one season with the Celtics. Kanter, a nine-year veteran, averaged 16.9 MPG last season while averaging 8.1 PPG and 7.4 RPG. He connected on 57.2% of his shots from the floor. Zach Collins, who, as noted, is presently out, will provide support eventually at both positions.
Portland Preview 2020 – 2021 – Coaching
Our Portland preview 2020 – 2021 observes that coach Stotts offers his players systems and schemes that give his players agency to read the floor and make choices. Additionally, he works hard to make sure that his players have every chance to succeed. Stotts sets high standards that are connected to players utilizing opportunities. Subsequently, whether they succeed is less important. Rather, it's about recognizing opportunity and ensuring you do what you can to exploit that opportunity. He tapers his systems to his players' skills and talents and focuses on process which leads to progress. Players want to play for him and succeed. Known for his selflessness. Stotts is known for being consistent and even keeled. He's strong in his assessments of players and combines criticism with positive reinforcement. He has gotten very fine results.
Portland – Pluses and Minuses
Solid ball control
Tough in the paint
Coach Stotts does a fine job
D allows too many points
Can they stop opponents from hitting threes?
Mixing it up with more assists could help
Portland Preview 2020 – 2021 – Final Word
Our Portland preview 2020 – 2021 likes this team's chances. We think they'll move up the ladder a notch or two. Anthony is still a force in the paint, and the Trail Blazers have a few guys who can hot from virtually anywhere on the court. There are concerns regarding depth, especially in front. Still, we do think that Portland will be quite competitive. Let's face it, head coach Stotts has created a perennial playoff team. How far can they go? That is the big question for this version of the Portland Trail Blazers.
Portland Projection – 42-30 Second-Place, Northwest Division