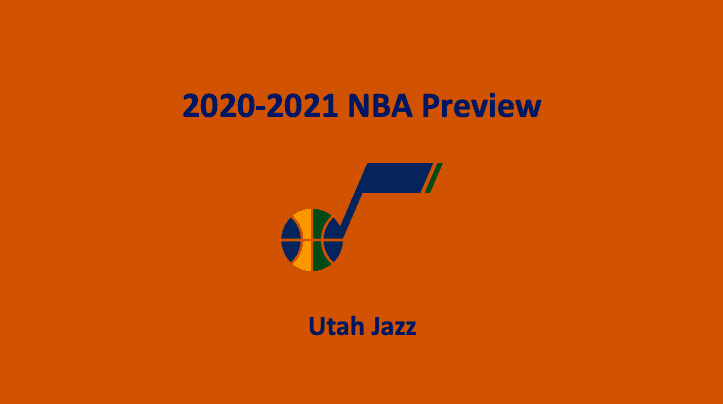 Our Utah Jazz preview 2020 – 2021 notes that last season this basketball team recorded 44 wins and 28 losses. Thus, the Jazz tied the Oklahoma City Thunder for second place. They ended 1.5 games away from the first-place Denver Nuggets. Utah earned the sixth seed in the Western Conference playoffs. The Jazz met the Nuggets in the First Round of the playoffs. Utah lost that initial series four games to three. Last season marked the fourth-straight year that they made the playoffs. In 2016-2017, when they won first place in the division, the Jazz were out in the Semifinals. The next year, they got bumped out in the semis again. The last two seasonsUtah has been eliminated from the postseason in round one.
Utah Jazz Preview 2020 – 2021 – Stats
The Jazz were 18th in point production, averaging 111.3 per game. Utah was sixth in shooting with a 47.1 FG%. That was solid. To top it off, their 38.0% three-point success rate was number one in the NBA. They were 10th in three-point attempts with 35.2 per contest. The team was in the middle of the pack, 15th, in free throws, hitting at 77.9%. They were 13th in rebounds with 44.9 per game, 26th in assists with 22.4 per game, and 22nd in turnovers with 14.6 per game. On defense, the team was last in steals with 6.1 and 28th in blocks with 4.0.
Utah allowed opponents 108.8 PPG (8th), giving them a PF/PA differential of +2.5. Opponents shot 45.7% (12th) from the floor and 35.3% (14th) from downtown, which meant they were plus in differentials for both stats. Another positive was opponent rebounds as they grabbed 42.7 per contest (5th). Opponent turnovers came in at 11.8 PG. That made them +2.7 in turnovers. Opponent steals came in at 7.9 (19th) while blocks were at 4.6 (10th). The Jazz were in the negative in both areas.
Utah Roster
In the backcourt, shooting guard Donovan Mitchell is a versatile player who ably plays both ends of the court. At the point, Mike Conley is a deadeye shooter. In front, Bojan Bogdanovic can score, while Royce O'Neale is expected to increase his contributions this season. Center Rudy Gobert is a double-double player. Many of the backups are redundant, making this team a bit thin. However, former Kansas star Udoka Azubuike joins the team and could have an impact.
Utah Jazz Preview – Backcourt
After a dozen seasons with Memphis, PG Mike Conley came to the Jazz. That was last season. With Utah, he averaged 29.0 MPG and recorded 14.4 PPG and 4.4 APG. Conley completed 40.9% of his shots from the field and 37.5% from downtown. He was good on 82.7% of his frees. SG Donovan Mitchell, who also backs up at the point, is in his fourth season with Utah. In his three previous seasons, Mitchell has been amazingly consistent. Last season, he averaged 24.0 PPG, 4.3 APG, 4.4 RPG, and 1.0 SPG. His shooting percentages came in at 44.9 FG%, 36.6 3PT%, and 86.3 FT%.
Jazz Preview – Frontcourt
The front includes small forward Bojan Bogdanovic, power forward Royce O'Neale (Day-to-Day), and center Rudy Gobert. Bogdanovic came from Indiana last season and lit it up, averaging 20.2 PPG. His shooting stats came in at 44.7 FG%, 41.4 3PT%, and 90.3 FT%. He grabbed 4.1 RPG. Our Utah Jazz preview 2020 – 2021 observes that O'Neale recently signed a four-year extension with the team worth $36M. Last year, O'Neale averaged 6.3 PPG and 5.5 RPG while shooting 43.3% from the floor and 37.7% from the arc. He's expected to expand on this numbers this season. An NBA player and member of the Jazz for seven years, Gobert is a 69.3% shooter. He averaged 15.1 PPG, 13.5 RPG, and 2.0 BPG. He's a major force in the paint.
Jazz Bench
As noted, starting SG Donovan Mitchell backs up the point. Jordan Clarkson subs for both the one and two guard, while Joe Ingles comes in to relieve the shooting spot and small forward position. Clarkson, who joined Utah partway through last season, averaged 15.6 PPG. He hit 46.4% of his field goals and 36.6% of his threes. Ingles, who's played with the Jazz for six seasons, his entire career, is versatile and dependable. He's a solid defender, fine shooter, and able rebounder.
Royce O'Neale, who starts at the power spot, can rotate to small forward. Starting SF Bogdanovic backs up the power spot. Also, Georges Niang comes in to cover the power forward area. Last season, Niang averaged 14.0 MPG while averaging 5.9 PPG and completing 43.8% of his field goals and 40.0% of his threes. Finally, the backups at center include Derrick Favors, a solid inside player, and Udoka Azubuike, who was the 27th overall pick in this year's draft. In four years with Kansas, Azubuike averaged 12.3 PPG, 7.9 RPG, and 2.0 BPG. He hit 74.6% of his shots from the field.
Utah Jazz Preview 2020 – 2021 – Coaching
Our Utah Jazz preview 2020 – 2021 observes that after numerous assistant positions, Quin Snyder joined the team as the head coach in 2014. Since joining the team, he's been given numerous contract extensions, including one in October 2019. In 2018, he was a finalist for NBA Coach of the Year.
Snyder uses common schemes and techniques, such as the pick-and-roll, however, he's developed a complex vocabulary that he uses during games to keep opponents off-balance. In utilizing this technique, he's able to disguise what play he is implementing. Like many NBA coaches, he finds building personal relationships with players is important, and the head coach emphasizes unselfish play.
Utah – Pluses and Minuses
Top three-point team
Shooting percentage is sound
Head coach Quin Snyder is top-notch
Team is on low end of blocks and steals
Point production could be higher
Depth concerns
Utah Jazz Preview 2020 – 2021 – Final Word
Our Utah Jazz preview 2020 – 2021 finds that this team has a lot to offer. The backcourt is sound, while the center position has a lot of potential. This team needs to generate more points than it did last season. They have a good start, as the Jazz topped the NBA in three-point percentage last season. They could do better at inhibiting opponent ball movement. As noted, there are concerns regarding depth. Can power forward Royce O'Neale increase his output? Might rookie center Udoka Azubuike be a difference maker? Will the Jazz be able ti rise above the Denver Nuggets and the Portland Trail Blazers?
Utah Jazz Projection – 40-32 Third-Place, Northwest Division