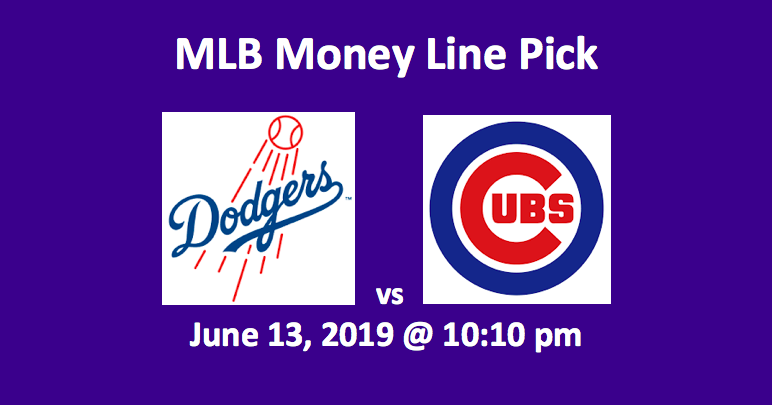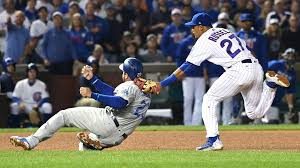 Our MLB Los Angeles Dodgers vs Chicago Cubs pick odds offer LA at -169. Also, this Los Angeles Dodgers vs Chicago Cubs money line prediction has the odds for Chicago at +160. This game, which is the first four in this series, will be played Thursday, June 13, 2019 at 10:10 pm ET. Earlier in the season at Wrigley Field, the Cubs beat the Dodgers in two-of-three games.
The Los Angeles Dodgers (45-23 Overall, 25-7 Home) are first in the NL West and the top team in the league. They are 6-4 for their last 10 games and have lost two straight to the LA Angels. On their recent road trip, the Dodgers were 4-4. The Chicago Cubs (38-29 Overall, 14-18 Away) are one-half game behind the first-place Milwaukee Brewers in the NL Central. They've won seven of their last 10 games.
MLB Los Angeles Dodgers vs Chicago Cubs Pick – Pitching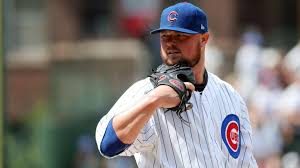 Lefty Jon Lester (5-4 W/L, 3.56 ERA, 1.29 WHIP) takes the mound for the Cubbies. In May, after winning two of his first three starts, Lester went 0-3. June has started well, as Lester has won his first two starts this month. On June 3 against the Los Angeles Angels he pitched seven innings allowing one run on four hits and striking out six while walking one. In his second start, which was on June 8 against the St. Louis Cardinals, he lasted six innings giving up four runs on five hits. Two of those hits were homeruns. Over the course of his career against the Dodgers, Lester is 4-4 in 10 starts with a 3.22 ERA.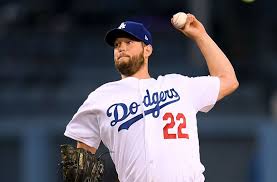 The Dodgers counter with left-hander Clayton Kershaw (5-1 W/L, 3.00 ERA, 1.05 WHIP). Over Kershaw's first nine starts this season, Dodgers were 9-0 and he was 5-0. Kershaw suffered his first loss in his last start. That was on June 7 against the San Francisco Giants. In that game, he pitched seven innings, allowing two runs on six hits. The final score was 2-1. In 10 lifetime starts against Chicago, Kershaw is 5-2 with a 2.57 ERA. If Kershaw has his stuff tonight, and he should, he'll be tough to beat.
Dodgers vs Cubs – Stats and Offense
The Cubs, who are hitting .254, have swatted 108 homers while Chicago pitchers have given up just 71. Opponents are hitting .245 versus Cub hurlers. Two primary offensive weapons for this ball club are Javier Baez and Anthony Rizzo. Baez, who tops the club with a batting average of .297, is second in RBI with 47. He's tied with Rizzo for the team-lead in homers with 17. Rizzo is first in RBI with 47 and is batting .281.
The Dodgers have the hottest hitter in MLB in Cody Bellinger. The right fielder is batting .352 with 54 RBI and 20 homeruns. David Freese is hitting an even .300, while Justin Turner is at .315. Four hitters on LA have double-digit homerun numbers, while the team has smacked 104 round trippers. Opponents have hit only 78. The Dodgers are batting .263, while opponents are hitting just .223.
Our MLB Los Angeles Dodgers vs Chicago Cubs Pick
The Los Angeles Dodgers are a tough home team, and the Cubs have had their road struggles. Kershaw has been consistent this season, and Lester has proven to be competitive. Overall, we like the Dodger pitching as well as hitting in this game, and see both as being a bit better than what Chicago brings to the mound and plate. Our Los Angeles Dodgers vs Chicago Cubs pick is the Dodgers with the money line at -169. See tonight's Washington Nationals vs Arizona Diamondbacks runline pick now.
Summary MLB Money Line Pick – Los Angeles Dodgers vs Chicago Cubs
Los Angeles Dodgers money line at -169