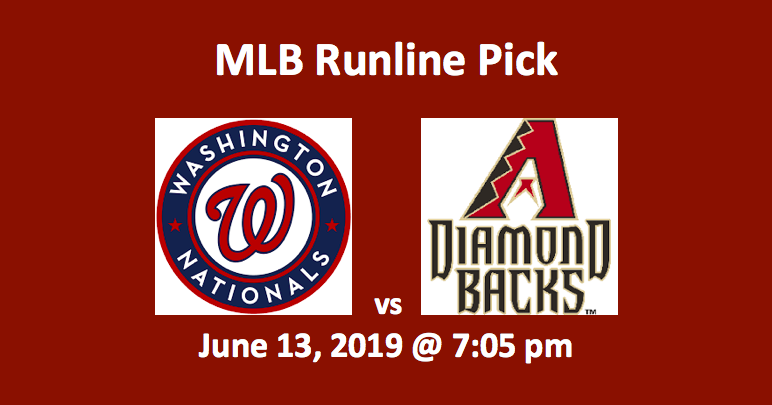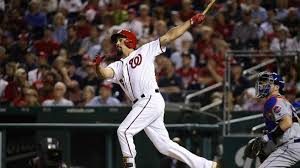 This Washington Nationals vs Arizona Diamondbacks runline pick offers Arizona odds of +143 (-1.5). The Washington Nationals runline odds come in at -157 (+1.5). This is the first meeting between these two teams. The two ball clubs will meet four times this weekend and then three more times in Arizona in the first week of August. Game time tonight is 7:00 pm ET with the contest being played at Nationals Park in Washington, DC.
The Arizona Diamondbacks (36-33 Overall, 22-17 Away) are in a virtual tie with the Colorado Rockies for second in the NL West. The Dodgers are in first and 9.5 games ahead of both teams. The Diamondback also sit 2.0 games out of a wild card spot. The Washington Nationals (31-36 Overall, 15-15 Home) are fourth in the NL East and trailing the first-place Atlanta Braves by 7.5 games. They are 7.0 games away from a wild card berth.
Washington Nationals vs Arizona Diamondbacks Runline Pick – Pitching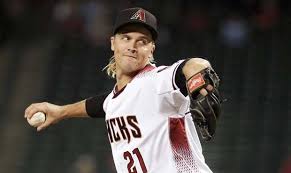 Right-hander Zack Greinke (7-2 W/L, 2.87 ERA, 0.94 WHIP), a 15-year veteran, is having a decent but uneven season. After getting off to a bad start on March 28 versus the LA Dodgers where he lasted just 3.2 innings and gave up seven runs on seven hits, including four homers, Greinke performed well in April. In that month, he was 5-0-1, and the Diamondbacks were 6-0 when he started. May got bumpy again for the righty, as he went 1-1-3 and the team was 1-4 with him on the mound. Greinke has looked better in May, going 1-0-1 and the team winning both of those games. His two primary pitches are his 90mph four-seam fastball, which is slower than most, and his 87mph changeup. Both generate a large number of ground balls.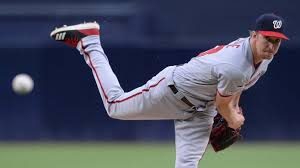 Erick Fedde (1-0 W/L, 2.93 ERA, 1.21 WHIP), who this season was used in relief until he made his first start on May 21 against the Mets, gets his fifth start of the season. Fedde has averaged five innings a start and the Nationals are 2-2 with him as the first pitcher in. Although he has five pitches at his command, Fedde, as a starter, is using four. His 93mph sinker and 87mph cutter have solid falling action, making them tough to make contact with. He also has a slider/breaking ball and changeup at his command. As a starter, Fedde has done well.
Nats vs Backs Stats and Players
Both of these clubs are 7-3 for their last 10 games. The Diamondbacks are a healthy +60 in RS/RA differential. The Nationals are -1 in that area. Arizona is hitting .257, while Washington is batting .252. Opponents are hitting .250 against each team. In homeruns, Arizona has the edge 104 to 89. Bullpen ERA comes in at 4.05 for tonight's visitors and 4.65 for the home team.
For the Diamondbacks, right fielder David Peralta leads the team with a .298 BA. He has driven in 36 runs. Center fielder Ketel Marte and third baseman Eduardo Escobar each have 17 homers as well as 47 and 55 RBI respectively. For the Nationals, third baseman Anthony Rendon leads the club with a .320 BA, 14 HRs, 46 RBI, 19 2B, and .422 OBP. Right fielder Adam Eaton, who's hitting .274, tops the Nationals with 69 hits.
Our Washington Nationals vs Arizona Diamondbacks Runline Pick
Our Washington Nationals vs Arizona Diamondbacks runline pick notes that the Nationals have been hot, winning 12 of their past 17 games. But Greinke, who is 5-1 with a 1.46 ERA in eight career starts against Washington, could cool them down. The righty has not lost to the Nationals since 2014, and he's coming off of a very strong start against the Toronto Blue Jays. The Backs are a solid road team, while the Nats are a less-than-average home club. In this first game of a four-game series, we're taking the Arizona Diamondbacks with the -1.5 runline at +143. We've also got the money line pick for tonight's Dodgers vs Cubs matchup.
Summary MLB Runline Pick – Washington Nationals vs Arizona Diamondbacks
Arizona Diamondbacks -1.5 runline at +143