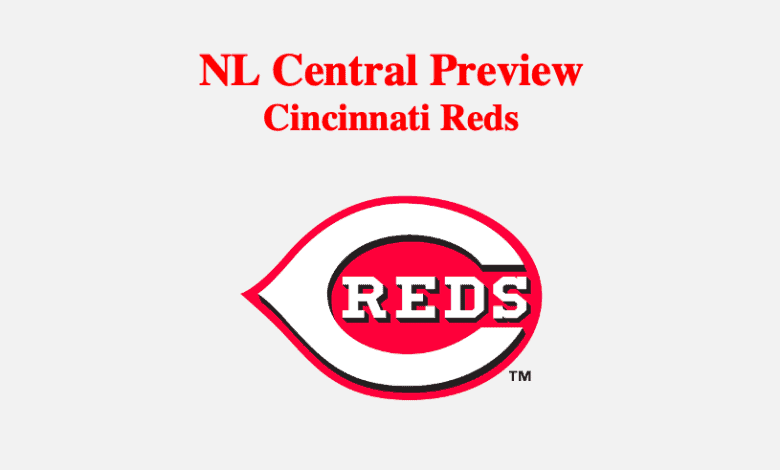 Our NL Cincinnati Reds preview 2021 notes that last season this franchise was one of four from the Central Division that advanced to the postseason. Last year, the Reds went 31-29 with their 162-game adjusted record being 84-78. The last time this team won more than 80 games and made it into the playoffs was 2013 when they posted 90 wins and made it into the playoffs. However, Cincinnati's playoff run was short, as they lost to the Atlanta Braves in the NLWC two games to none. The Reds come into this season with some fine talent. We find that they will be competitive. Of course, it does help that they are in the weakest division in Major League Baseball, which means a postseason appearance is likely, but a playoff run is not.
NL Cincinnati Reds Preview 2021 – Pitching
In 2020, Cincinnati pitchers recorded a 1.22 WHIP (3rd), .215 OBA (2nd), and 3.84 ERA (2nd). Those stats certainly helped this team earn a wildcard spot. The 615 strikeouts that they accumulated also helped. Additionally, Cincinnati pitchers allowed the second-fewest round trippers in the league, 67. They issued 213 walks (7th). Like three other teams in the National League, the Chicago rotation did not have any quality starts. The bullpen's nine saves placed them 14th in the league.
Cincinnati Rotation
Luis Castillo is a true ace who stymies batter. He is amazingly consistent. This is his sixth season in the majors, all of which have been with the Reds. Into the 2021 season, he brings a 3.73 ERA, 1.18 WHIP, and 32 wins and 34 losses. The second man in, Sonny Gray, came to Cincinnati from the Yankees two years ago. In that time, he notched 16 wins and 11 losses recording a 3.53 ERA and 1.14 WHIP.
Three Through Five
In 2020, Tyler Mahle had the best season of his four-year MLB career. Over nine starts, he went 2-2 with a 3.59 ERA and 1.15 WHIP. Veteran Wade Miley arrived in Cincinnati last season after stints with Arizona, Seattle, Boston, Baltimore, and Houston. In 2019, he had a strong season with the Astros, but he was sidelined for much of 2020 with a groin pull. When healthy, he capable of double-digit wins. Michael Lorenzen has spent his first six seasons in the majors as a Reds reliever. He's their fifth starter. At some point, he could end up back in the pen and, at another point, back in the rotation. He's a serviceable pitcher.
Relief
In his first MLB season last year, Tejay Antone showed promise as he appeared in 13 games notching a 2.80 ERA and 1.02 WHIP. He'll get the chance to come in and setup. Veteran Sean Doolittle will do the same. Doolittle, who's spent the last four of his nine MLB seasons with the Nationals, has a lifetime ERA of 3.06 and WHIP of 0.97. Lefty Amir Garrett moves into the closer role after the trade of their former closer Raisel Iglesias to the Angels. Garret offers a 95mph four-seam fastball and 85mph slider, while also utilizing a 95mph sinker.
Reds – Everyday Players
Our Cincinnati Reds preview 2021 observes that saying hitting was an issue for this team last season would be a gross understatement. This team hit .212, which was dead last in the NL. Other troubling areas included the team's .312 OBP (13th), .403 SLG% (9th), and .715 OPS (9th). The Reds punched out the fourth-most dingers (90). However, they ranked last in hits (390) and 13th in doubles (76). Their 534 strikeouts ranked sixth. However, their 239 walks tied them for first in the league. Cincinnati baserunners stole 29 bases (tied-6th).
Cincinnati Reds Preview 2021 – Infield
Eugenio Suarez moves from third base to short, while shortstop Mike Moustakas goes to third. Jonathan India is at second base and Joey Votto at first. Suarez, a fine defender, had a slow start last season at the plate, but then hit his stride. Still, he only hit .202. However, he did smack 15 round trippers and knocked in 38 runs over 58 games. If he gets back on track, Suarez will bat around .300 with 90 RBI and 30-plus homeruns.
Across from him, rookie India gets the start. He looked good in spring training. He's got a good bat and is a smart baserunner, but at this point lacks power. When healthy, Moustakas offers solid power at the plate and he's a fine defender. However, in three of his last six seasons the 10-year MLB vet has missed a substantial amount of time. Catcher Tucker Barnhart won his second Gold Glove last season but can't hit his weight. He's there for his D.
Outfield
Last season, left fielder Jesse Winker, centerfielders Nick Senzel and Shogo Akiyama, and right fielder Nick Castellanos had terrible seasons at the plate. It's expected each of them will have better offensive years. Of the quartet, Winker had the best season at the plate, hitting .255 with 23 RBI and 12 homers over 54 games. Last year, Akiyama's rookie season, he produced very little at the plate. Castellanos, who posted a .225 BA, is capable of hitting .300 with 90 RBI and 20-plus homers. Our Cincinnati Reds preview 2021 finds that it's a crowded outfield where Castellanos would be better suited in the DH role. However, the NL has decided not to pursue the designated hitter option.
NL Cincinnati Reds Preview 2021 – Final Word
Our NL Cincinnati Reds preview 2021 notes that from 2015 through 2018, this team finished last in the division. They bookended that string with fourth-place finishes in each season. There are a lot of question marks regarding this team. However, manager David Bell is adroit at handling his starters and bullpen, and he did get the Reds into the postseason for the first time in seven years. There's certainly some fine talent here as well as a well-stocked farm system. However, like the Cubs, Cincinnati comes in the 2021 season with some holes. Can club president Dick Williams fill them?
Summary – Cincinnati Reds Preview
Record: 92-70 (Second-place NL Central)