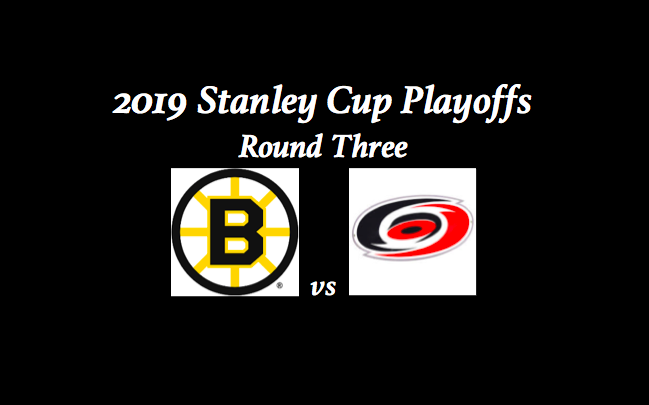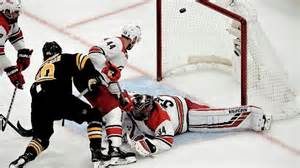 Our Boston Bruins vs Carolina Hurricanes preview looks at the factors that will impact the Eastern Conference Final. In the last round, the Boston Bruins dispatched the Columbus Blue Jackets in six games while the Carolina Hurricanes swept the New York Islanders. Our Bruins vs Hurricanes preview sees recent goaltending performances along with Boston's scoring depth and the 'Canes blueline being major factors in the series. Here's how we see this series going.
Boston Bruins vs Carolina Hurricanes Preview – Goaltending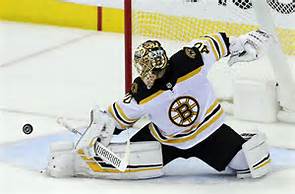 Tuukka Rask was by far Boston's most valuable player against the Blue Jackets. He was able to give the Bruins a chance to win in every game. Rask finished the series with a .938 save percentage and a 2.02 GAA. He also heads into this series stopping 111 of the 115 last shots he faced. Rask has looked locked in and projects to be tough to beat.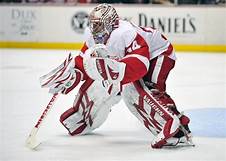 The Hurricanes will possibly have two options in net. Petr Mrazek was very good in the postseason until he succumbed to an injury in game two against New York. Curtis Mcelhinney was solid in his absence. Mrazek owns a .913 save percentage and a 2.22 GAA in nine playoff games. Mcelhinney has a 1.56 GAA and a .947 save percentage. Both offer solid potential in this series, although Rask owns the advantage in terms of both skill and recent performance over both Carolina netminders.
Boston's Stars Emerge to Send Columbus Home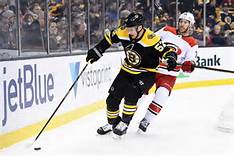 After a slow start in the second round, the Bruins' star players were able to produce. David Pastrnak and Brad Marchand currently top the club's roster in scoring. Both have been hot as of late with each recording four points in the last three games. Boston's top two centers, Patrice Bergeron and David Krejci have had solid playoffs as well. Bergeron has five goals and Krejci has 10 points thus far.
The Bruins have received scoring from all four lines. Since returning fourth line center Sean Kuraly has 2 goals in nine games. Their third line has been producing as well. Charlie Coyle (5-3-8), Marcus Johansson (2-3-5), and Danton Heinen (1-4-5) have combined for 18 points in the playoffs. They have generated plenty of chances and will test Carolina's depth on defense.
Boston will be without Charlie McAvoy in game one. The Defenseman was suspended for a single playoff game after catching Blue Jackets' winger Josh Anderson with a hit to the head. McAvoy has been the Bruins' best defenseman by far during these playoffs. Missing their leader in terms of time on ice will make game one challenging for the Bruins. They will have to rely on Rask heavily in game one against a Carolina team that fires a lot of shots on net. Luckily for Boston they had plenty of experience during the regular season, missing crucial pieces on the blueline. Almost all of their defensemen missed games to injury including McAvoy who only played in 54 contests. They will need to rely on this depth in game one, although we don't believe it will be as much as an impact over the course of the series.
Don't Sleep On the 'Canes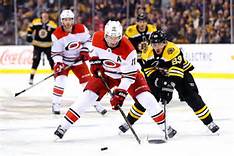 While the Hurricanes came into the playoffs as a wildcard, their accomplishments thus far should be evidence that they can pose a threat to the favored Bruins. So far Carolina has beaten the defending Champions as well as sweeping a very good Islanders team.
The Hurricanes' biggest threat is by far their team of blueliners. Jaccob Slavin has been a force this postseason. He has 11 points while averaging a team leading 26:36 minutes per night. Dougie Hamilton has had a few gaffes but for the most part has been a threat offensively. Hamilton has seven points thus far. Justin Faulk (1-5-6), and Brett Pesce (0-6-6) have been vital to Carolina's success as well.
Up front the 'Canes have gotten good performances out of their top two lines. Centers Sebastian Aho and Jordan Staal both have matching four goal and five assist performances thus far. Wingers Teuvo Teravainen and Warren Foegele have been great as well. They are first and second on Carolina's roster in goals. Besides their top six forwards, the Hurricanes lack secondary scoring which might do them in during the Eastern Conference Finals.
Boston Bruins vs Carolina Hurricanes Preview
Our Boston Bruins vs Carolina Hurricanes preview notes that the Bruins remain the favorite to win the Stanley Cup after the second round of the playoffs. Despite this, if they fail to come out with intensity this series could go either way. Our pick sees the Bruins with the advantage both up front and in net. We also believe the Carolina holds the edge on the blueline. The conclusion of our Boston Bruins vs Carolina Hurricanes preview is we like Boston's chances though. Rask is extremely hot and the Bruins' top line has gotten in a groove.
Boston Bruins vs Carolina Hurricanes Series Prediction
Boston Bruins over the Carolina Hurricanes in six games.