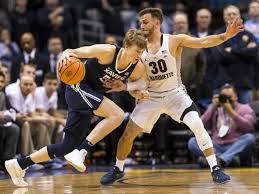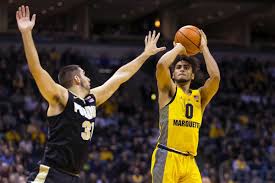 In Big East basketball tonight, Wednesday, Jan. 24, the Marquette Golden Eagles (13-6 Overall, 4-3 Big East) will visit the #8 Xavier Musketeers (18-3 Overall, 6-2 Big East). Tipoff will be at 6:30 p.m. E.T. at the Cintas Center in Cincinnati, OH. In the Big East, the Golden Eagles are two games behind first-place Villanova, while the Musketeers sit in second place, one-half game in back of the conference leaders. Our Marquette plays Xavier 2018 Big East basketball pick offers the Musketeers at either -6.5 or -7.0 and the over/under at between 163 and 164.
Recent History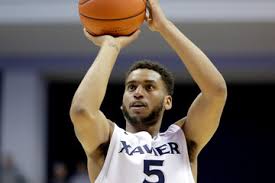 Both the Golden Eagles and Musketeers are 3-2 for their last five. Marquette has been inconsistent, alternating wins and losses, while Xavier has won their last three, beating #25 Creighton 92-70, St. John's 88-82, and #19 Seton Hall 73-64. Prior to those three wins, they lost to Providence 81-72 and #1 Villanova 89-65.
In their last five games, Marquette beat Providence 95-90 OT on Jan. 3, lost to #3 Villanova 100-90 on Jan. 6, and then beat #13 Seton Hall 84-64 on Jan. 9. In their last two games, the Golden Eagles lost to Butler 94-83 on Jan. 12 and took down DePaul 70-52 on Jan. 15.
Match Up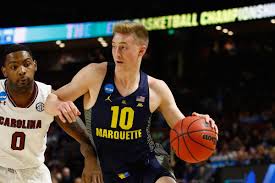 Both teams are scoring around 84 PPG and allowing about 74 PPG. Marquette is hitting 47.0 of their shots from the floor, while Xavier is good on 50%. Xavier is plus-seven in rebound and plus-one on assists. Marquette is a bit more adept at steals and blocks. These two teams are fairly close statistically. Although the Golden Eagles are a better foul shooting team, by about two percentage points, the Musketeers have put up about 150 more free throws and sunk about 110 more. However, on threes, Marquette dominates, hitting 41% to Xavier's 38% and tossing in almost 60 more than their opponents.
Players to Watch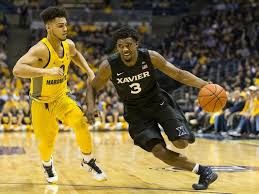 For Marquette, sophomore guard Sam Hauser is hitting 50% of his shots from beyond the arc, 90% of his frees, and 51% of his field goals. He tossing in 15.1 PPG and grabbing 5.9 RPG. Senior guard Andrew Rowsey is an avid playmaker with 4.3 APG. He's good for 20.8 PPG. Guard Markus Howard his sunk each of his 57 free throws and is averaging 21.5 PPG.
Senior guard Trevon Blulett is averaging 19.1 PPG and 5.5 RPG, while senior forward Karem Kanter leads the team in rebounds with 5.7 per game. He's a 56% shooter. Sophomore forward Tyrique Jones, who's good on 65% of his shots, is taking down 5.5 RPG, while sophomore guard Quentin Goodin leads the team in assists with 5.3 PG.
Marquette Plays Xavier 2018 Big East Basketball Pick
These two teams met on Dec. 27, 2017. At that time #6 Xavier beat Marquette 91-87. These are two high-scoring teams and each give up on average over 70 points per game. The Over is high, but we're taking it at 163.0. In terms of the spread, Our Marquette plays Xavier 2018 Big East basketball pick is the Golden Eagles at +7.0. We think this will be a close one.
Summary Golden Eagles at Musketeers- Marquette at +7.0 and over 163.0