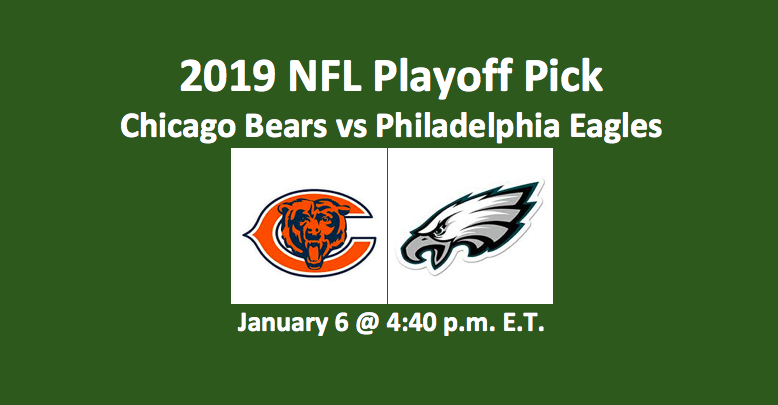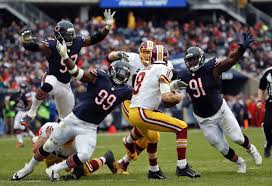 The NFC North champions Chicago Bears (12-4) host the wild card team from the NFC East, the Philadelphia Eagles (9-7), for a first round playoff matchup. Kickoff is scheduled for Sunday, Jan 6 at 4:40 pm ET at Soldier Field in Chicago, IL. The Eagles are, of course, the winners of the 2018 Super Bowl and defending NFL champs. The Bears enter the postseason for the first time since 2010. Our Bears vs Eagles pick and betting preview has Chicago at either -6.0 or -6.5. The over/under is at 41.5. Note, this is the last wild card game. At this point, the Indianapolis Colts and Dallas Cowboys have moved onto next week's second round.
Considering Basic Stats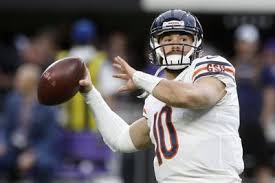 Starting with away vs home records, the Eagles are 4-4 on the road, while the Bears are 7-1 at home. To get to this point of being one of the wild card teams, Philly had to run off three straight wins at the end of the season, beating the LA Rams, Houston Texans, and Washington Redskins. In those wins, the Eagles averaged 28.7 PPG. The last time the Bears lost at Soldier Field was Oct. 21 when New England visited. The final was 38-31. To close out the season, Chicago won four games straight, beating the LA Rams, Green Bay Packers, San Francisco 49ers, and Minnesota Vikings. In those four games, the Bears allowed an average of 10.5 points.
Although the Bears are not noted for being an offensive team, they averaged 26.3 PPG (9th NFL) this season. Philly averaged just 22.9 PPG (18th). Chicago outperformed Philadelphia in rushing yards per game (121.2-to-98.1), while the Eagles win the yards per game match in passing (267.2-to-228.3).
Defensive stats certainly favor the Bears. They were first in the league in defensive points allowed (17.7 PPG). At 21.8 PPG, Philly is 12th in this category. Chicago is first in rushing yards allowed (80.0 YPG) and seventh in passing yards (209.7). The Eagles are giving up a respectable 96.9 ground yards per game (7th) but offering opponents 269.3 passing yards per game (30th).
Our Bears vs Eagles pick gives Chicago the overall statistical advantage in this game. Of course, that does not account for the veteran presence of someone like Philly QB Nick Foles. He can be a major factor when it comes to beating stats. But that being said, the Bears do possess a statistical edge.
Edge: Chicago
Comparing QBs and Offenses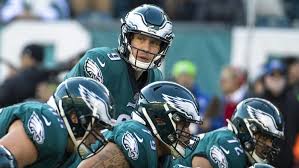 Although there was concern about Nick Foles health, it's been reported that he's ready to play. In the five games in which he's replaced the injured Carson Wentz, Foles completed 72.3% of his passes and thrown seven touchdown passes and four interceptions. TE Zach Ertz, the team's top receiver, has been targeted 156 times, making 116 receptions for 1,163 yards and eight scores. Our Bears vs Eagles pick observes that the other major receiving threat for the Eagles is wideout Alshon Jeffery (65 REC, 13.0 YPC, 6 TDS). The ground game features rookie RB Josh Adams. Over 14 games, Adams rushed for 511 yards, averaging 4.3 YPA and scoring three times.
For the Bears, second-year QB Mitchell Trubisky certainly made some solid progress this season. He completed 66.6% of his tosses for 3,223 yards and 24 TDs. Trubisky threw 12 picks. Chicago running backs Jordan Howard and Tarik Cohen are both pass-catching threats. Howard made 20 receptions for 145 yards, while Cohen grabbed 71 passes for 725 yards and five TDs. Other important receiving components include WR Allen Robinson (55 REC, 13.7 YPC, 4 TDs) and TE Trey Burton (54 REC, 10.5 YPC, 6 TDs). However, Burton may not play due to a groin injury. Rookie WR Anthony Miller (33 REC, 12.8 YPC, 7 TDs) could be an important factor in this game. Howard (250 ATT, 935 YDs, 3.7 YPA, 7 TDs) and Cohen (99 ATT, 444 YDs, 4.5 YPA, 3 TDs) anchor the rush attack.
We think that Foles gives Philly an advantage, but we also find that the Bears have more variety and depth on offense. We're going to call this for the Bears.
Edge: Chicago
Defense
Our Bears vs Eagles pick offers some straightforward, comparative defensive stats.
Eagles favored in TFL (100-to-94)
Bears advantage in sacks (50-to-44)
Chicago better in INTs (27-to-10)
In addition, Bears tops in PD (92-to-65)
Chicago defensive scoring (6-to-0)
Also, Bears lead in FF/FFR (19/9-to-/12/7)
Edge: Chicago
Our Bears vs Eagles Pick
Our Bears vs Eagles pick is Chicago at -6.5. The Bears offer an adequate offense and a dominant defense. We also like the under in this one, which is at 41.5.
Summary Bears vs Eagles Pick: Chicago at -6.0 and under 41.5