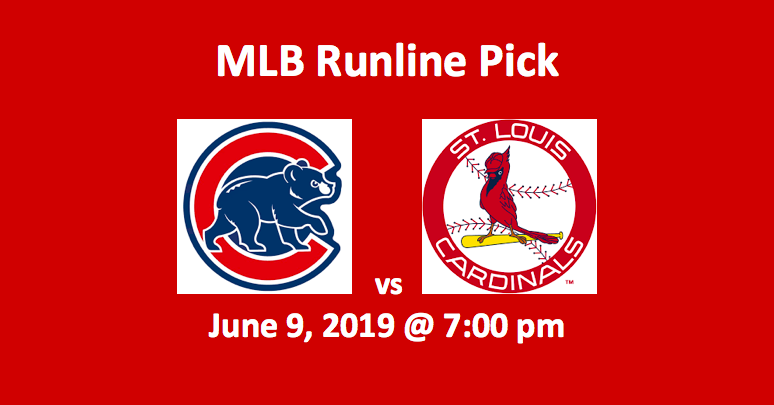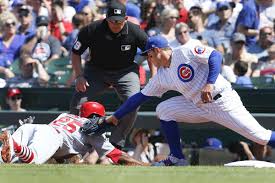 Our Chicago Cubs vs St Louis Cardinals runline pick has the Chicago odds at +127 (-1.5). The Chicago Cubs vs St Louis Cardinals runline odds for the visiting Cards are at -137 (+1.5). At this points, the moneyline favors the Cubbies, as they are at -164, while the Cardinals are listed at +151. This is the third and final game of this weekend series in which Chicago has won the first two. The final game of the series will be played on June 9, 2019, at Wrigley Field. It has a scheduled 7:00 pm ET start time.
The two teams have met eight times thus far, with the Cubs leading five games to three. The Chicago Cubs (36-27 Overall, 23-11 Home) are first in the NL Central, while the third-place St Louis Cardinals (31-31 Overall, 11-18 Away) are in third place and 4.5 games away from the top. The Cubs have won six of their last 10 games and two straight. St Louis is 5-5 for their last 10 games. They have lost two in a row. At this point, considering their recent performance and their position in the standings, St Louis can really use a win tonight.
Chicago Cubs vs St Louis Cardinals Runline Pick – Starting Pitching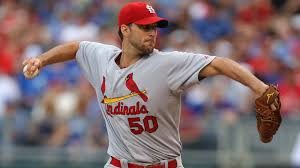 Right-hander Adam Wainwright (5-5 W/L, 4.34 ERA, 1.37 WHIP) starts for the St Louis Cardinals. After going 3-2-1 in April, Wainwright, over his last six starts, is 2-3-1. This season against the Cubs, he is 1-1. In his second start versus Chicago, which was the last time he took the mound, Wainwright pitched eight innings, allowing just two hits while striking out eight and walking seven. He gave up no runs and, as a result, the Cardinals won that game 2-0. In his loss versus the Cubs, which was on May 5, Wainwright allowed six earned runs on five hits with the result being 13-5.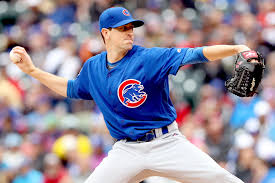 Kyle Hendricks (6-4 W/L, 3.16 ERA, 1.10 WHIP), another righty, takes the mound for the Cubs. After a rocky 1-4 start in April, Hendricks started to find his rhythm and pitches. In May and June, he's gone 4-0-2, including a 4-0 win versus St Louis on May 3. In his last start, which was against the Colorado Rockies, Hendricks pitched seven innings, allowing three runs on six hits. He walked one and struck out 10. Thus, if he is on tonight, he'll be tough to hit. Thus far at Wrigley Field this season, Hendricks is 3-1 with two no-decisions.
Cubs vs Cardinals Stats and Offense
The run differential for Chicago stands at +62 and for St. Louis it's at +11. The Cubs have smacked 101 homeruns and given up just 67. St Louis pitchers have allowed opponents 86 round trippers, while Cardinal hitters have hit 79 homers. The Cubs are hitting .254 and the Cards .247 The difference is negligible, as Chicago opponents are batting .243 and St Louis opponents are hitting .240. Bullpen ERA for the home team is at 3.83. The Cardinal pen's ERA comes in at 4.31.
The Cardinals look to left fielder Marcell Ozuna, who is hitting .346 against Hendricks, to generate offense. For the season, he's batting .250 with 17 homers and 54 RBI. Other essential parts of the Card's offense are Paul Goldschmidt and Paul DeJong. Goldschmidt is batting .268 with 12 round trippers and 24 RBI. DeJong, who has a .275 BA, has hit 10 homers and driven in 29 runs. For the Cubs, Anthony Rizzo and Javier Baez each have 44 RBI, with each belting 16 homeruns. Baez tops the team in BA at .304. Rizzo is hitting a healthy .281. Also important for Chicago on offense is catcher Willson Contrares. He's hitting .290 with 35 RBI and 13 HRs.
Our Chicago Cubs vs St Louis Cardinals Runline Pick
Our Chicago Cubs vs St Louis Cardinals runline pick likes the home team Cubs with the runline. We think Chicago hitters will tee-off against Wainwright. Also, we expect Hendricks to continue to perform as he has over the past five weeks. Take Chicago at +127 (-1.5).
Summary Pick Runline Odds – Chicago Cubs vs St Louis Cardinals
Chicago Cubs runline at +127 (-1.5)