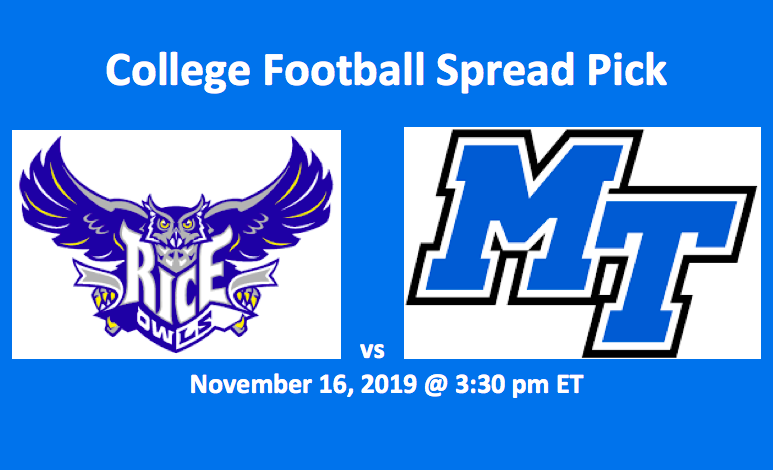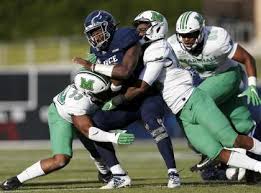 Our Rice vs Middle Tennessee pick has the Blue Raiders at -13.5. This Rice vs Middle Tennessee pick notes that both of these teams have struggled this year. The Rice Owls (0-9 Overall, 0-5 C-USA) have not won a game all season and are tied last place with the UTEP Miners in C-USA West. The Middle Tennessee Blue Raiders (3-6 Overall, 2-3 C-USA) have not done much better. They are next-to-last, sixth, in C-USA East. The Old Dominion Monarchs, who are 0-6, are last.
The game will be played on Saturday, November 15, 2019 at 4:30 pm. The site will be Floyd Stadium in Murfreesboro, TN. The weather at kickoff is expected to be sunny and 50 degrees. This season, Middle Tennessee has notched all three of its wins at home.
Rice vs Middle Tennessee Pick – Stats and Recent Performance
Overall, the stats certainly favor the Blue Raiders. Rice has a tough time scoring and defending, while neither team has a strong defense.
Team Stats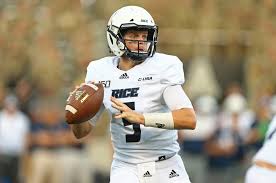 The Rice Owls are averaging 14.9 PPG and 272.7 YPG in total offense. Of those offensive yards, 111.7 are ground yards and 160.0 are passing. Neither number is very impressive. In fact, they are downright lethargic. On the other hand, the Middle Tennessee Blue Raiders are averaging 24.9 PPG. They are putting up 398.3 YPG in offense. A huge number of those yards, 181.2, are in rushing. The other 217.1 YPG are airborne.
On defense, the Owls are allowing 28.1 PPG and the Blue Raiders 31.3 PPG. Middle Tennessee is allowing opponents 470.9 YPG with a hefty 210.1 on the ground. They are also giving up 260.8 YPG in passing.
Recent Performance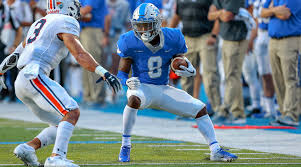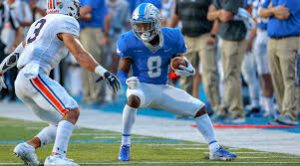 The Owls last played on November 2. In that game, the Marshall Thundering Herd beat them 20-7. In their prior game, which was versus Southern Mississippi Golden Eagles, they lost 20-6. A majority of Owl losses this season have been by 14 or more points. In their last five games, the Blue Raiders have gone 2-3 with a win over the Florida International Panthers (50-17) and an upset victory over the Marshall Thundering Herd (24-13). They last played on November 2. In that game, which was on the road against the Charlotte 49ers, Middle Tennessee lost 34-20.
Owls vs Blue Raiders – Team Analysis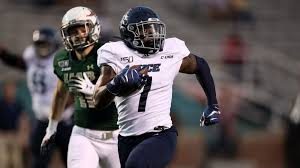 Our Rice vs Middle Tennessee pick notes that Owl RB Aston Walter is doubtful today, as he's dealing with a shoulder injury. If he does not play, or if he does but is hampered by his injury, the Owls will have a tough time scoring. Walter has scored five times and is averaging 4.5 YPA. Freshman QB Wiley Green is completing just 52.8% of his passes and has tossed just four scoring balls. He's thrown two picks and been sacked nine times. Austin Trammel, who has 46 catches and three TDs, is his top target.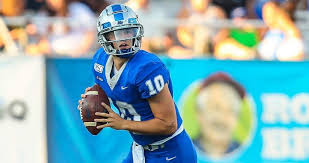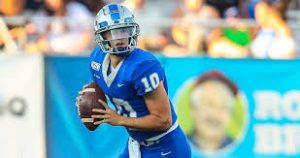 The Middle Tennessee offense features Asher O'Hara at QB. O'Hara has been solid, completing 68.1% of his passes and tossing 13 TDs. He's also the team's top rusher, having run for 757 yards and seven scores. O'Hara has accumulated over 1,550 offensive yards. He thrown six picks and been sacked 19 times. Two wideouts, Jarrin Pierce and Ty Lee, are his top pass catchers. Pierce has 32 catches and two TDs, while Lee has 31 receptions and one score. Three other receivers have caught a total of 10 TD passes. RB Terelle West, who has three rushing TDs, is averaging 9.0 YPA. The defense has notched just seven sacks, but they do have a healthy seven INTs.
Five Keys to this C-USA Game
Rice RB Aston Walter is doubtful and so is the Owl offense
Neither D is strong
Middle Tennessee could score 30-plus points today
Blue Raiders have a strong home field advantage
Owls tend to not get blown out
Our Rice vs Middle Tennessee Pick
Our Rice vs Middle Tennessee pick sees the Blue Raiders as piling up points today, while the Owls find it tough getting into the end zone. Plus, Rice has lost a slew of games by 14 or more points. We like the Middle Tennessee Blue Raiders today at -13.5.
Rice vs Middle Tennessee Pick – Summary
Middle Tennessee at -13.5