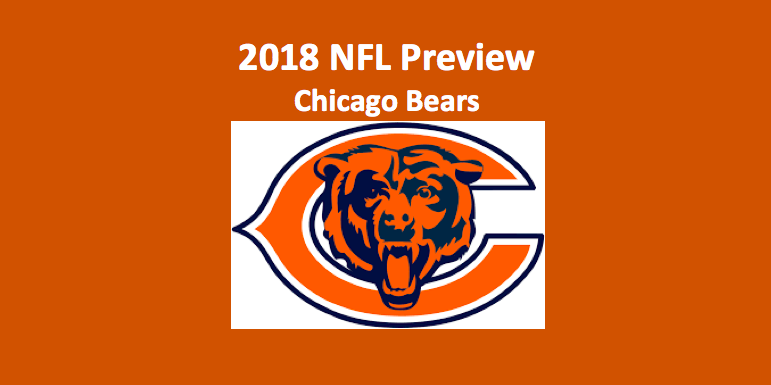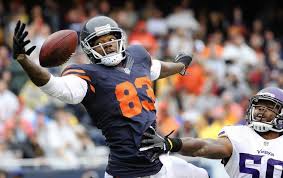 The Chicago Bears (5-11), who were last in the NFC North, have a new, first-time head coach. Matt Nagy, who from 2008-2012 served the Eagles in various capacities and then from 2013-2017 was with Chiefs, joins the Bears. His last job with Kansas City was as offensive coordinator. Our 2018 Chicago Bears NFL betting preview certainly acknowledges that this team has been in need of a shot-in-the-arm. In the last five seasons, their best record has been 8-8. Over the last two seasons, they have gone 8-24. Someone has to stop the skid. Maybe Nagy, who has a mix of 11 new coaching assistants/coordinators and 12 veteran Chicago coaches/coordinators, can make a difference. Look for him to open up the offense and demand a lot more versatility from his running backs and receivers.
Offense
Last season, the Chicago offense averaged 16.5 PPG (29th). They were 30th in total yards, 32nd in passing, and 16th in rush offense. Quarterbacks were sacked a total of 39 times (18th NFL). The third-down conversion rate was 35% (T-24th NFL). Improvement is needed in every area. What have the Bears done to move forward?
Quarterbacks and Running Backs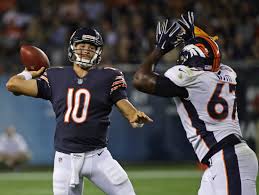 The starting quarterback will be second-year man Mitchell Trubinsky (330 ATT, 196 COMP, 2.193 YDS, 7 TDs, 7 INTs). As a rookie, Trubinsky played decently. He was not great. He made few mistakes, but had trouble with throwing the deep ball accurately. Plus, our 2018 Chicago Bears NFL betting preview is concerned about his development this season, as he learns a new system. He's got a good arm and is mobile, but Trubinsky really needs laser-accuracy when passing. The backups have both had experience with the new offense, but the new system is not a good fit for Tyler Bray and Chase Daniel has precious little real-game experience.
RB Jordan Howard (276 ATT, 1,122 YDs, 4.1 YPA, 9 TDs) is a powerful rusher who can get the job done. But now he'll also have to catch passes as well as execute the read-option when taking a handoff. That's a very different ball game than he's used to. There's less depth than one would like here. Tarik Cohen is an exciting and talented backup.
Receivers and Tight Ends
Two of the team's leading receivers, Kendall Wright and Tarik Cohen, are gone. But there are some fine, skilled players who fit the needs of the new scheme. WR Allen Robinson, who was with the Jags last season, comes in as a high-flyer who can jump and pluck balls from the air. He tore his ACL in the first game last season, but looks to be ready to go. TE Trey Burton joins the crew from the Eagles. He's got good hands and the right moves. Gabriel Taylor may be short, but he's exceptionally speedy, as he can leave nickel corners on the dust.
Offensive Line
The O-line is a work-in-progress. Every player in front needs to show improvement. Rookie guard/center James Daniels, who played for Iowa, is a resilient player who possesses smooth moves. We expect him to start immediately. Guard Kyle Long starts his sixth NFL season and has to prove that he can stay healthy. Injuries have hurt his output the last few years. Tackles Charles Leno Jr. and Bobby Massie and center Cody Whitehair must improve their pass-blocking skills. Whitehair can be an adventure on long snaps.
Defense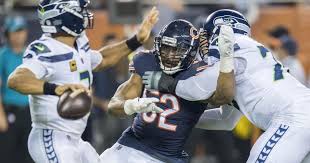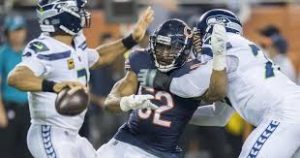 Overall, the Bears defense performed well in 2017. They allowed a total of 287.4 YPG with 221.0 being passing, which was seventh in the league, and 108.1 being rushing, which was 11th. They were stout on points allowed, giving up 20.0 per game (9th NFL) and tough on sacks with 42 (T-7th NFL). Their eight picks (T-29th) were barely noticed. The Bear turnover differential was 0 (15th NFL).
Defensive Line
Two guys in front, end Akiem Hicks and nose tackle Eddie Goldman, proved to be tough against the run and solid when rushing the QB. Hicks, who's become this unit's leader, led the team with 8.5 sacks. At the other end spot, Jonathan Bullard has proven to be inconsistent. At times, he can make some amazing plays, and other times, he completely misses the mark. This group is deep and the subs are versatile.
Linebackers
Our 2018 Chicago Bears NFL betting preview notes that the LB group has lost two of its primary sack artists, Willie Young and Pernell McPhee. Three rookies come on board this season with ILB Roquan Smith, the Butkus Award Winner, leading the way. He's got great football smarts and is exceptionally fast. OLB Leonard Floyd will now have to step up. Can he? OLB Aaron Lynch and ILB Danny Trevathan need to both stay healthy. Smith's substance abuse issues must stay in his past.
Secondary
Safety Eddie Jackson, who came to the team last year from Alabama, started immediately and proved to be a top-notch performer. He garnered two interceptions and was third in tackles with 70. Safety Adrian Amos, who is now in his fourth NFL season, showed good progress in 2017. CB Prince Amukamara can intimidate receivers but lacks pick skills, while CB Kyle Fuller (2 INTS) needs to step up and perform to his complete potential.
Special Teams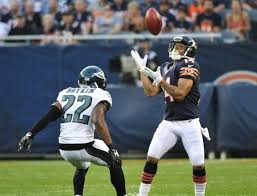 As he is at running back, Cohen is a fine return man, bringing back both punts and kickoffs. Pat O'Donnell boomed punts last season, and he showed fine accuracy. Dependable and accurate PK Cody Parker joins the team after playing for the Colts, Eagles, Browns, and Dolphins. He had four successful onside kicks in 2017. Dependable long snapper Patrick Sales starts his third season after undergoing ACL surgery.
Coaching
Our 2018 Chicago Bears NFL betting preview sees the new offensive scheme that this team is utilizing as being exceptionally exciting. The big question is with such a young team, a young coaching staff, and such major changes can this team adapt quickly? We think this will be a year of tremendous growth for all, including head coach Nagy. There are fine personnel on this coaching staff but many have no NFL experience. As an example, offensive coordinator Mark Helfrich was Oregon's head coach. His run-pass options can be electrifying. But can he make them work in the NFL? Time will tell if he and the rest of the coaching staff will be successful.
2018 Chicago Bears NFL Betting Preview: Final Word
There will be a whole lot of adjusting for the Bears this season. Our 2018 Chicago Bears NFL betting preview sees this as a year that will include a lot of growing pains. Patience will be needed. However, if Nagy and company can see some success with their new scheme that could serve as a harbinger for next season.
2018 Chicago Bears NFL Betting Preview Projection: 6-10 Record, 4th NFC North
Unit Ratings
Offense:
QB: 7.3, RB: 8.4, OL: 6.2, WR: 7.8, TE: 8.5
Defense
DL: 6.0, LB: 6.2, DB: 7.4
Special Teams
PK: 8.6, PT: 8.9, RT: 8.2
Other
Coaching: 7.4
Intangibles: Seven of the new coaches/coordinators come in with no previous NFL experience. They too, like the players, must adapt and learn quickly.
Overall Rating = 6.7
Links