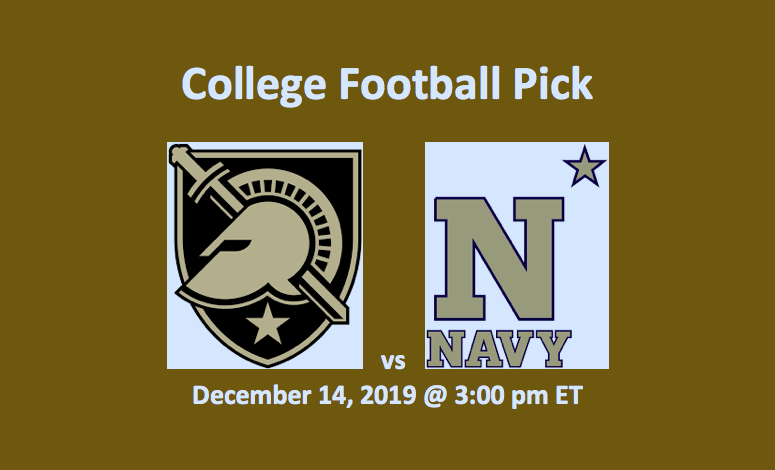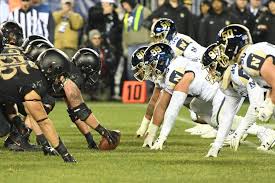 This Army vs Navy pick has the Midshipmen at -10.5. In our Army Black Knights vs Navy Midshipmen prediction, we note that the Black Knights are looking to score their fourth straight victory in the 120th contest for the Commander-In-Chief's Trophy. This game will be played on Saturday, December 14, 2020 with the kickoff scheduled for 3:00 PM ET. The game will be played at Lincoln Financial Field in Philadelphia. Temperatures tomorrow will be in the mid-50s. Drizzle will be off and on and the winds will be from the SW at 12mph with 18mph gusts.
The Army Black Knights (5-7) have lost six of their last eight games, beating only UMass 63-7 and VMI 47-6. Their last game, which was played November 30 versus Hawaii resulted in a 31-52 Army loss. The #23 Navy Midshipmen (9-2) finished second in the ACC West and will play Kansas State in this year's Liberty Bowl. Navy has won eight or their last nine games.
Army vs Navy Pick – Stats
Army is averaging 30.3 PPG and allowing 22.3 PPG. On the other hand, the Midshipmen are scoring 39.3 PPG and giving up 24.2 PPG. That gives Navy a combined PF/PA advantage of +10.9. Both teams focus on rushing with Navy averaging 360.8 YPG on the ground and the Black Knights running for 311.7 YPG. Navy also averages more yards in the air than Army (103.5-86.8). On defense, Army is allowing 144.1 rushing yards per game, while Navy's D is responsible for just 109.7 per game. The Midshipmen are responsible for 232.6 opponent passing yards. The Knights are holding teams to 193.8 YPG. More specifically, the Army defense comes to this game with 20 sacks, seven picks, and 23 PD. Navy has 25 sacks, 11 interceptions, and 39 PD.
Black Knights vs Midshipmen Players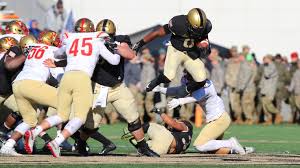 Our Army vs Navy pick we note that QB Kelvin Hopkins Jr. will most likely command the team. Hopkins has 706 rushing yards and 570 passing yards. He's run for seven TDs and thrown four. Hopkins has also tossed five picks and been sacked four times. RBs Connor Slomka and Sandon McCoy have rushed for 637 and 555 yards apiece. Slomka's garnered eight TDs and Sandon 10. Each is averaging 4.5 YPA. On defense, the key is deep back Elijah Riley who's notched 74 tackles, three picks, and three FF. LB Cole Christiansen, who has accumulated 103 tackles, including 61 solo, is a major defensive force.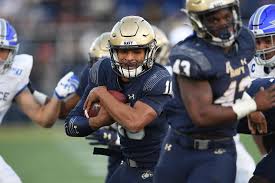 Navy QB Malcolm Perry is at the helm. He has 1,500 rushing yards and 1,027 passing yards. As a rusher, he's crossed the goal line 19 times while passing for six scores and tossing three INTs. Perry's been sacked 13 times. Jamal Carothers and Nelson Smith are also central to the Navy attack.  Carothers has 637 ground yards and Smith 557. As a result, Carothers, who's averaging 8.4 YPA, has 13 rushing TDs, while Smith has seven. The Navy defense is led by LB Jacob Springer. Springer, who's notched 58 tackles, has seven sacks, three forced fumbles, and two PD. Safeties Kevin Brennan and Evan Fochtman have two picks each and four and five PD respectively.
Our Army vs Navy Pick
Our Army vs Navy pick finds that Navy has an advantage at QB and in the running back ranks. They are also stronger on defense, especially versus the run. Although the Black Knights have won the last three games in this great rivalry, we find that this season the Midshipmen are playing at a much higher level than the Black Knights. Consequently, we are taking the Navy Midshipmen at -10.5. Looking for a great college basketball pick?  We've got #6 Gonzaga vs #15 Arizona.
Army Black Knights vs Navy Midshipmen Prediction – Summary
Navy Midshipmen at -10.5