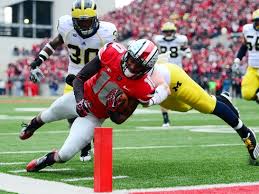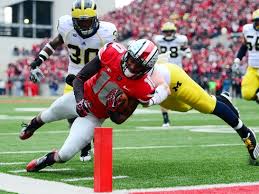 It's a massive week in college football as we're on the cusp of finding out what teams will be appearing in what bowl games. In this week 13 college football pick Michigan plays Ohio State in a game of national importance. The Michigan Wolverines are ranked number three in the nation while the Ohio State Buckeyes are number two. After tomorrow's game, which team will be in the running for one of the four play off spots for the national title? Or will both earn a berth?
The #3 Michigan Wolverines (10-1 Overall, 7-1 Big Ten) were on their way to being perfect when they ran into 5-3 Big Ten Iowa, which occupied fourth place in the West. They lost to the Hawkeyes 14-13 on November 12. The week before the Wolverines had annihilated Maryland 59-3, and the week after their loss, they bet Indiana 20-10.
The #2 Ohio State Buckeyes (10-1 Overall, 7-1 Big Ten) lost their perfect season on October 22 when Penn State surprised them 24-21. Since that loss, they've gone 4-0, taking down Northwestern 24-20, #10 Nebraska 62-3, Maryland 62-3, and Michigan State 17-16.
Michigan Wolverines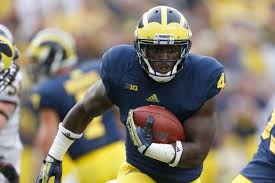 The Wolverines are averaging 42.3 PPG. They're good for an average of 451.1 offense yards a game. Of those yards, 235.3 are related to their ground game and 215.8 to their air attack. Starting QB Wilton Speight (62.3 COMP%, 15 TDs, 4 INTs, 14 Sacks), a junior, missed last week's game due to injury. He shared reps this week with his replacement, senior John O'Korn (58.8 COMP%, 2 TDs, 0 INTs, 2 Sacks), and he's questionable for the game.
Michigan's two primary receivers are WR Amara Darboh (44 REC, 758 YDs, 17.2 AVG, 6 TDs) and TE Jake Butt (38 REC, 460 YDs, 12.1 AVG, 4 TDs). The Wolverines will try to utilize the pass enough to open Ohio State's defense. Their ground attack includes four running backs. De'Veon Smith (144 ATT, 750 YDs, 5.2 AVG, 10 TDS) and Chris Evans (74 ATT, 547 YDs, 7.4 AVG, 3 TDS) are the two primary rushers. Ty Isaac and Karan Higdon each have 417 rushing yards this season and together have scored 11 TDs. Their red zone conversion rate is 68.97%.
The Wolverine D is holding teams to just 10.9 PPG. That includes a mere 245.6 YPG with 137.0 in the air and 108.6 on the turf. They have amassed 36 sacks and an amazing 101 TFL. They are tough on both QBs and RBs. They've posted 11 INTs.
Ohio State Buckeyes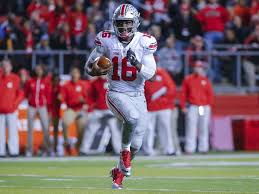 The Buckeyes are scoring 43.8 PPG. Their offense is racking up 493.1 YPG. That includes 263.1 yards on the ground and 230.0 in the air. So much of Ohio State's success is related to QB J.T. Barrett's ability to both pass and run. Barrett is completing 63.4% of his passes and has 24 TDs passes and 8 rushing touchdowns. He's tossed four interceptions and been sacked 24 times. RBs Mike Webber (168 ATT, 1046 YDs, 6.3 AVG, 8 TDs) and Curtis Samuel (84 ATT, 650 YDs, 7.7 AVG, 7 TDs) are the other two primary forces of the Buckeyes' running game.
The Buckeye defense is allowing teams 279.8 of total yards of offense. That includes 159.5 in the air and 120.3 on the ground. They are holding teams to 13.0 PPG. They've posted 17 interceptions and have a turnover margin of plus 14. Their 24 sacks and 75 TFL are well below Michigan's numbers.
Week 13 College Football Pick Michigan Plays Ohio State
Michigan is a highly disciplined team. They have just 52 penalties for a total of 497 yards. Ohio State has amassed 72 penalties for 580 yards. The Wolverines have a defense that is a tad better, while the Buckeyes are little more efficient on offense.
In our week 13 college football pick Michigan plays Ohio State free pick with the Buckeyes favored by 5.0 points. This game will have a very different outcome if Speight cannot play for Michigan. Considering everything, we're going with Ohio State at -5.0. Kickoff is 12 noon on November 26.
Week 13 College Football Pick Michigan Plays Ohio State: Bet Ohio State at minus 5