NCAA Previews
2019 Independent Football Preview
Watch Irish and Army in 2019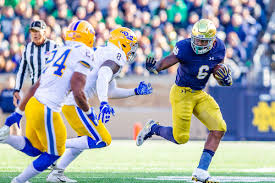 Our Independent football preview for 2019 sees Notre Dame at the top. Also, our Independent football preview finds that Army and BYU will be quite competitive. That trio is solid on both sides of the ball. Those three teams, the Notre Dame Fighting Irish, Army West Point Black Knights, and BYU Cougars, all appear to be bowl bound.
The three remaining Independents, the Liberty Flames, New Mexico State Aggies, and Massachusetts Minutemen, are unlikely to end up in a postseason bowl.
Our 2019 Independent Football Preview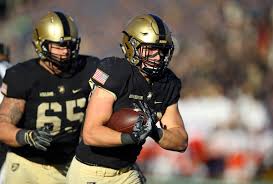 In our Independent football preview, the Fighting Irish of Notre Dame have the top offense and defense. We expect that they will match up well against any team they'll face this season. The Army West Point Black Knights will offer a solid rush attack and a tough defense. We see that the BYU Cougars have a top-notch defense. At the same time, the Cougars put a fine pass attack on the field. The Liberty Flames are projected to be at least as good as they were last season. A weak schedule should help the Flames. The New Mexico State Aggies offense will be challenged at the offensive line and will find it difficult to score points. Finally, bringing up the rear of this six-team group of indies are the Massachusetts Minutemen. Both O-lines and D-lines are weak.
1. Independent Football – Notre Dame Fighting Irish (12-1)
Offense
In 2018, the Irish went to the Cotton Bowl CFP Semifinal game, losing to Clemson 3-30. Last season, Notre Dame averaged 31.4 PPG (41st). They tied for 36th in passing yards (257.5 PG) and were 51st in rushing (182.6 PG). The team totaled 440.1 YPG, which ranked them 32nd. In 2018, QB Ian Book, who completed 68.2% of his passes, passed for 2,628 yards. He hit for 19 TDs while offering up seven INTs. Seven of Notre Dame's top 10 receivers return, including Chase Claypool and Chris Finke who, last season, made 50 and 49 catches respectively. Four starters return to the O-line, which should be stout. The rushing attack looks strong as Jafar Armstrong comes back after averaging 5.3 YPA and scoring seven TDs.
Defense and Special Teams
The Notre Dame defense was tough last season, allowing 18.2 PPG (13th). They were 30th in overall yards allowed at 347.4 PG. The Fighting Irish gave up just 139.5 rushing yards per game (36th) and 207.9 passing yards per game (44th). The frontline includes two stellar defensive ends, Julian Okwara, who recorded 21 QBHs, eight sacks, and 4.5 TFL, and Khalid Kareem, who notched 4.5 sacks, six TFL, five PBU, and eight QBHs. The LBs suffered big losses, which will be tough to make up. Senior MLB Asmar Bilal, who made 50 tackles, anchors the group. The D-backs are deep and experienced. Safety Jalen Elliot and corner Troy Pride are top-notch. Last season, Elliot recorded four picks and seven PBU, while Pride notched two INTs and posted 10 PBU. The punting and kicking games are worrisome. Chris Finke and Michael Young are fine on returns.
See our comprehensive preview of NCAAF #5 Notre Dame in our College Football Top 25 Guide for 2019.
2. Independent Preview– Army West Point Black Knights (11-2)
Offense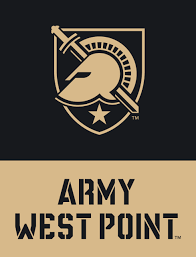 Last season, the Army West Point Black Knights were ranked second in rushing yards, averaging 312.5 YPG. On the other hand, the team's pass attack was 127th, as they averaged 80.1 YPG. Total offense yards came to 392.5 PG (76th). The team averaged 32.8 PPG (36th). Last year, the Army met Houston in the Armed Forces Bowl, beating them 70-14. Our Independent football preview finds that this team will put a sound offense on the field once again. Senior QB Kelvin Hopkins returns after rushing for 1,017 yards and scoring 17 TDs last season. He also passed for 1,000-plus yards and six TDs, while tossing three INTs. The offensive line is experienced and should put up solid numbers. Army, once again, won't be passing much. Their rushing unit is depleted and may post lower numbers than last season.
Defense and Special Teams
The Black Knights' D was tough, allowing 17.7 PPG (10th) and giving up 295.5 total yards per contest (8th). Army West Point was ranked 10th versus the rush, giving up just 106.8 YPG, and 21st against the pass, allowing 188.8 YPG. The D-line returns just two players and will be challenged this season. The linebacking group, which loses James Nachtigal and his 97 tackles and 8.5 sacks, will be down a notch. Senior ILB Cole Christiansen, who recorded 77 tackles, 11 TFL, and two PBU, will anchor the LBs. Three starters return to the secondary, including top corner Elijah Riley. Along with 55 tackles, Riley has 10 PBU and 6.5 TFL. Just about every primary performer on special teams returns.
See our comprehensive preview of NCAAF #19 Army in our College Football Top 25 Guide for 2019.
3. Independent Football – BYU Cougars (7-6)
Offense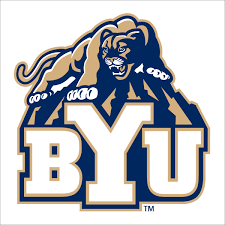 At the Famous Idaho Potato Bowl last year, BYU beat Western Michigan 49-18. The Cougars were ranked 78th in points (27.2 PPG) and 100th in total yards (364.9 PG). They were 89th in rushing yards with 153.2 per game and 85th in passing yards with 211.8 per game. As a freshman last season, QB Zach Wilson completed 65.9% of his passes while hitting for 12 TDs and tossing three INTs. The team's top three pass catchers return with each grabbing 22 to 29 tosses. TE Matt Bushman led the team with 29 catches and a 17.6 YPC average. Once again, he'll be a powerful weapon this season. The offensive line looks sound and deep, while the rush attack will feature senior Ty'Son Williams who averaged 5.6 YPA and scored eight times.
Defense and Special Teams
The Cougar D was ranked 24th in points allowed (21.4 PG) and 18th in total yards (324.1 PG). They were 27th in rushing yards given up (130.1 PG) and 29th in passing yardage (194.0 PG). DE Corbin Kaufusi, who had 56 tackles and 8.5 sacks last season, is gone. But three-of-four frontline starters come back. The LB group is sound and includes WLB Isaiah Kaufusi. He had 50 tackles, two interceptions, four PBU, and five TFL. The D-backs return three starters and look solid. In order to improve, special teams have a lot of work to do.
4. Independents – Liberty Flames (6-6)
Offense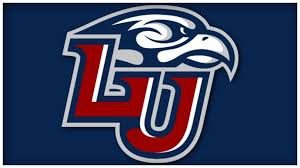 In 2018, the Flames averaged 33.3 PPG and 422.9 total yards per game. Liberty rushed for 161.4 YPG and passed for another 261.5 YPG. If this team is going to be successful, senior QB Steven Calvert will have to dramatically reduce the number of picks he tosses. He threw 18 INTs and 21 TDs. Calvert did throw for over 3,000 yards and completed 54.7% of his passes. WR Antonio Gandy-Golden caught 71 passes for 1,037 yards and 10 TDs. The frontline is deep and experienced. Two top running backs, Frankie Hickson and Peytton Pickett, are back. Hickson rushed for 1,032 yards and 11 TDs, averaging 4.5 YPA.
Defense and Special Teams
Liberty allowed 36.8 PPG, giving them a PF/PA differential of -3.5. In terms of passing, they gave up 262.9 YPG and against the rush they allowed 222.5 YPG. Total yards given up were 485.4 YPG. The Liberty defensive line has been reinforced and is deep; it should perform better than last season. The LB group is sound and includes senior MLB Soloman Ajayi who had 76 tackles, one sack, 3.5 TFL, and two PBU. He also grabbed two picks. Three-of-four defensive backs return. Safeties Isaac Steele grabbed three interceptions and Elijah Benton one last season. Corner Bejour Wilson posted three INTs and 10 PBU. The Flames special teams are overall weak and need improvement.
5. Independent Football – New Mexico State Aggies (3-9)
Offense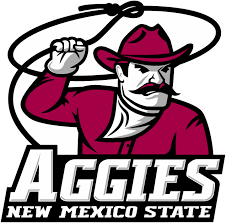 In 2018, the Aggies averaged 265.2 YPG (30th) in passing, while they were good for 105.3 YPG (124th) in rushing. Their total of 370.5 YPG ranked them 96th. In terms of points, they put just 25.4 per game on the board, which was 94th. NMS sophomore QB Josh Adkins will look to cut down on his picks (9) and increase his number of TD passes (13). Adkins passed for 2,563 yards last season and completed 56.5% of his tosses. Four of the team's top six receivers come back. In 2018, Jason Huntley made 47 catches and O.J. Clark 53. The O-line underperformed last season. If they stay healthy, this group will be effective. The rushing unit is deep and returns its top-two performers, seniors Jason Huntley and Christian Gibson, who had 505 yards and seven scores and 590 yards and six TDs respectively.
Defense and Special Teams
Our Independent football preview notes that New Mexico State defense allowed 41.3 PPG (125th). They were 124th in rushing defense, allowing 268.4 yards per game. Versus the air ball, the Aggies gave up on average 207.5 YPG. Overall yardage was 475.9 YPG (120th). The D-line returns three-of-four starters, including senior DT Roy Lopez. Last season, Lopez accumulated 63 tackles, four sacks, and 8.5 TFL. The LB unit will miss Terri Hanks and his NFL-caliber play, but MLB Javahn Fergurson does return. He posted 132 tackles, 5.5 sacks, and five QBHs. Both starting corners, including Shamad Lomax, who posted 10 PBU, return. Aggie special teams are sound. Senior punter Payton Theisler and senior PK Dylan Brown return. Theisler averaged 40.7 YPP and put 18 within the 20, while Brown was 35-35 on PATs and was 10-15 on FG. Huntley returned three kicks for TDs last year and is back.
6. Independents – Massachusetts Minutemen (4-8)
Offense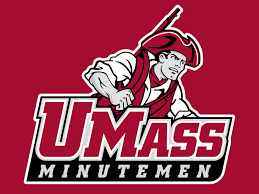 The Mass Minutemen were ranked 35th in points, averaging 32.8 PPG. In our Independent football preview, we found that the air game was sound, as they passed for 298.1 YPG (14th). However, the ground attack came in ranked 102nd as they gained 139.5 YPG. The Minutemen may turn to junior college transfer Andrew Brito to quarterback. Seven of the 10 top receivers come back. However, top pass catcher Andy Isabella, who caught 102 passes for close to 1,700 yards and 13 TDs, is gone. The O-line sees two new starters come on board. We expect their numbers to drop. TB Bial Ally, who gained 139 yards on 25 carries while crossing the goal line once, returns as the only rusher with experience.
Defense and Special Teams
In 2018, the Minuteman defense allowed 42.9 PPG (126th). They could not stop the rush, as Massachusetts gave up 274.8 YPG (125th). They were tougher versus the pass. The Minutemen were ranked 47th (210.0 YPG). Overall yards allowed came in at 484.8 PG (123rd ). The D-line loses three starters, and is expected to struggle this year. Penn State graduate transfer Jarvis Miller joins the LB unit, which will help make up for the loss of Bryton Barr, who posted 147 tackles, four sacks, and 6.5 TFL. The secondary is thin. Senior PK Cooper Garcia is back after hitting all 37 PATs and 9-11 FG. Punting is an issue as are the return groups.
2019 Independent Football Preview
Bowl Projections
Hawai'i Bowl, Dec. 24 – BYU Cougars and Hawai'i Rainbow Warriors
Military Bowl, Dec. 27 – Army West Point Black Knights and Temple Owls
Orange Bowl, Dec. 30 – Miami Hurricanes and Notre Dame Fighting Irish
2019 Independent Football Preview
Projected Best Bets
Aug. 30 – Rice @ Army – West Point Black Knights win home opener.
Sep. 14 – Massachusetts @ Charlotte – Minutemen at around -7.
Sep. 21 – Hampton @ Liberty – This could be the Flames first home win in 2019.
Oct. 5 – Bowling Green @ Notre Dame – Irish over Falcons by at least 14 points.
Oct. 19 – Maine @ Liberty – We're taking the Flames at home against the Black Bears.
Nov. 2 – Liberty @ Massachusetts – Flames catch fire and win.
Nov. 9 – Massachusetts @ Army – Black Knights vanquish Minutemen.
Nov. 16 – Incarnate Word @ New Mexico State – Bet Aggies at approximately -12.
Nov. 23 – BYU @ Massachusetts – Cougars maul Minutemen.
Nov 30 – Notre Dame @ Stanford – The Fighting Irish in a relatively close contest.
Utilize this 2019 Independent football preview to give yourself an added edge this NCAA football season. You can access other conferences through our hub page.