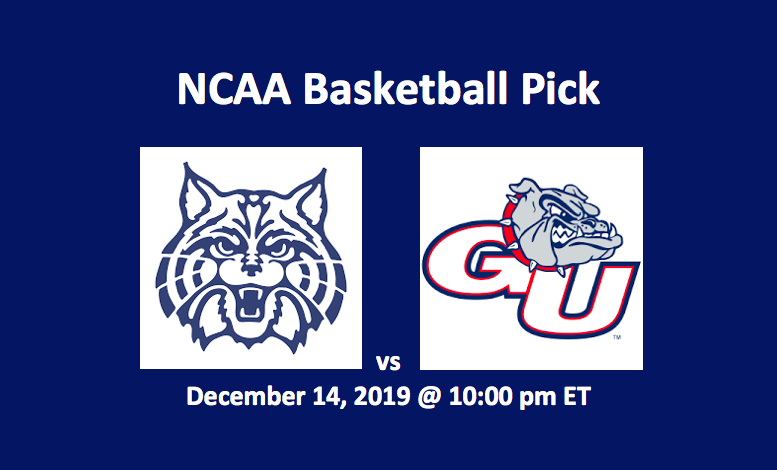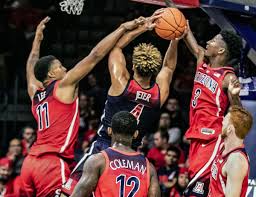 This Gonzaga vs Arizona pick offers the Wildcats at -2.5. Our Gonzaga Bulldogs vs Arizona Wildcats prediction doesn't just feature two nationally-ranked college clubs, but also, two first-place men's basketball teams. The #6 Gonzaga Bulldogs (10-1 Overall, 2-0 Away) sit atop the West Coast Conference. The #15 Arizona Wildcats (10-1 Overall, 7-0 Home) are first in the Pac-12. This game, which will tip off at 10 PM ET on Saturday, December 14, 2019, should be a close one, and we expect there to be a lot of scoring.
The Bulldogs lost their only game on November 29. In that contest, the Michigan Wolverines came into the Bulldogs' home and beat them 82-64. Thus far this season Gonzaga has faced two nationally-ranked teams, both from the Pac-12. The Dogs took down both. On November 28, Gonzaga beat #11 Oregon 73-72 in OT and on December 8, they were victorious over #22 Washington 83-76. Prior to this game, Arizona has faced one nationally-ranked basketball club, #18 Baylor Bears. On December 7, the Bears beat the Wildcats 63-58.
Gonzaga vs Arizona Pick – Stats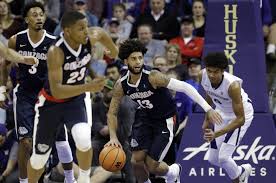 The stats for these two teams are exceptionally close. The Bulldogs are averaging 85.9 PPG and the Cats 85.5. In PA, Arizona is a but stingier, allowing 63.2 to Gonzaga's 65.0. Arizona also tops the Dogs in field goal percentage (51.2% to 49.9%) and in three-point conversions (36.3% to 40.6%) However, thus far this season, the Bulldogs have made two more threes than the Wildcats (88-86). The visitors are bringing down more rebounds than the home team. Gonzaga is averaging 41.8 RPG and Arizona 36.9 per contest. Assists for both teams are about even at 17, as are steals (7.5) and blocks (4).
However, one stat does give us pause. Arizona is good on 73.2% of their frees, while Gonzaga is only completing 66% of their shots from the charity stripe. This could be a factor down the stretch. However, we think a bigger factor will be the battle around the rim. Thus, although the Cats have a big advantage when it comes to free throws, the Dogs possess an edge on rebounding.
Bulldogs at Wildcats – Players
Our Gonzaga vs Arizona pick notes that the Bulldog front men do a lot of the heavy lifting on this team. Forwards Flip Petrusev, Corey Kispert, Killian Tillie, and Drew Timme are all double-digit scorers. Petrusev is averaging 15.8 PPG, 8.5 RPG, and 1.2 BPG. He's shooting 52.4%. Both Kispert and Tillie are hitting over 40% of their shots from beyond the arc and 49% from the floor. Both are averaging 13.7 PPG. Timme, who's putting up 10.4 PPG, is completing 58.7% of his field goals. Guards Joel Ayay and Ryan Woolridge are combining for 20 points, 11.3 rebounds, and 7.8 assists per game.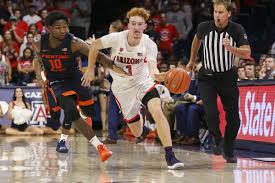 The Wildcats get much of their production from their backcourt. Freshman guards Nico Mannion and Josh Green re major point producers, averaging 14.9 and 12.9 PPG respectively. Mannion is hitting 47.8% of his field goals and 41.7% of his threes. He leads the team with 6.2 APG. Green is a 45% field goal shooter. In addition, guard Dylan Smith, a senior, is completing 45.6% of his field goal attempts while averaging 9.1 PPG. In front, freshman forward Zeke Nnaji leads the team with 15.9 PPG and 6.7 RPG. He's a 70.1% shooter. Senior center Chase Jeter is contributing 9.1 PPG and 5.8 RPG while completing 63.6% of his field goals.
Our Gonzaga vs Arizona Pick
Conventional wisdom and various analytical programs are taking Arizona. In this Gonzaga vs Arizona pick, I've decided to go with the underdog, Gonzaga, at +2.5. The Bulldogs have been tested by some very fine teams this season, and they have proven they can keep pace and win. On the other hand, Arizona has not been tested as much, and when they were, they failed. Again, foul issues could hurt the Bulldogs, while the visitors should control the boards, and, if they do, production in the front court. Looking for a great Army vs Navy pick? See how we think the 120th meeting between the Black Knights and Midshipmen will go.
#6 Gonzaga Bulldogs vs #15 Arizona Wildcats Prediction – Summary
#6 Gonzaga Bulldogs at +2.5