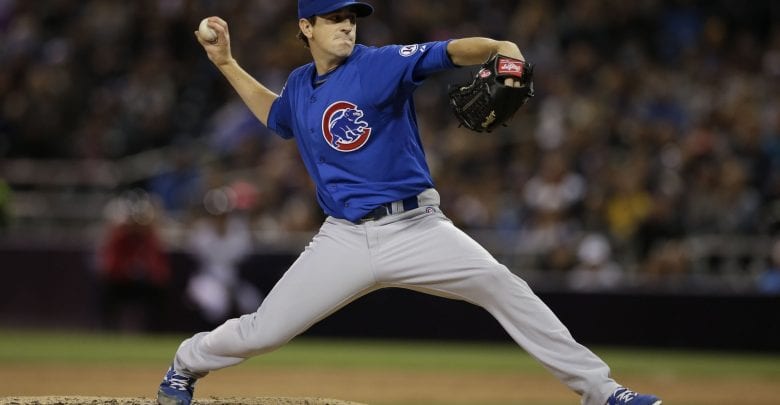 For the 8/26 Free MLB Pick, the Chicago Cubs are in what is supposed to be an easy stretch as the 2017 campaign winds down. That being said Chicago has lost two in a row to teams that aren't exactly playoff contenders in Cincinnati and Philadelphia. Luckily the rest of the NL Central continues their losing ways (Thanks Milwaukee) so the Cubs have been able to maintain their 3 game lead atop the division. Chicago will look to get back on track Saturday night in the City of Brotherly Love.
http://mlb.mlb.com/images/6/1/2/250628612/082517_chcphi_baez_shrug.gif
Phillies players are shining up their golf clubs and hope the last month-plus of the season goes quickly. Well, they've done that since April as Philadelphia holds the worst record in baseball at 47-80. Still, they haven't played horribly lately going 4-6 over their last 10 including last night's 7-1 thumbing of the Cubs.
8/26 Free MLB Pick Pitching Matchup
It's hard to say that tonight is a must win game for the Cubs but they really need to right their ship fast. Teams in the pennant race simply do not drop games like they did last night in the series opener or the previous day to Cincinnati where Chicago's bullpen blew a late lead in a 4-2 loss to the Reds.
#Cubs pitcher Kyle Hendricks hasn't won since May 24.

— Chicago Sports News (@ChiSportUpdates) August 26, 2017
Chicago turns to Kyle Hendricks (4-4) as their stopper. The Cy Young candidate a year ago has battled injuries this season but has shown signs of rebounding to his 2016 form since returning from the DL. Hendricks has pitched into the 6th in 3 of his last 4 starts and has allowed only 9 runs in 30 IP since his return. The thing is the Cubs just don't win consistently when "The Professor" is on the mound as they're 2-4 over his last 6. Fangraphs is predicting another quality start tonight but can a guy get some run support?
Philadephia sends Ben Lively (1-4) to the mound on what is ironically a day after actress Blake Lively's birthday (OK, maybe not that ironic). The last time out Lively was making his first start since being optioned on July 5th but proved he belonged in the big leagues with 6 innings of 2R ball in a win over San Francisco. The rookie Lively will be making his first career appearance against any Cubs batter when the two teams take the field Saturday night.
Happy Birthday to my amazing wife. pic.twitter.com/7vulMXqOdp

— Ryan Reynolds (@VancityReynolds) August 26, 2017
8/26 Free MLB Pick Betting Matchup
The Cubs are huge favorites on the moneyline at -205, the second biggest of Saturday night behind Washington (-210) versus the Mets. 70% of the betting public is on Chicago, which isn't ideal, but the Dodgers proved last night that big consensus bets can cover the number. Sometimes a first matchup against batters favors the pitcher and that's the situation that Philadelphia's Lively finds himself in tonight. While Lively is the unknown, Chicago's Hendricks has been quality and relishes the role of a slump buster. This feels like an 8/26 Free MLB Pick where Chicago gets in, gets the blowout W, and heads to the hotel bar to watch McGregor-Mayweather.
Pick – Cubs Runline (-1.5) (-128)