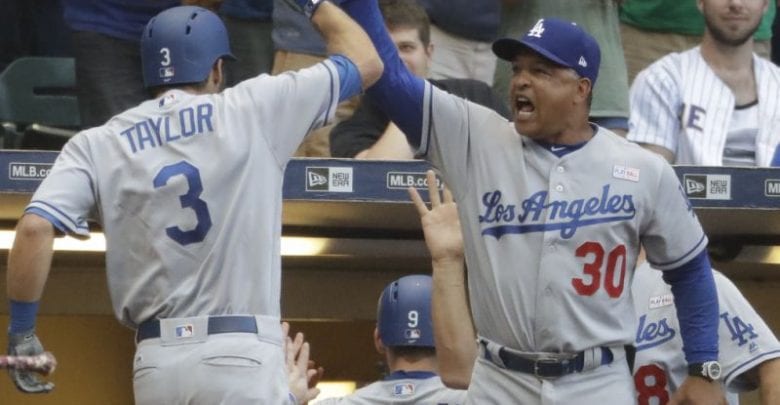 The 8/25 free MLB pick is a good one on paper as two postseason hopefuls meet up in Los Angeles. Well, the Dodgers may not be so much hopefuls as they are a formality at this point – holding a 21 game lead in the NL West with 56 to play. Their opponents on Friday night will be the Milwaukee Brewers, who trail the Cubs by three games in the NL Central.
Normally you'd say the Brewers definitely need this game more. The Brew Crew has played with the sense of urgency that's needed in August as well going 7-3 in their last 10. It might be easy for the Dodgers to coast into the postseason at this point, but they're chasing history and might just be too great even on mediocre days. Los Angeles is 8-2 over their last 10 and has already met the 90 win mark.
8/25 Free MLB Betting Pick Pitching Matchup
The Brewers send Chase Anderson (7-2) to the mound in an effort to topple the Great Dodger Dynasty. The right-hander has had a pretty successful 2017 campaign – when healthy. Anderson sports an ERA of 2.83 but the last time out was his first start since June 28 after suffering a strained oblique. The last place you want to pitch when returning from the DL is Coors Field but Anderson was sharp – pitching 5 innings of 2 hit ball against the Rockies.
Ready to stay up late and watch the Crew tonight. Let's get that W, right @Brewers?

— Wisco Sports Fan (@PackBrewBucks7) August 25, 2017
Overall the Dodgers have hit Anderson well. They haven't faced him this year but across 77 total plate appearances the team is hitting .297 including 7 HR. Fangraphs has projected 5-1/3 IP tonight.
The Dodgers counter with Kenta Maeda (11-5) who flirted with history the last time out carrying a perfect game into the 6th inning against Detroit. Maeda ultimately lost the game after allowing 4ER on 5H. Prior to that he had won 7 of 8 previous decisions. Maeda had been stellar as of late allowing 1ER or less in 7 of 8 starts but the last two times out have been a different story. Aside from the 4ER allowed to the Tigers, Maeda gave up 4ER on 4H to the Padres, albeit in a win.
Maeda has faced Milwaukee once this year,throwing 92 pitches in just 4IP in a 3-0 loss in Milwaukee. Prior to the last outing Maeda had held the Brewers in check, giving up just a .259 average and 2 total runs. Maeda is projected to be one of the top pitching plays of the evening as he returns to his former glory against the Brewers.
.@Dodgers pitcher Kenta Maeda's season statline looks like something out of the 'Twilight Zone': https://t.co/MMcMDm4u8B pic.twitter.com/qJHRLpz9qX

— The Loop (@GoToTheLoop) August 25, 2017
8/25 Free MLB Pick Gambling Matchup and Variables
As expected the Dodgers are huge favorites (as they are in almost every game) Friday night with a -180 ML. Milwaukee is in the middle of a long West Coast road trip where they'll be playing their 7th game in 8 nights – although they were off last night. LA could be even more road weary as they'll be playing their eight game in a row, finally returning back to Chavez Ravine after a 7-game road trip.
Biggest series…? ????… maybe for the @Brewers but just another warm up for the post season for us. GO DODGERS!#THINKBLUE#PlayersWeekend https://t.co/MrfAu3cjvr

— SportyMcBaseball (@SportyMcBasball) August 25, 2017
The easy pick would be to take the best team in baseball at home – and that's what nearly 70% of the betting public is doing tonight. The Dodgers have a lot of housekeeping to do after being away from home for a week and Milwaukee has shown they can get to Maeda. Therefore the gutsy 8/25 free MLB pick is the Brew Crew.
Pick = Milwaukee +165