NHL Previews
Los Angeles Kings Preview 2019 – 2020
Can Aging Kings Keep Up with the Rest of the NHL?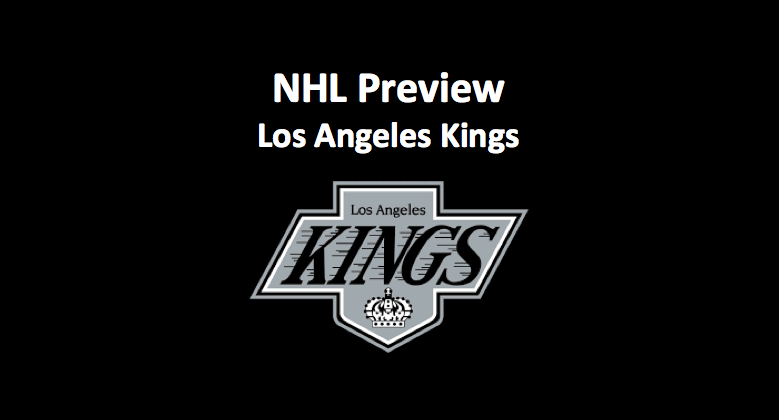 Our Los Angeles Kings Preview 2019 – 2020 observes that LA had a very disappointing 2018-2019 season. Our Los Angeles Kings Preview 2019 – 2020 notes that just one year removed from a playoff berth, they finished last in the Western Conference. LA recorded a 31-42-9 mark for 71 points. We note that their roster doesn't look much different from last season as they head into a new season. Our 2019-2020 Los Angeles Kings season preview looks at where this club will be at the end of the regular season. Can they really contend? To be upfront about that question, we have serious doubts for various reasons.
Los Angeles Kings Preview 2019 – 2020: Goaltending
The Kings starting tandem going into the 2019-2020 season looks to be Jon Quick and Jack Campbell; although this could change at some point during the year. Quick has been rumored to be trade bait for Los Angeles due to the unlikeliness they will make the playoffs. He had a tough 2018-2019 campaign. Quick went 16-23-7 while compiling a .888 save percentage and a 3.38 GAA. While the two-time Stanley Cup Champion is still in the upper half of NHL goaltenders in terms of talent, he won't get much help from the Kings this season.
If Quick is dealt at some point, our Los Angeles Kings Preview 2019 – 2020 believes that LA will likely roll with Campbell and Cal Petersen in the crease. Campbell was very good last year. Despite owning a losing record, he looked quite solid. The former first-round pick had a .928 save percentage and a 2.30 GAA through 31 games played. Petersen only started 10 games last year but looked very good. He stopped .924 percent of the shots he faced while allowing 2.61 goals against. The Kings aren't below average in net, although they are unlikely to steal very many games from their opponents.
Los Angeles Forwards
The Kings forward group has some talent, although it has been aging swiftly. Anze Kopitar, Ilya Kovlachuk and Dustin Brown are arguably LA's top forwards. All three are in their 30's and have slowed down recently. Kopitar saw a 32-point decrease in his production from the 2017-2018 season. Along with this, the normally defensively responsible forward finished with a -20 plus-minus rating. Brown finished second on the team in scoring with 51 points. He looked slow at times though. Brown will play top minutes this year but should be expected to decline. Kovalchuk finished the year with 35 points in 64 games. He performed miserably compared to what was expected from a Russian forward with an 18.75-million-dollar contract. He was so bad that he was relegated to the fourth line. At age 36, Kovlachuk looks to be in steady decline.
King fans do have some reasons for optimism. Our Los Angeles Kings Preview 2019 – 2020 finds that Alex Iafallo and Adrian Kempe will both step into top-six roles. Iafallo spent much of last season playing with Kopitar and Brown. He managed 15 goals and 18 assists. He should be able to improve on those numbers. Kempe will enter his third full NHL season and just signed a three-year deal. This will also be the first year he projects as a second line center. Up to this point, the skilled forward has played third line minutes. Kempe will be given more minutes and LA will look for him to play consistently in his new role. Overall, it looks like Los Angeles will struggle scoring goals again. Their top scorers are in decline. They also lack elite young forwards to replace their waning production.
Kings Preview – Defense
Los Angeles is also pretty lacking on the blueline. Drew Doughty is their only real stud on the backend, although he was disappointing last year. Doughty played 26:36 minutes per game and finished the year with 45 points. He also had the worst defensive season of his career. He saw his plus-minus decrease from +23 in 2017-2018 to -34 in 2018-2019. While Doughty is among the most talented players in hockey, he lacks support on the blueline.
Our Los Angeles Kings Preview 2019 – 2020 acknowledges that the Kings next best defensemen are Alec Martinez and Derek Forbort. Although both have health concerns. Martinez was limited to 60 games last year. He had a heavy work load when in the lineup and contributed 18 points. Forbort will likely enter the season on the IR. He suffered a back injury over the summer. The D-man played 20:45 minutes per game last season, and when healthy, he provides a gritty, big body presence.
Los Angeles Kings Preview 2019 – 2020: Outlook
Don't expect the Kings to finish anywhere except the NHL's basement. Our Los Angeles Kings Preview 2019 – 2020 finds that they lack depth both upfront and on the backend. There is also a good chance they will deal their starting netminder at some point. In a league that is moving towards younger and faster teams, the Kings have yet to catch on to this trend. Don't look for Los Angeles to have much success this season.
2019-2020 Los Angeles Kings Season Preview: Prediction
Record: 33-41-8, 74 points
Preview:7th in the Pacific Division
NHL LINKS
Division Link
NHL 2019 Preview Link