NHL Previews
Chicago Blackhawks Preview 2019 – 2020
Improved Blackhawks Could Secure Wildcard Spot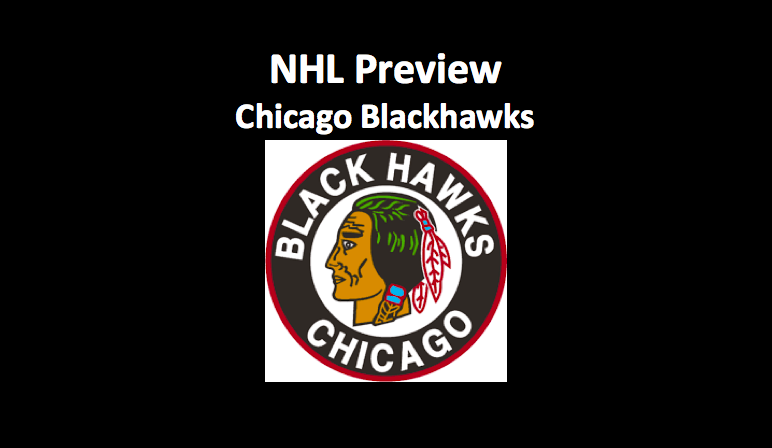 This Chicago Blackhawks Preview 2019 – 2020 notes that while the Blackhawks failed to make the playoffs last season, they exceeded expectations. They were just six points shy of a wildcard spot at the end of the year. The team compiled a 36-34-12 record for 84 points. They were among the top scoring teams in the league as well. Our Chicago Blackhawks Preview 2019 – 2020 observes that there is optimism heading into this season due to their offseason moves. Our 2019 – 2020 Chicago Blackhawks season preview looks at whether these changes are enough to return the Blackhawks to the postseason. One of the biggest moves was in net. Let's first consider what that has done for this team.
Chicago Blackhawks Preview 2019 – 2020: Goaltending
The Blackhawks most significant offseason move was their signing of Robin Lehner. Lehner had the best season of his career last season. The Swedish netminder finished third in Vezina trophy voting and won the Masterton Trophy after overcoming his struggles with addiction and bipolar disorder in the offseason. Last season, Lehner had a .930 save percentage and a 2.13 GAA in 46 games with the Islanders. Our Chicago Blackhawks Preview 2019 – 2020 finds that this addition gives the Blackhawks a very solid tandem in net as they utilize Lehner and Corey Crawford.
Adding Lehner also gives Chicago security at the position should Crawford suffer more injuries. Crawford has missed large stretches of time over the last two seasons. The netminder has been very good when healthy but injuries are a major concern. He missed a total of 33 games to concussions last season. He was also held out of the final 47 games of the 2017 – 2018 season due to an upper body injury. Over the past two seasons, Crawford has a .916 save percentage. Last year, he finished with a .908 save percentage and a 2.93 GAA. If he can stay healthy, he should see an increase in those numbers. A healthy Crawford coupled with another successful season by Lehner should result in Chicago being very solid goaltending.
Chicago Forwards
Despite not finishing in a playoff position last year, our Chicago Blackhawks Preview 2019 – 2020 finds that the Blackhawks had very good offensive production. As a team, they scored 267 goals which was eighth in the NHL. Patrick Kane finished third in scoring among all players last season. He had 110 points and 44 goals on the year. This point total was the highest thus far in his career. Kane currently sits as the 11th highest scoring American in hockey history. He is expected to move into the top ten this year. Along with Kane, Chicago saw a 40-goal season out of Alex DeBrincat. In his second season, he had 41 goals and 76 points. This point total was third on the team behind Kane and Jonathan Toews, who had the highest scoring season of this career. He posted 35 goals along with 56 assists. He has continued to be among the top two-way forwards in the league. Toews should factor into the scoring again this season, although he is unlikely to reach 81 points again.
Chicago will also hope to see offensive contributions from Dylan Strome. Strome was acquired via a trade last season and was very good as a Blackhawk. The former third overall pick had a lackluster two seasons to start his career but broke out after the trade. Strome rekindled his chemistry with DeBrincat, whom he played with in major juniors. He finished the year with 51 points in 58 games. Strome could be in line for a great year now that he will play an entire year with DeBrincat.
Blackhawks Preview – Defense
The Blackhawks were one of the busiest teams in the offseason with several additions to their blueline. They added both Calvin De Haan and Olli Maata. This Chicago Blackhawks Preview 2019 – 2020 believes that both will add some depth to their backend. Last season, they both netted 14 goals. Neither will be top defensemen, although they should help a Chicago team that allowed the second most goals last season.
Chicago's top defensemen this year project to be Duncan Keith and Erik Gustafsson. Last year, Keith played in all 82 games while recording 40 points. He led the team in time on ice with 23:01 minutes per game. He also finished with a +13 plus-minus rating. Gustafsson had a breakout season last year. He finished third among all defensemen in goals with 17 on the year. He also had 43 assists while playing 22:35 minutes per game. Both Keith and Gustafsson will be relied upon heavily in all situations. Overall the Blackhawks blueline has improved, although they lack some depth.
Chicago Blackhawks Preview 2019 – 2020: Outlook
Chicago looks to be in a much better position this year compared to last. The addition of Robin Lehner solidifies their goaltending situation should the injury-prone Corey Crawford miss time. They now look to have two solid centers in Toews and Strome. With Patrick Kane and Alex DeBrincat as well, the Blackhawks should be solid in terms of goal production again this season. While they definitely improved over the offseason, our last season finds that Chicago still looks like it lacks depth. They could be in a race for a wildcard spot, but are not a postseason lock.
Chicago Blackhawks Preview 2019 – 2020: Projection
Record: 38-34-10, 86 points
Finish: 6th in the Central Division
NHL LINKS
Division Link
NHL 2019 Preview Link