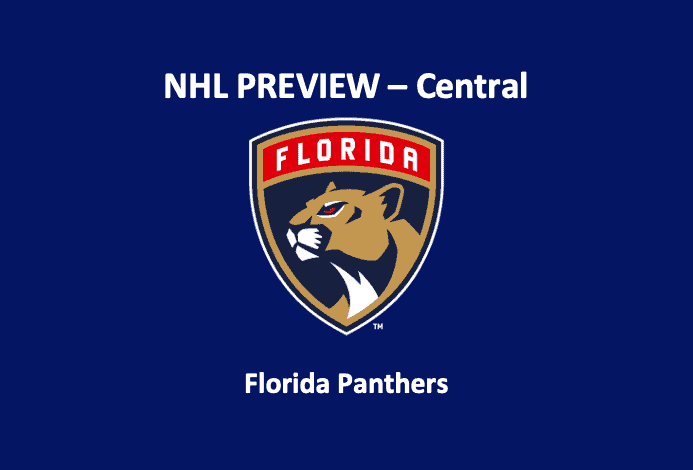 The Panthers had an alright regular season. They had a 35-26-8 record in the 69 games they played before the season was paused. With 78 points they finished fourth in the Atlantic Division and matched up with the New York Islanders in the play-in round. They struggled against the Islanders being eliminated from playoff contention in four games. The 2021 Panthers look pretty different compared to last season. Our Florida Panthers Preview 2021 looks at whether these changes will help or hurt the team this year.
Florida Panthers Preview 2021 – Forwards
The Panthers top two forwards, Jonathan Huberdeau and Aleksander Barkov were very solid last season and will be tasked with carrying the team this year. Huberdeau set a career high with 78 points during the 2019-2020 season. Barkov saw dip in production but still scored 20 goals and had 62 points in 66 games.
The Panthers lost two of their top four scorers over the offseason. Mike Hoffman And Evgenii Dadonov combined for 54 goals last season. Their 29 and 25 tallies were first and second on Florida's roster. The Panthers additions of Patric Hornqvist and Anthony Duclair will try to make up the goal output that Hoffman and Dadonov combined for, although it is unlikely they can come close. Hornqvist scored 17 goals for the Penguins last season and cna provide decet secondary scoring. Duclair has a better chance to replace at least some of the offense Florida lost when they let their top two goal scorers from last season leave. He had 23 goals last year. The speedy winger could fit in very well on Barkov's right side in 2021.
Florida Panthers Preview 2021 – Defense
The Panthers blueline also got weaker over the offseason, but mostly due to the club's decision to not play Keith Yandle this season. Yandle had 45 points last season, the most among all Florida defensemen. It is a perplexing move considering he was crucial to the Panthers' tenth ranked powerplay.
The team's first power play unit will now be headed by Aaron Ekblad. Ekblad was very good last season. The former first overall pick had a career high 41 points in just 67 games. He also improved in his own end increasing his plus-minus from +1 in 2018-2019, to +12 last season. Ekblad also led the team in ice time playing just under 23 minutes per game.
MacKenzie Weegar and Anton Stralman are also expected to play big roles on the Panthers blueline. Both defensemen played over 20 minutes per game last year and will likely see increased ice time with Yandle scratched. Weegar had seven goals and 11 assists while Stralman had 19 points over the 2019-2020 season.
Florida Goaltenders
The Biggest question for this hockey team is whether or not Sergei Bobrovsky can rebound from a poor 2019-2020 effort. After inking a seven-year, $70 million contract last summer, the two-time Vezina Trophy winner had one of the worst years of his career. Bobrovsky's 3.23 GAA was the highest out of his 10 NHL seasons. His .900 save percentage trailed just his .899 rate from 2011-2012. Bobrovsky has the talent to bounce back this season and Florida will need him to do so if they want any chance to make the playoffs.
Backing up Bobrovsky this season will be Chris Driedger. Driedger started 11 games for the Panthers last season. He was very solid in his limited sample size. The 6'4'' goaltender had a 7-2-1 record along with a 2.05 GAA and a .938 save percentage. He could see a few more starts this year, although Bobrovsky is the undisputed number one goaltender for Florida.
Florida Panthers Preview 2021: Outlook
Our Florida Panthers Preview 2021 sees a team that has gotten significantly worse compared to last season. They lost their top two goal scorers in Hoffman and Dadonov. While bringing in Hornqvist and Duclair could cover some of the offense lost, it is likely to be inadequate. Along with this the Panthers plan on healthy scratching their best offensive defenseman. The one saving grace for the club could be Sergei Bobrovsky. If he has a solid season, he can be a game changer. Although this is far from certain considering the results he had last season.
Florida Panthers Preview 2021: Prediction
Record: 24-26-6, 54 points
Finish: 5th in the Central Division