NHL Previews
St Louis Blues Preview 2019 – 2020
Blues Will Be in Mix Again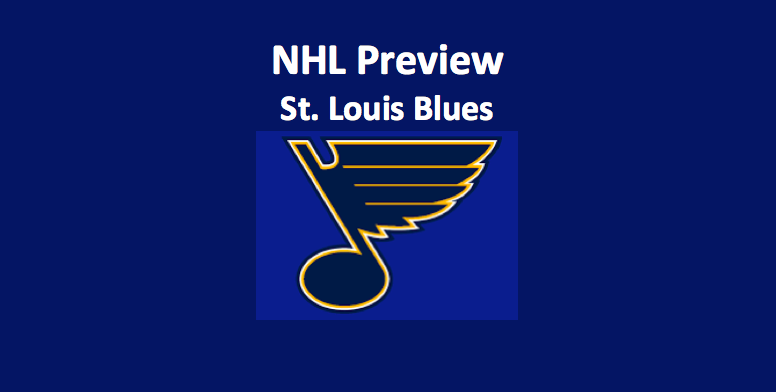 According to out St Louis Blues Preview 2019 – 2020, the St Louis Blues had one of the most turbulent seasons in NHL history. Our St Louis Blues Preview 2019 – 2020 notes that they found themselves at the bottom of the entire league in January. They turned their season around and finished with a 45-28-9 record. This placed them as the third seed in the Central Division heading into the playoffs. Their season eventually culminated with a game seven Stanley Cup victory. Our 2019-2020 St. Louis Blues season preview looks at how likely the club is to keep the Cup for another summer.
St Louis Blues Preview 2019 – 2020: Goaltending
Jordan Binnington had a season for the ages. The rookie stepped up and started his first NHL game in early January. His club was struggling at the time, but he went on to win his first four games. Binnington continued his winning pace the rest of the season, going 24-5-1 in the regular season. He finished the year with a 1.89 GAA and a .927 save percentage. After this, Binnginton capped off his stellar year by carrying the Blues to their first-ever Stanley Cup. In his 26 playoff appearances, he had a .914 save percentage and a 2.46 GAA. Binnington has exhibited confidence and poise beyond that of a typical rookie. Our St Louis Blues Preview 2019 – 2020 finds that because of this, there is no indication that he will experience a sophomore slump.
Binnington will be backed up by Jake Allen. Allen's struggles last season are what ultimately opened the door for Binnington to win the starting job. He started 45 games but yielded the majority of games to his goaltending partner towards the end of the season. Allen ended the year with a 2.83 GAA and .905 save percentage. He should be serviceable in a backup roll this year.
St Louis Forwards
The Blues have a good mix of skill and grit up front. This became a large reason why they won the Cup last season. Our St Louis Blues Preview 2019 – 2020 has determined that Ryan O'Reilly, Vladimir Tarasenko, and Brayden Schenn all project to be leaders in terms of offensive production. O'Reilly led his team in points with 77 on the season. In the playoffs, he secured the Conn Smythe trophy. Tarasenko had a sluggish start to the season but picked up his production later in the year. Tarasenko led the team with 33 goals while also adding 25 assists. Schenn was third on the team in points with 54. Between O'Reilly and Schenn, St Louis has two very legit top-six centers.
The Blues also have some skilled wingers in David Perron and Jaden Schwartz. Both missed times due to injury but were productive when in the lineup. Perron finished with 23 goals and 23 assists in 57 games. Schwartz was limited to 69 games. He had 36 points during the regular season. Schwartz also contributed 12 goals and eight assists during the playoffs.
Oskar Sundqvist, Ivan Barbashev, and Zach Sanford could all be in line for solid seasons. Sundqvist and Barbashev both play very physical games but can help on the scoreboard too. They had 31 and 26 points respectively. Sanford had an interesting season. He was a healthy scratch for parts of the season but contributed in big moments during the playoffs. In 60 regular season games, he posted 20 points. Plus, he only saw action in eight playoff games. Sanford ended up scoring a goal in game seven of the final as well as adding three assists during the rest of the series. This year, all three players should see increased action.
Blues Preview – Defense
The biggest change from St. Louis' cup winning team last year comes on defense. Joel Edmundson was shipped out in exchange for Justin Faulk. While Edmundson played a decent number of minutes and made an impact throughout the year, our St Louis Blues Preview 2019 – 2020 finds that Faulk is an instant upgrade. The former Carolina Hurricane played 22:25 minutes per game while racking up 11 goals and 24 assists. He will likely have a heavy 5-on-5 workload while also contributing on the powerplay. Faulk will join a team that already had a very solid nucleus on the blue line.
Alex Pietrangelo, Vince Dunn, and Colton Parayko will be major contributors. Pietrangelo finished the 2018-2019 season with 41 points. He plays a very solid all-around game and will likely lead his team in time on ice. Dunn is coming off of his second NHL season where he scored 12 goals from the blueline. His 35 points were second among Blues' defensemen behind Pietrangelo. Parayko is another all-around solid defenseman. He finished last year with a +20 plus-minus rating. He will be capable of killing penalties as well as eating even-strength minutes.
St Louis Blues Preview 2019 – 2020: Outlook
The Blues look very similar to last year. They have a unique mix of grit and talent at forward as well. Along with this, our St Louis Blues Preview 2019 – 2020 finds that their blueline, which was good enough to win the cup last year, improved over the summer. A top-four group of Alex Peitrangelo, Colton Parayko, Vince Dunn, and Justin Faulk is among the best in the NHL. Netminder Jordan Binnington has shown no signs that he will regress this year. St Louis should make it back to the playoffs again with a chance to repeat as the Stanley Cup Champions.
St Louis Blues Preview 2019 – 2020: Outlook
Record: 44-27-11, 99 points
Finish:4th in the Central division, 1st Western Division Wild Card
NHL LINKS
Division Link
NHL 2019 Preview Link