NHL Previews
Winnipeg Jets Preview 2019 – 2020
A Healthy Jets Team Will Win Games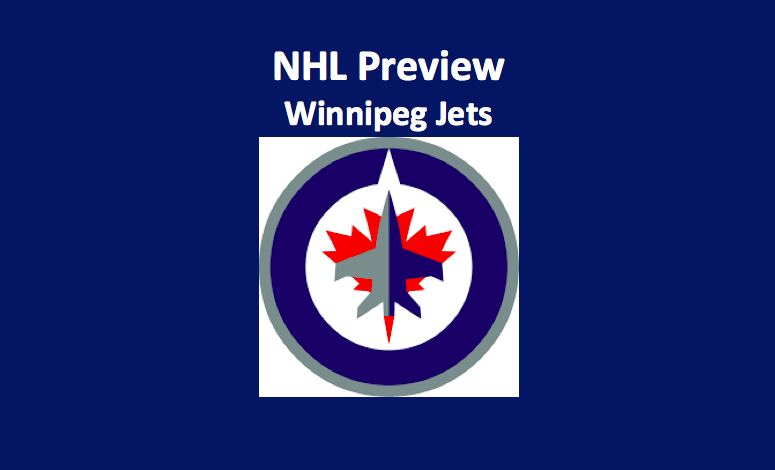 Our Winnipeg Jets Preview 2019 – 2020 notes that the Winnipeg Jets finished second in the Central Division last season. After going 47-30-5, they were bounced in the first round from the playoffs by the eventual Stanley Cup Champions. While much of their core returns this season, our Winnipeg Jets Preview 2019 – 2020 there were some big trades over the offseason. Along with that a few of their star players have yet to sign contracts. Our 2019-2020 Winnipeg Jets preview looks at how the uncertainty entering the season will affect their standing at the end of the year
Winnipeg Jets Preview 2019 – 2020: Goaltending
Connor Hellebuyck saw a lot of rubber last season. In fact, he faced the most shots out of any goalie in the league. Despite this, he put together a pretty solid season. Hellebuyck compiled a .913 save percentage and a 2.90 GAA while winning 34 games. While these numbers are significantly worse than the prior season, they are still very serviceable. All in all, last season was a solid follow up to the year prior when he set the record for most wins in a season by an American goaltender. Look for Hellebuyck to start a large chunk of games and put together another great season.
Our Winnipeg Jets Preview 2019 – 2020 finds that Hellebuyck's backup will be Laurent Brossoit. Brossoit only played 21 games last season. He was very good in his limited action. Brossoit finished the year with a a .924 save percentage and a 2.52 GAA. Both of these numbers are much better than the 3.24 GAA and .883 save percentage he had during the 2017-2018 season when he was with Edmonton. Brossoit is likely to see limited action again this year. Although he should be consistent enough when called upon.
Winnipeg Forwards
The Jets also have some uncertainty on the wings. Both Patrik Laine and Kyle Connor are restricted free agents and have yet to sign with the club. Connor finished third on the team with 66 points in 82 games. Laine was fifth with 30 goals and 20 assists but disappeared for a large portion of the year. He went through large chunks of the season without scoring and lacked consistency overall. Losing one or both of these players for any amount of time could be troubling.
At the very least Winnipeg knows that Blake Wheeler and Mark Scheifele will be ready to start the season. Both players scored over a point per game last season. They led the team in points and goals respectively. Wheeler had 91 points while Scheifele had 38 goals and 46 assists. Our Winnipeg Jets Preview 2019 – 2020 notes that both players have been consistent over the past few years and should be expected to put up similar numbers this season.
One player who may have a breakout season this year is Jack Roslovic. He is coming off of his first full season where he scored nine goals and added 15 assists on the year. The former first round pick could see increased top-six usage if Laine or Connor miss time. If given the ice time, he has the skill to increase upon his 24-point season.
Jets Preview – Defense
The Jets could have either a very solid or weak blueline depending on them being able to settle a few key issues. The largest of which is the status of Dustin Byfuglien. Byfuglien currently is on leave from the team and is reportedly contemplating retirement. If he decides to hang up the skates, the Jets will have a major hole to fill in their roster. Byfuglien was limited to 42 games last season but saw the most ice time on the team when healthy. Despite the missed games, he still put up 31 points as well. Winnipeg would also have to figure out a way to replace the physical presence brought by the 260-pound defender. Our Winnipeg Jets Preview 2019 – 2020 finds this would be difficult especially after allowing Tyler Myers to walk in free agency. The Jets hope Byfuglien returns this season, or else they may have a very tough year.
The Jets other top blueliners include Josh Morriessey and Neal Pionk. Pionk was acquired in a trade with New York for Jacob Trouba. Morriessey missed a decent chunk of games but still put up 31 points in 59 contests. While playing 22:24 minutes per game, he compiled a +9 plus-minus rating. He will have a larger workload this year after the loss of Trouba and Myers, even with Pionk on the roster. Pionk projects to be more of an offensive defenseman for the Jets. he had 26 points last season but finished with a -16 plus-minus rating. In terms of plus-minus, he tied for the second-worst on the Rangers roster. Pionk can eat some minutes, but his defensive game will have to improve to replace an all-around player like Trouba.
Winnipeg Jets Preview 2019 – 2020: Outlook
The Jets have a pretty solid roster if everybody shows up. Our Winnipeg Jets Preview 2019 – 2020 acknowledges that if Laine and Connor miss any time, then Winnipeg's scoring will take a huge hit. It will be a bigger problem if Byfuglien retires. They have nobody to replace him and their defense goes from solid to severely lacking. If everything works out in terms of these three players, the Jets will be a playoff team. If not, they may find themselves on the outside looking in at the end of the year.
Winnipeg Jets Preview 2019 – 2020: Prediction
Record: 43-31-8, 94 points
Finish:5th in the Central Division
NHL LINKS
Division Link
NHL 2019 Preview Link