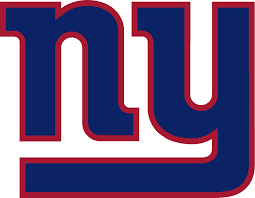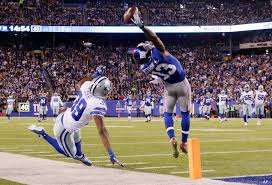 The New York Giants went 11-5 last season and finally made it back to the postseason. In compiling our New York Giants 2017 NFL preview, we find that this team has another good chance of getting back into the playoffs. Big improvements in the receiving squad as well as a solid defense that can keep scores low will be a major help. But after Eli Manning and company get back to the postseason will they once again find themselves watching from their living rooms after one game? That was the case this past year when NY went on the road and lost to Green Bay on January 8 by a score of 38-13. They certainly want to do better than that in 2017-18.
Offense: 7.5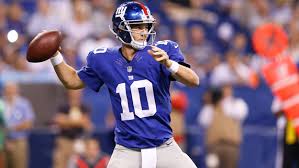 If it all starts with the offensive line, then this team, which did little to improve that line, could have some tough times ahead. Lasy season, they did poorly in creating openings for runners and were ineffective in protecting Manning. We could see more of the same this season. Manning ran the 17th ranked passing game in the NFL, throwing 26 touchdown passes while giving up 16 picks. This was a team that averaged just 19.4 PPG (26th).
There's nothing new as far as the 29th ranked running game is concerned except that Rashad Jennings, who averaged 3.3 YPA, gaining 593 yards and scoring three touchdowns, was released in the off-season. New York is pinning its hopes on RB Paul Perkins who last season had 112 carries for 456 yards while averaging 4.1 YPC. The receiving corps still includes Odell Beckham Jr. Last year, he had 101 catches for 1,367 yards and 10 TDs. He averaged 13.5 YPC. The good news on receiving is that the Giants added two big pass catchers, veteran wideout Brandon Marshall and rookie tight end Evan Engram.
Defense: 9.0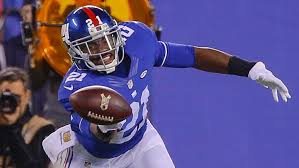 The Giant defense gave up just 17.8 PPG (2nd). Along with that stat is the fact that they were fourth in the NFL in picks, grabbing 17 balls away from opponents. They held teams to 88.6 YPG on the ground, which was third in the league, but they allowed 251.1 YPG in the air, which was 23rd. The defense's biggest problem was in the linebacking area. That group is still a concern, as there is no outstanding presence on that squad.
There was good news in the secondary in 2016, as the Giants added star CB Janoris Jenkins (3 INTs). He joined SS Landon Collins (5 INTs), who had a breakthrough season, and rediscovered veteran CB Dominique Rodgers-Cromartie (6 INTs), who played a fine game. In addition, 2016 first-round draft-pick Eli Apple became a solid starter. Plus, there's additional deoth in this group.
Special Teams: 7.0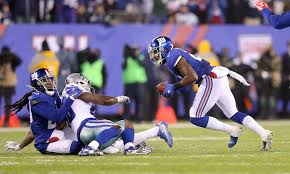 This unit is questionable at placekicker. Who will be the field goal and extra-point man in 2017? Josh Brown, one of the most accurate kickers around, was let go last season due to court documents in which he admitted to abusing his wife, and Robbie Gould, who proved to be quite good, was too expensive to keep. Aldrick Ross, who has no NFL experience, is on the roster as kicker. Punter Brad Wing, a left-footed kick man from Australia, has polished skills and can nail punts out of bounds at will. The return game suffered last season as Dwayne Harris struggled. Shane Vereen, if healthy, may be tagged for the return spot.
Coaching and Management: 8.0
Ben McAdoo went 11-5 in his first season as a head coach and got the Giants back into the playoffs. Both of those occasions were pleasant surprises. He called plays on offense last season and did a good job. McAdoo's addition of a new fitness trainer may have helped the Giants greatly reduce their injuries last season. Defensive coordinator Steve Spagnuolo can spin gold with his unit.
New York Giants 2017 NFL Preview: Last Word
The NY Giants have a fine quarterback and excellent receivers. But their line is worrisome and a lack of a proven field goal specialist could be the difference between going 10-6 and 8-8. Their defense can win games, but the question is how many? Our New York Giants 2017 NFL preview likes this team, but we feel they may be on the bubble when it comes to the playoffs.
New York Giants 2017 NFL Preview Prediction: 3rd NFC East; Record: 9-7
GO BACK TO: