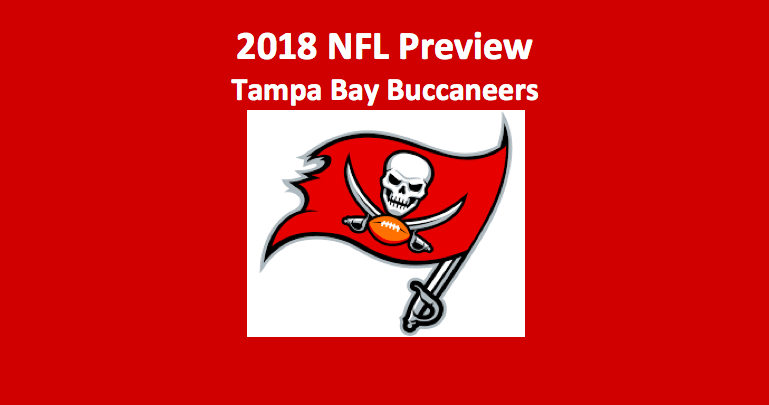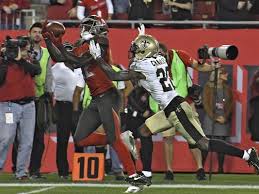 In some ways, the Tampa Bay Buccaneers (5-11) are a team that has shown real promise. In 2016, they posted a NFC South 9-7 record. That was three more victories than they had the season prior and seven more than they achieved in 2014. But 2017 was not a good year at all, as the Bucs slid back to their old ways. Our 2018 Tampa Bay Buccaneers NFL betting preview is not very positive, as head coach Dirk Koetter (14-18 Tampa Bay and Overall) starts his third season at the helm.
Offense
The Buccaneers were fourth in the league in passing yards last season, averaging 272.9 per game, and they were tied for fourth in third-down conversions (43%). But, Tampa Bay was 27th in ground yards (90.6 PG) and tied for 18th in points (20.9 PG). And although they were ninth in total yards, with 363.5 per game, those yards did not translate into enough points.
Quarterbacks and Running Backs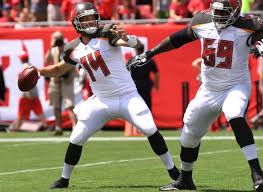 QB Jameis Winston (442 ATT, 282 COMP, 3,504 YDs, 19 TDs, 11 INTs) certainly posted decent stats, but he struggled at the start of the season.Winston got knocked out for three games with a shoulder injury. When he returned, he performed well. After coming back, Winston tossed nine TD passes over four games. While he was out, backup Ryan Fitzpatrick was 2-1. Winston has two problems, a tendency to force passes and an inability to keep the ball secure. Our 2018 Tampa Bay Buccaneers NFL betting preview notes that if he can address these issues, and, also connect readily with his receivers, this team will add some wins. Along with being a solid backup, Fitzpatrick is a fine QB mentor. Things can improve here.
USC's Ronald Jones II will get a shot at the RB spot. He's also a solid pass catcher. He'll share rushing duties with Peyton Barber (108 ATT, 423 YDs, 3.9 YPA, 3 TDs), a strong and aggressive runner. Look for Jacquizz Rodgers (64 ATT, 244 YDs, 3.8 YPA, 1 TD) in third-down and short-yardage situations.
Receivers and Tight Ends
There's a lot of good news when it comes to the receiving group. The Bucs have a skilled, experienced, and deep group. The four top pass catchers from last season are back. WR Mike Evans (71 REC, 1,001 YDs, 14.1 YPC, 5 TDs) was the leading receiver, while TE Cameron Brate (48 REC, 591 YDs, 12.3 YPC, 6 TDs) led the way in TD catches. Adam Humphries and DeSean Jackson, who had 61 and 50 receptions respectively, are both ready to go. Plus, Chris Goodwin, a wideout who proved to be an excellent route runner, is back after a productive rookie season.
Offensive Line
The Bucs allowed 40 sacks (T-19th NFL) in 2017. That number may go down, as Tampa Bay welcomes free agent and former Raven Ryan Jensen. Jensen, a center, is tough and resilient. He'll be a formidable anchor. At tackle Donovan Smith is a major asset, while Ali Marpet is steady at guard. The other tackle and guard spots look weak, but there's competition to fill them with more productive players.
Defense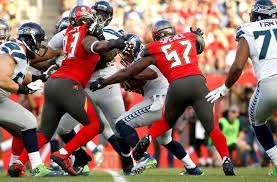 If the Buccaneers cannot improve their defense considerably, our 2018 Tampa Bay Buccaneers NFL betting preview notes that they'll have a very tough time competing this season. This side of the ball was ranked 32nd in total yards (378.1 PG), passing yards (272.9 PG), and in sacks (22). Their 13 picks tied them for 15th in the league. In essence, there was no defending the pass at either end. Their rush D was not much better, as they allowed 117.5 YPG (23rd NFL).
Defensive Line
In an attempt to improve the line, DE Jean Pierre-Paul comes from the Giants. The eight-year vet will be a leader upfront. He's not as quick as he used to be, but he can still lead a solid pass rush. Tackle Beau Allen, an effective run stopper, comes over from the Eagles, while wide-bodied rookie Vita Vea looks to start at tackle. Tackle Gerald McCoy 6 SCKs), a Pro Bowl perennial, is a resilient and dogged competitor. Left end Will Gholston needs to finally make his mark this season. This unit is vastly improved from last year.
Linebackers
Our 2018 Tampa Bay Buccaneers NFL betting preview sees Kwon Alexander (97 TKLs, 3 INTs) as being the glue that holds this D together. In three seasons, he's become the anchor for this side of the ball. OLB Lavonte David (101 TKLs), led the team in tackles, while OLB Kendell Beckwith posted a very fine rookie season. This is a sound group.
Secondary
If this group has anything going for it, our 2018 Tampa Bay Buccaneers NFL betting preview finds that it would be second-year safety Justin Evans (3 INTs). He was solid in his initial NFL season. The other positive force in the D-back unit is 10-year vet Brent Grimes (3 INTs). He can still bring it.
Special Teams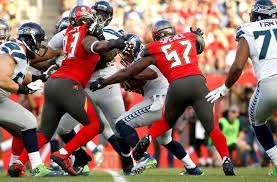 Tampa Bay's special teams are problematic. They have yet to find an adequate replacement for placekicker Matt Bryant. He was let go after the 2008 season. Chandler Catanzaro, formerly with the Jets, will get a shot. Last season, dependable punter Bryan Anger saw his net drop from 42.7 YPP to 39.5 YPP. The return game is average at best.
Coaching
Koetter must show some real results, or he will be gone. Tampa Bay has to play the Saints, Eagles, and Steelers the first three weeks of the season. That's a tough first few weeks. One of the major things that Koetter and company must address is this team's tendency to start slowly and give up too many points early on. Additionally, defensive coordinator Mike Smith has to manufacture a much better pass rush. In 2017, this team was dead-last in sacks. New D-line coach, Brentson Buckner has been brought in to address this and other issues upfront.
2018 Tampa Bay Buccaneers NFL Betting Preview: Final Word
One thing seems apparent, in 2017, this club could not make the plays in crunch time when they needed to. They were 3-7 in one-score games last season. If that could change, our 2018 Tampa Bay Buccaneers NFL betting preview would be more optimistic. But correcting that late-game deficiency translates into better coaching, especially with the clock winding down, more effective execution, especially on defense, and stellar on-field leadership on both sides of the ball. We don't see that all coming together this season.
2018 Tampa Bay Buccaneers NFL Betting Preview Projection: 6-10 Record, 4th NFC South
Unit Ratings
Offense:
QB: 7.9, RB: 6.0, OL: 7.9, WR: 8.8, TE 8.6:
Defense
DL: 8.8, LB: 8.5, DB 7.2:
Special Teams
PK: 6.5, PT: 7.2, RT: 7.0
Other
Coaching: 7.0
Intangibles: Winston has been suspended for three games due to having groped an Uber driver. Fitzpatrick starts against the Saint, Eagles, and Steelers.
Overall Rating = 7.8
Links