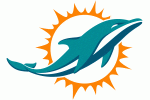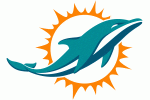 The new guy in Miami is head coach Adam Gase who wants to change team culture. A major influence in developing our Miami Dolphins 2016 NFL preview is Gase's focus on creating an aggressive Dolphin team that can take it to opponents on both sides of the ball. He wants players who desire winning more than anything else. That's a tall order for a club that went 6-10 in 2015 and has been, at best, playing average football for years.
Dolphins Offense: B-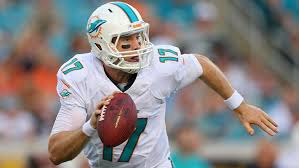 QB Ryan Tannehill, who has a great work ethic and offers fine talent, led an offense last season that regressed. He threw for 4,208 yards, hitting 62% of his passes, completing 24 TD passes, and giving up 12 picks. The most telling stat is that Tannehill was sacked 45 times last season and 184 times in four seasons. The solution, the team drafted 13th overall pick OT Laremy Tunsil, potential #1 pick who plummeted after drug and character issues surfaced. He joins two Pro Bowlers on the line. Jarvis Landry (110 REC 10.5 AVG 4 TD) leads the receiving corps, which has potential. The rushing game is a major question mark with the loss of Lamar Miller to the Texans.
Dolphins Defense: C+
Last year's defense, ranked 25th, was substandard in just about every way. The frontline looks to be the best part of this group. Former Pro Bowler Mario Williams (5 Sacks) comes from Buffalo and joins Pro Bowler Cam Wake (7 Sacks). LB Kiko Alonso joins the team from Philly in an attempt to upgrade that group. They have talent, but they must make big plays. In the secondary, the corners are a huge concern.
Dolphins Special Teams: B
Punter Matt Darr ranked third in the league last season, while kicker Andrew Franks performed fairly well, hitting 13 of 16 field goals and 33 of 36 extra points. The return jobs are open and there are some decently talented players waiting to fill those roles.
Dolphins Coaching and Management: C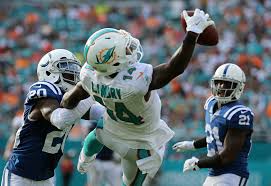 Gase has worked closely with GM Chris Grier to draft and sign guys who will be highly motivated to win. They are less concerned with attracting leaders and players of good character. This is Gase's first year as a head coach, which means he'll have a lot to learn.
Last Word: Miami Dolphins 2016 NFL Preview
With an untested head coach, a draftee who may be problematic, and a weak secondary, the Miami Dolphins will have their ups and downs this season. They will probably have more downs than ups. Our Miami Dolphins 2016 NFL preview sees this team improving, but that will not necessarily translate into wins.
For our overview of the AFC and to link to other AFC teams, please click here.
Miami Dolphins 2016 NFL Preview Pick: 5-11, 4th AFC East