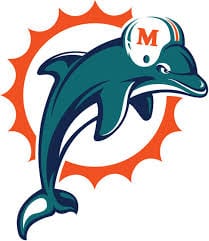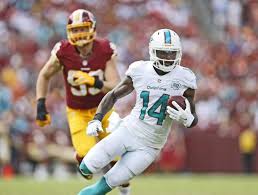 Our Miami Dolphins 2017 NFL preview does see that this team has a chance of making it to the playoffs once again. The Miami Dolphins (10-6) are a different team than they were in 2015. Two years ago the Dolphins posted a 6-10 record. Last season, they reversed that mark, and with 10 wins under their belt, they made it to the postseason where they lost to the Pittsburgh Steelers 30-12. New head coach Adam Gase took over a club last season that had been struggling for a long time, and his efforts seemed to have a huge effect. Especially considering that the team started out the 2016 season at 1-4. After those initial five games, they were 9-2 and that was with quarterback Ryan Tannehill out with a knee injury for the final three games where they went 2-1.
Offense: 8.0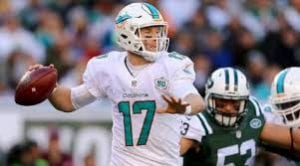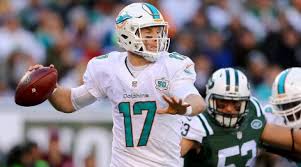 The Dolphins have found a stabilizing force in Tannehill. The six-year vet passed for 2,995 yards and 19 TDs. But he also tossed 12 INTs. This season will be an important one for the Miami quarterback who benefitted greatly last year from the talent around him. For the Fins to get to the next level, Tannehill will need to stay away from the pick, improve his red zone performance, and convert more on third down. Tannehill was fairly well protected by an O-line that was 10th in sacks allowed (30). The unit also did a decent job at blocking for the rush attack. Still, the offensive line has some major question marks and lacks depth.
The top performing receivers are all back, including Pro Bowl pick Jarvis Landry. Landry led the team with 94 receptions for 1,136 yards. He caught four touchdown passes while averaging 12.1 YPC. DeVante Parker and Kenny Stills had 56 and 42 catches respectively. Stills caught nine TD passes while averaging 17.1 YPC. Parker averaged 13.3 YPC while scoring four times. The Dolphins would like to see TE Julius Thomas maintain his health. They need his pass-catching chops as an extra-added weapon. Dual threat running back Jay Ajayi carried the ball 260 times, running for 1,272 yards while making 27 catches for 151 yards. He had eight scores all of which were on the ground. His output varied a lot from game-to-game and some consistency would help. There is some decent depth in the rush attack unit.
Defense: 7.0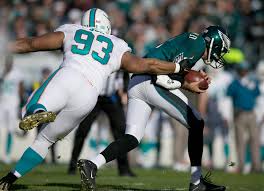 The Miami D allowed 23.8 PPG (18th), while the offense averaged 22.7 PPG (17th). Improvements on both sides of the ball would help but especially on the defensive side. They were ranked 15th against the pass and 30th against the rush. The team was tied ninth for picks with 16 and 19th for sacks with 33 and were +2 in turnover differential. Five of the team's first six draft picks in 2017 were defensive players. The line has two Pro Bowlers, tackle Ndamukong Suh (72 Tackles, 5 Sacks) and end Cameron Wake (11.5 Sacks). They are joined by end Andre Branch and tackle Jordan Phillips. Although there were some individual accomplishments from this group, as a unit they were not as effective as one would like. Free agent William Hayes joins the group as do two 2017 draft picks, ends Davon Godchaux (LSU) and Vincent Taylor (Oklahoma State).
The linebacking squad has been improved as free-agent Lawrence Timmons replaces Kiko Alonso in the middle and Alonso moves to the weak side. Timmons is aggressive and physical. In each of the last five seasons he's accumulated 100-plus tackles. He'll be a major difference-maker against the run. Alonso, a five-year vet, had 115 tackles and two sacks in 2016. He's an amazingly productive LB. Rookie Raekwon McMillan (Ohio State) or veteran Koa Misi, who missed the 2016 season due to a neck injury, may occupy the strong side. Like the defensive line, there are depth issues. The secondary includes corner Tony Lippett who led the team with four interceptions while also making 67 tackles. The deep backs are good but no one stands out as a number one, and that is where this team gets into trouble. Reshad Jones at safety was a Pro Bowl selection in 2015, but missed a large chunk of last season with a shoulder issue. If he makes a strong come back that will help thus unit.
Special Teams: 6.5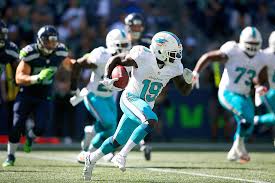 The return games are both a little better than average with Jakeem Grant and Kenyan Drake being the go-to guys. Although both have big play potential, Grant's ball handling skills are suspect. Last season, Grant returned a punt 74 yards for a TD, while Drake brought back a kick 94 yards for a score. On the kicking end, both punter Matt Darr and kicker Andrew Franks need to find consistency. If you're looking for consistency, you'll find it with long snapper John Denney. He is one of the best.
Coaching and Management: 7.5
Head coach Adam Gase (10-7 Overall) did a fine job with this team in his first season at the helm. The major change on staff has Matt Burke moving from linebacking coach into the defensive coordinator spot as the team's former defensive coordinator, Vance Joseph went to Denver as their new head coach. Expect to see more looks on D from Burke. Gase got the team focused on and serious about football last season and got results. He should be able to build on that in 2017. GM Chris Grier did well in the off-season filling some holes on defense.
Miami Dolphins 2017 NFL Preview: Last Word
This is a good team that welcomes some very fine new additions. The two major questions are can Tannehill get to the next level and will the Miami D develop into a group that can really limit other offenses especially in the sir. Our Miami Dolphins 2017 NFL preview sees this team as having a good chance to make it into the postseason.
Miami Dolphins 2017 NFL Preview Prediction: 2nd AFC East; Record: 10-6
GO BACK TO: