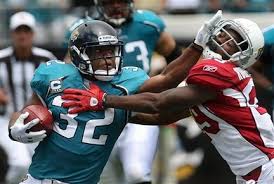 Our AFC South Jacksonville Jaguars Preview 2019 sees this team as struggling to find its way. This Jacksonville Jaguars Preview 2019 notes that in 2017 the Jags won 12 games and took the AFC South title, and in 2018, they won just five and finished last. QB Blake Bortles, who tossed 13 TDs and 11 picks last season, is gone. In comes Super Bowl winning QB Nick Foles. Might Foles be the answer to this team's woes on offense? Time will tell. Rookie QB Gardner Minshew (Washington State), a sixth-round draft pick, backs up. That means, it's Foles or bust for this team.
Jacksonville Jaguars Preview 2019 – Team
Our Jacksonville Jaguars Preview 2019 sees that head coach Doug Marrone (18-19 Overall & 2-1 Postseason Jacksonville & 33-36 Overall & 2-1 Postseason), who's in his fifth season as a NFL coach and starting his third with the Jags, has a lot of work to do. He's brought in John DeFilippo, a 13-year vet, as the new offensive coordinator. DeFilippo was Foles' quarterbacks coach when the Eagles won the Super Bowl two years ago. Todd Walsh, who's been with the team for seven seasons, continues as DC.
Jacksonville – Offense
The Jaguars ranked 27th in total offense (302.0 YPG) and 26th in passing (194.3 YPG). Their 19th-ranked rush attack averaged 107.7 YPG. Other stats, all of which need to see improvement, include a 40% conversion rate on third downs (T-14th), 53 sacks allowed (T-29th), and 15.3 PPG (31st).
Foles, who starts his eighth year in the NFL, has never played a full season. Last year, in five games, he completed 72.3% of his passes for seven TDs and four INTs. He was sacked nine times and fumbled three. In his career, Foles has completed 61.6% of his passes. The star of the receiving unit is Dede Westbrook (66 REC, 717 YDs, 10.9 AVG, 5 TDs). With WR Donte Moncrief gone, Marquise Lee (56 REC, 702 YDs, 12.5 AVG, 3 TDs) will need to step up. RB Leonard Fournette (133 ATT, 439 YDs, 3.3 AVG, 5 TDs), who played just eight games last season, needs to stay healthy. The O-line sees four of five starters return. If they can stay off the IR, that will be good news. In 2018, this was the worst offensive line in the NFL.
Jaguars – Defense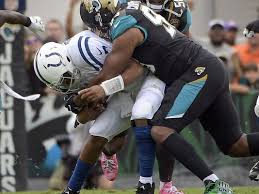 On the defensive side of the ball, the Jaguars excelled as they limited opponents to 19.8 PPG (4th) and 194.6 YPG in the air, ranking second. Our Jacksonville Jaguars Preview 2019 notes that the team's rush defense ranked 19th (116.9 YPG), while their total defense ranked fifth (311.4 YPG). Other stats could use improvement. They tied for 22nd in sacks (37), tied for 23rd in picks (11) and tied for 29th in turnover differential (-12).
The defensive line includes two dynamic ends, Calais Campbell (72 TKLs, 10.5 SCKs) and Yannick Ngakoue (9.5 SCKs). This is a solid group. The linebacking unit sees Quincy Williams (Murray State), a third-round pick, get a chance as he starts at WLB. MLB Myles Jack (107 TKLs) is a workhorse. Corner Jalen Ramsey (3 INTs) is a top cover man, while A.J. Bouye (1 INT) attempts to return to his 2017 form when he snared six picks. Safety Jarrod Wilson, who's in his fourth season, steps into a starting role, while safety Ronnie Harrison, who started last season as a rookie, resumes his role for a second season.
Special Teams
Placekicker Josh Lambo (19-20 XP, 19-21 FG) was 4-5 from 50-plus yards, including a 57-yarder. He's back as is punter Logan Cooke. Cooke, who was drafted in round seven last year, averaged 45 yards per punt and netted 41.3 YPP. He placed 43.02% of his punts within the 20. D.J. Chark averaged 26.6 YPR on kickoffs, while Dede Westbrook was good for a NFL fourth-best 14.0 yards per punt return. Also, our Jacksonville Jaguars Preview 2019 finds that reliable and efficient long snapper Matt Overton returns.
Jacksonville Jaguars Preview 2019 – Prediction
How will these Jags do? They don't have the toughest schedule, but they do have to face Kansas City in week one and the next week Houston. Carolina and the LA Chargers are also on the schedule. Our Jacksonville Jaguars Preview 2019 notes that Foles could be a major factor this season. Still, his receiving group is not as strong as one would like. The defense will be sure, and that will help.
Our Ratings
Quarterbacks – 7.6
Running Backs – 7.0
Receivers – 6.2
Offensive Linemen – 6.3
Defensive Linemen – 8.4
Linebackers – 7.3
Secondary – 7.4
Special Teams – 7.9
Coaching – 7.6
AFC South Jacksonville Jaguars Preview 2019 – Projection
Jacksonville Jaguars Fourth in AFC South
LINKS