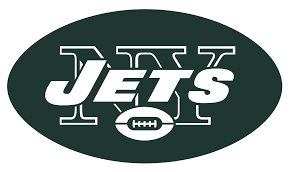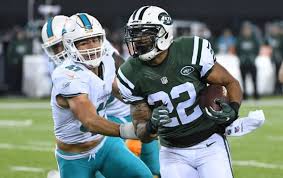 The New York Jets (5-11) have lost the keys to the car. They simply have a hard time getting the team on the road and running. Our New York Jets 2017 NFL preview sees that this team will struggle to even get close to a winning record. Last season, they averaged just 17.2 PPG (30th), while they allowed 25.6 PPG (28th). Those two stats make it tough for any team to win games. They are deficient in the starting quarterback department and both their offense and defense are in need of major improvements. Plus, many wonder if third-year head coach Todd Bowles has the skills needed to make this undisciplined group of players into a team. In 2017, he could be gone sooner than later.
Offense: 6.5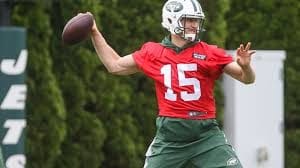 QB Ryan Fitzpatrick is gone. The Jets have two basic choices for this spot. They are the newly acquired 15-year veteran signal caller Josh McGown or 2016 second-round draft-pick Christian Hackenberg. Hackenberg will be given the chance to prove what he has. Neither, however, is what the Jets need. McGown is a good leader, but his record as a starter is 2-20 since 2014, and he's showing his years. Bryce Petty, the third-string QB, is also a choice. But he's third-string for a reason. The offensive line will be comprised of three new starters, left tackle Kelvin Beachum, center Wesley Johnson and right tackle Ben Ijalana. Right guard Brian Winters was sound last season and received a four-year extension. Others, there are a lot of unknowns upfront and not much depth.
The running tandem of Matt Forte and Bilal Powell is back. Forte averaged 3.7 YPA, rushing for 813 yards and seven touchdowns, while Powell averaged 5.5 YPA, accumulating 722 yards and three scores. Forte was lost at the end of the year and underwent knee surgery. Powell is the primary back and will lead the offensive charge. The receiving situation is really up in the air. The team's top receiver, Brandon Marshall went to the Giants, which means this team has no number one pass-catching threat. Eric Decker was seen as being a top prospect, but he's had numerous shoulder surgeries and his playing days may be limited. Our New York Jets 2017 NFL preview finds that this may be a good time to test out and see what they have in their 2017 picks where the Jets chose third-round WR ArDarius Stewart (Alabama), fourth-round WR Chad Hansen (California) and fifth-round TE Jordan Leggett (Clemson).
Defense: 6.5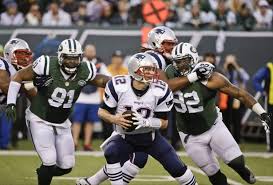 The Jets were tied for 31st in turnover differential as they posted a whopping minus 20 in that category. That says a lot about this team. They were 29th in both sacks (27) and interceptions (8). On the D-line, NT Steve McLendon (3.5 Sacks) came in and did a fine job replacing Damon Harrison. DE Leonard Williams (86 Tackles, 7 Sacks) played well on the field and was a Pro Bowl selection. Muhammad Wilkerson (4.5 Sacks) was out of shape and sluggish, coming back after having suffered a broken leg, and he created locker room problems. It's hoped he can get his act together for 2017.
The linebacking group includes 2016's second-round pick ILB Darron Lee. In his rookie season, Lee showed that he had keen leadership skills and the ability to play from sideline to sideline. David Harris is the veteran and stabilizing force in this group. He led New York with 113 tackles in 2016. The Jets have not been able to generate an effective pass rush. They will give 2016 pick Jordan Jenkins and 2015 pick Lorenzo Maudlin the opportunity to put pressure on opponent passers. The secondary has been a mess. This season two rookies with start at the safety spots with first-round pick Jamal Adams (LSU) playing strong and second-rounder Marcus Maye (Florida) strong. The corners are a major question, as NY doesn't seems to have an adequate candidate for either spot.
Special Teams: 6.5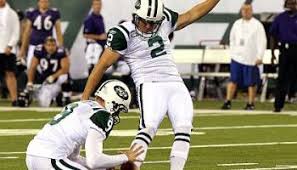 Who will be the team's kicker? The Jet's Ross Martin will duke it out with former Arizona placekicker Chandler Catanzaro. In 2016, Catanzaro missed seven field goals and in the past two seasons, he's shanked nine extra points. A few years back, he had a great rookie season. Can Catanzaro find the control and distance again? Punter Lachlan Edwards, a 2016 draft-pick, was up and down in his rookie season. The team hopes he'll become more consistent in 2017. The return game has been fairly mundane. Look for rookie ArDarius Stewart to get a crack at creating some excitement.
Coaching and Management: 6.5
Coach Todd Bowles (15-17 Overall) starts his third season as head coach. Bowles has not been much of a disciplinarian, and that has ownership certainly concerned. Also, in two seasons his clock management issues continue, as he wastes time in critical, fourth quarter situations. If the Jets don't see results, Bowles is sure to be shown the door. Also, ourNew York Jets 2017 NFL preview finds one additional problem and that is GM Mike Maccagnan's inability to solve some of this team's ongoing problems, especially those at quarterback.
New York Jets 2017 NFL Preview: Last Word
The Jets have seen brighter days in the past, and at some point, they will see brighter days in the future. Our New York Jets 2017 NFL preview finds that 2017 will not have many bright days for this team. They are rebuilding and are in need of a coach and a quarterback, and perhaps a general manager, who can facilitate the rebuilding process. Do not expect a lot from this team in 2017.
New York Jets 2017 NFL Preview Prediction: 4th AFC East; Record: 3-13
GO BACK TO: