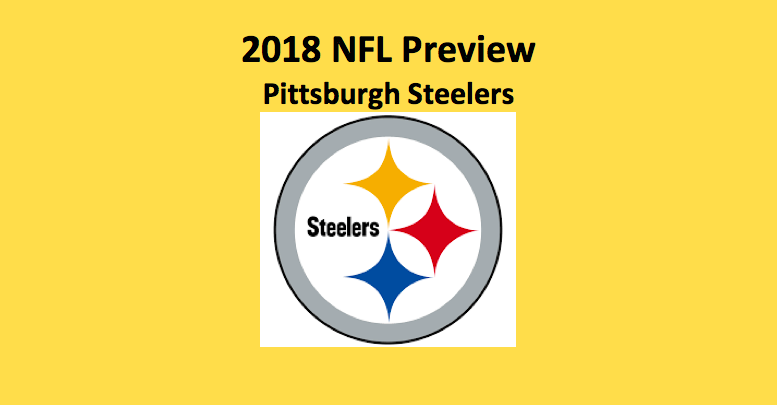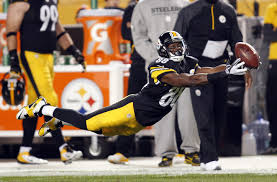 Here what our 2018 Pittsburgh Steelers NFL betting preview is most concerned with, Le'Veon Bell. He is the best running back in the NFL, but unless Pittsburgh meets his contract demands, he won't be running anywhere at any time. The Steelers are favored to win the AFC North. This is a team that in each of the last four seasons has won a minimum of 10 games, taking the division three-of-four times, and earning a wild card spot in the other year. They face some tough competition from the Ravens, and perhaps even the Bengals. The Steelers need all the offensive weapons they can muster to secure a playoff bid.
Offense
In 2017, the Steeler offense certainly put up some very fine numbers. They averaged 377.9 yards in total offense and averaged 273.9 yards in passing offense. The Steelers were ranked third in the league in both of those categories. Despite having a fine rush attack, Pittsburgh was 20th in ground yards, averaging 104.2 per game. When it came to scoring, the team's 25.8 PPG ranked them eighth in the NFL. Plus, the Steelers tied for second in third-down conversion rate (44%).
Quarterbacks and Running Backs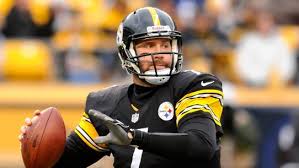 Despite his age and penchant for coming up hobbled, Ben Roethlisberger (561 ATT, 360 COMP, 4251 YDs, 28 TDs, 14 INTs) hung in last season. Although he was quite productive, our 2018 Pittsburgh Steelers NFL betting preview notes that it would help if he could reduce his TD-to-INT ratio. One of Roethlisberger's strengths is his ability to make something out of nothing. One reason for that is he's tough to sack.
It's hard to find anyone who will argue against Bell (321 ATT, 1,291 YDs, 4.0 AVG, 9 TDs) being the top rushing talent in the league. He is an amazing player. Plus, Bell is a magnificent pass catcher. Last season, he was second to Antonio Brown in receptions, as he brought in 85 for 655 yards and two TDs. The dilemma for this team is their lack of a dependable backup. At this point it's James Conner. Last season, he had 32 carries for 144 yards and no TDs.
Receivers and Tight Ends
Along with possessing the top running back in the NFL, the Steelers can also boast that they have perhaps the best wideout in Brown (101 REC, 1523YDs, 15.2 YPC, 9 TDs). Brown is amazingly athletic and has great leaping ability and speed. After Brown and Bell, there's JuJu Smith-Schuster. In 2017, his rookie season, he had 58 catches, averaging 12.1 YPC and crossing the goal line three times. Plus, TE Jesse James has proven to have good hands. Last season he had 43 receptions.
Offensive Line
This O-line is exceptional. They open holes for the rushers and keep opponents away from Roethlisberger. The Steelers allowed just 24 sacks last season, which tied them for third in the league. Center Maukrice Pouncey controls the line. In the past two seasons, he has not missed a game.
Defense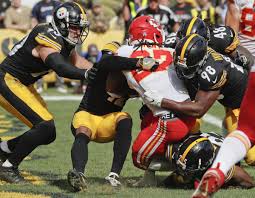 The Steelers defense put up some very good stats last season. They were fifth in total yards and passing yards allowed, seventh in points allowed (19.2), and first in sacks (56). The Pittsburgh D was also 10th in rushing defense, allowing 105.8 YPG, and tied for ninth in picks (16). The Steelers were 14th in turnover differential at +2. They'd like to improve that stat this season.
Defensive Line
The top four sack artists on this team are back, including the number one instigator DE Cameron Heyward. Heyward earned a dozen QB bring downs. Joining Heyward upfront are fellow end Stephon Tuitt and NT Javon Hargrave. Both are solid linemen.
Linebackers
The linebacking unit, according to the research for our 2018 Pittsburgh Steelers NFL betting preview, is the weakest part of this D. Still, ILB Vince Williams, OLB Bud Dupree, and OLB T.J. Watt were two, three, and four in sacks with eight, seven, and six. Williams was third in tackles with 88. But the feeling is there's more in each of these guy's tanks, and they are not playing to their full potential. We have to wonder in developing our 2018 Pittsburgh Steelers NFL betting preview how this team will survive without LB Ryan Shazier. Shazier was fast, quick, and determined. He may never make it back to the field.
Secondary
The secondary is a mish mash of guys with the safety spots being occupied by Morgan Burnett, a solid and versatile defender, and Dean Davis (90 TKLs, 3 INTs), a strong safety who is also extremely versatile. Joe Haden, who was cut by the Browns last season, came to Pittsburgh and helped lift the secondary up. Artie Burns, who had a good rookie season in 2016, was a disappointment last year, but he is back.
Special Teams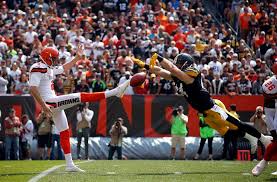 The kicking game is the territory of Chris Boswell. Boswell is very accurate and prolific. He scored 142 points and hit 35 field goals last season. Both are team records. Australian punter Jordan Berry can boom the ball, but he's also inconsistent. Kameron Canady came into camp last year and beat out a draft pick for the LS job. Brown runs back punts and kicks, although the Steelers would prefer someone else do the job.
Coaching
In 11 seasons, Mike Tomlin (124-67 Overall, 8-7 Postseason) has proven to be one of the more unpredictable coaches in the NFL. An aggressive risk taker, sometimes his unique decisions pay off and other times, they don't. But Tomlin knows the game inside out. His regular-season win percentage of .659 is only bettered by one coach, Bill Belichick (.679). There have been some coaching changes this year on both sides of the ball. We'll see if that shakes anything up.
2018 Pittsburgh Steelers NFL Betting Preview: Final Word
Our 2018 Pittsburgh Steelers NFL betting preview has doubts about this team without Bell. Still, we do think even if Bell does not play, they will win the division. That is as long as Roethlisberger stays healthy. They will face competition from Baltimore. And even, perhaps, an upstart Cincinnati team.
2018 Pittsburgh Steelers NFL Betting Preview Projection: 9-7 Record, 1st AFC North
Unit Ratings
Offense:
QB: 9.3, RB: 8.8, OL: 9.0, WR: 9.3, TE: 8.0
Defense
DL: 7.9, LB: 7.0, DB: 7.5
Special Teams
PK: 8.8, PT: 6.8, RT: 8.0
Other
Coaching: 8.8
Intangibles: Without Bell, this team is in trouble.
Overall Rating = 8.3
Links