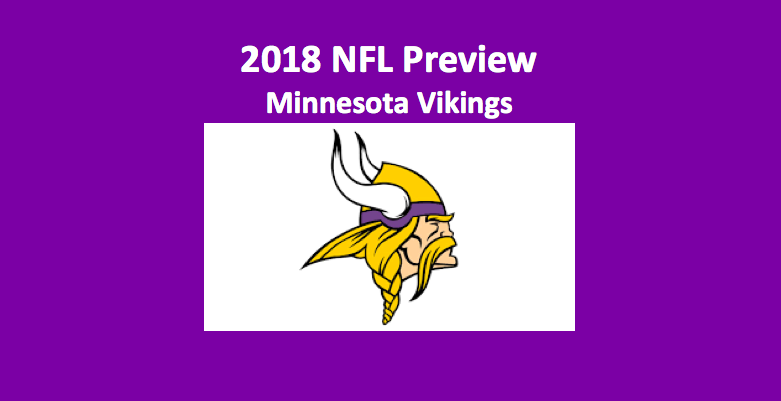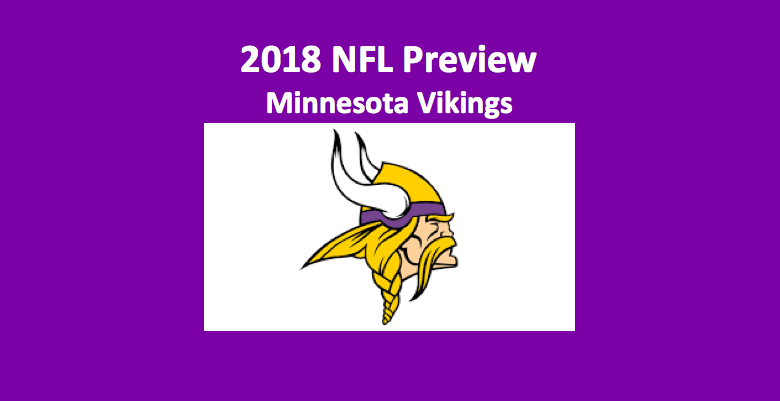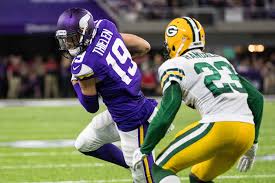 Our 2018 Minnesota Vikings NFL betting preview sees this team as once again owning the division. Last year, the Vikings were 13-3, finishing at the top of the NFC North. They beat New Orleans in the playoffs 29-24. But then lost to the Philadelphia Eagles in the next round 38-7. For this season, Minnesota sees QBs Sam Bradford, Case Keenum, and Teddy Bridgewater move on and former Washington signal caller Kirk Cousins comes in. Cousins backup will be the Denver throw away QB Trevor Siemian.
Offense
The Vikings scored on average 23.9 PPG (T-10th NFL), while accumulating 356.9 YPG (11th NFL) in offense. They were a great third down team, converting 44% of their attempts, tying them for second in the league. Their rush attack averaged 122.3 YPG (7th NFL) and passing game offered 232.6 YPG (11th NFL). Although they were not the most dynamic offense, our 2018 Minnesota Vikings NFL betting preview notes that they were better than average.
Quarterbacks and Running Backs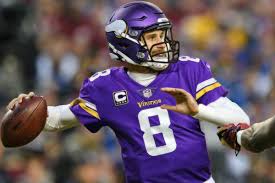 Last season was filled with surprises, with one of the biggest being substitute QB Case Keenum. Keenum completed 325-of-481 passes for over 3,500 yards and 22 TDs, while tossing just seven picks. In comes Cousins, who with Washington threw for over 4,000 yards, while hitting on 27 TD passes and giving up 13 INTs. Cousins has a strong arm and does well with the option and throwing while on the move. Former Philly O-coordinator John DeFlippo brings a dynamic spread offense with him. He'll try to exploit Cousins' strengths.
Former Florida State standout RB Dalvin Cook (74 ATT, 354 YDs, 4.8 YPA, 2 TDs) looked like he was going to have a massive rookie season last year. That was until he tore his left ACL. He's expected to be back and healthy for 2018. Backup Latavius Murray (216 ATT, 842 YDs, 3.9 YPA, 8 TDs) did a solid job subbing for Cook. Look for the big, powerful back to be used in short yardage situations.
Receivers and Tight Ends
One of the things that our 2018 Minnesota Vikings NFL betting preview finds intriguing about this team is their unique receiving group. Wideout Adam Thielen (91 REC, 1276 YDs, 14.0 YPC, 4 TDs) is not your typical tall, rangy NFL pass catcher. But he is fast, quick, and a solid pass catcher who runs exacting routes. The same can be said about Stefon Diggs (64 REC, 849 YDs, 13.3 YPC, 8 TDs). The problem with Diggs is that he's prone to injuries. In addition, 2016 draft pick Laquan Treadwell and former Bear Kendall Wright are ready to go. Although both have shown promise, neither has come close to reaching their potential. TE Kyle Rudolph (57 REC, 532 YDs, 9.3 YPC, 8 TDs) who's a tough matchup for any team, comes into the season having had ankle surgery. He's expected to be back to his old self in 2018.
Offensive Line
The O-line had a resurgence in 2017 after they performed terribly the season prior. Last season, they gave up just 27 sacks, which ranked them tied for seventh in the league. They line was helped by 2017 draft pick Pat Elflein who took over center and free agent left tackle Riley Reiff. This season, they lose veteran right guard Joe Berger. It's thought either Josh Andrews or Tom Compton, both who were signed for this season, could take over the spot.
Defense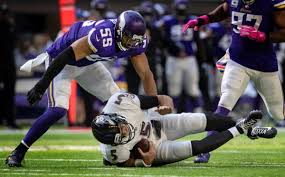 If you've forgotten, the Viking D was outlandishly good last year. They allowed opponents just 15.8 PPG (1st NFL), gave up 279.9 YPG (1st NFL), and placed second in passing and rushing yards allowed. Still, they tied for 13th in picks with 14 and tied for 17th in sacks with 37. With a +5 turnover differential, they tied for 12th in the league.
Defensive Line
This team's D-line is strong, as they feature DE Everson Griffen (13 SCKs). He was dogged in his pursuit of QBs, and earned Second-Team All-Pro honors. Veteran NT Linval Joseph and fourth-year DE Danielle Hunter are both physically commanding. Joseph is fast and powerful, while Hunter possesses a top-notch work ethic. Tackle Sheldon Richardson comes from Seattle in an attempt to rekindle his career after a disappointing 2017. He's a fine situational player who could fit in nicely here.
Linebackers
Of the three defensive units, our 2018 Minnesota Vikings NFL betting preview finds that the LB group may be the most challenged. Still, if they can stay healthy, they'll provide some fine D. OLB Anthony Barr and MLB Eric Kendricks have played together since they were both at UCLA. They're each a three-down LB. Once again, Kendricks led the team in tackles with 136, while Barr had 82. Ben Gedeon is back to play the weak side, but was not impressive. This group lacks depth.
Secondary
The Vikings certainly like their first-round corner picks. They are brimming with them. The two standouts are Xavier Rhodes, a First-Team All-Pro, and Trae Waynes, who's shown a lot of promise in his first three pro season but needs to find consistency. Rhodes and Waynes each had two picks last season. Harrison Smith (5 INTs), another First-Team All-Pro, may be the best safety in the league. Andrew Sendejo (2 INTs) doesn't have blinding speed, but he's a hard and aggressive worker.
Special Teams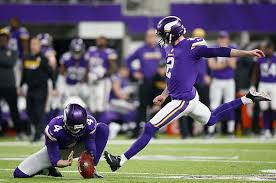 Speedy rookie CB Mike Hughes will return kicks this season. Along with possessing great speed, as far as our 2018 Minnesota Vikings betting preview is concerned, he's got fantastic moves. He can break one all the way at any time. Marcus Sherels will still return punts. He's perhaps the best bring back man the Vikings have ever had. The placekicking spot may be occupied by rookie Daniel Carlson. Carlson proved two things at Auburn last year, he has a big, strong leg, but it can be inaccurate. Refinement is needed. Punter Ryan Quigley only averaged 42.2 YPP last season, which was last in the league, but his placement was first-rate.
Coaching
Mike Zimmer (39-25 Minnesota and Overall) is back for his fifth season. In his four seasons, Minnesota has posted two winning, one losing, and one even seasons. With Zimmer, it's first about D. Then on offense, he wants solid field position as well as competent ball handling. It's all basics, and these basics have paid off, as the last two-of-three seasons, the Vikings have posted winning records, and have not had a losing season.
2018 Minnesota Vikings NFL Betting Preview: Final Word
There's a lot riding on Cousins. Here's the skinny on him. Many of his Washington woes really had to do with those around him. Ironically, our 2018 Minnesota Vikings NFL betting preview finds that he may have some of the same issues in Minnesota, including a weak O-line and less-than-adequate receivers. Still, we think that this team will finish at the top of the NFC North once again.
2018 Minnesota Vikings NFL Betting Preview Projection: 12-4 Record, 1st NFC North
Unit Ratings
Offense:
QB: 7.9, RB: 8.1, OL: 6.9, WR: 8.0, TE: 8.4
Defense
DL: 9.0, LB: 8.0, DB: 8.5
Special Teams
PK: 6.5, PT: 6.8, RT: 7.5
Other
Coaching: 8.7
Intangibles: Cousins has a huge amount of pressure on him, as does the whole team, as the move to go with him is seen as a make or break one as far as the Super Bowl is concerned.
Overall Rating = 7.9
Links