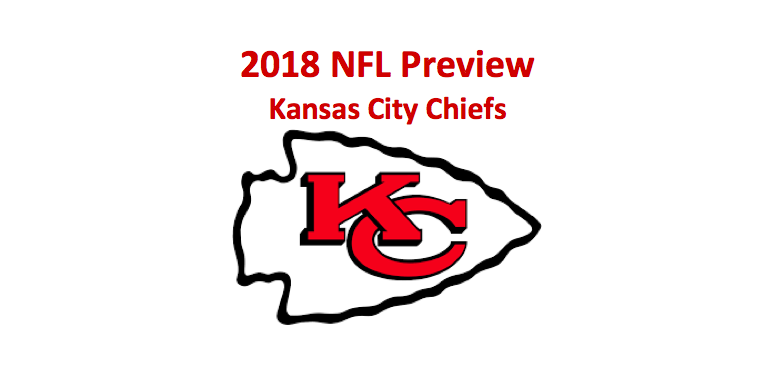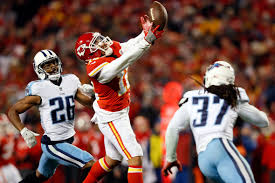 Our 2018 Kansas City Chiefs NFL betting preview sees this team as having a good chance of making a big splash. QB Alex Smith went to Washington in the offseason, and that means that second-year QB Patrick Mahomes II will get the nod. Mahomes has a wickedly powerful arm. This is a team that could be much more explosive than they have been in years. That's saying a lot considering how well Smith has performed over the years.
Offense
Our 2018 Kansas City Chiefs NFL betting preview notes that this AFC West club offers an explosive and finely tuned offense. They were good for 256.5 YPG in passing, which got them a ranking of 7th in the NFL. They posted 118.9 YPG (9th NFL) in rushing. The team scored on average 25.9 PPG (6th NFL). Their total yardage, which got them a fifth-place rating, came in at 375.4 YPG. The Chiefs accumulated 37 sacks (17th NFL) and were good on 39% of their third-down tries (T-13 NFL).
Quarterbacks and Running Backs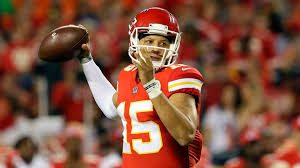 As noted, Mahomes takes over for QB Alex Smith. Our 2018 Kansas City Chiefs NFL betting preview notes that Mahomes is acknowledged to have a very powerful arm. Now in his second year, the neophyte starter comes in confident that he can make things happen. Along with having a superior arm, Mahomes is very mobile, and he's accurate when passing on the run. He'll be backed up by Chad Henne or Matt McGloin.
RB Kareem Hunt (272 ATT, 1327 YDs, 4.9 YPA, 8 TDs) had a great rookie season in 2017. The fast and elusive Hunt led the NFL in rushing. He's also a solid pass catcher. Last year, Hunt had 53 catches for 455 yards and three TDs. He's back for his second pro year and will be extremely dangerous. There's added depth in this group, as vets Damien Williams and Kerwynn Williams are added and Charcandrick West returns.
Receivers and Tight Ends
The Kansas City wideouts and tight ends form a lethal combination. WR Tyreek Hill (75 REC, 1183 YDs, 15.8 YPC, 7 TDs) has amazing speed and is always a threat to go deep and score. TE Travis Kelce (83 REC, 1038 YDs, 12.5 YPC, 8 TDs), who led the team in catches and reception-TDs, is a major playmaker. Dependable, big, and driven, he's one of the finest TEs in the NFL. The Chiefs added veteran Sammy Watkins. Although his production has dropped a bit due to injuries, Watkins is still a major threat in the red zone. Last season for the Rams, he had 39 catches for eight TDs and averaged 15.2 YPC.
Offensive Line
The frontline is good. They kept sacks to a respectable amount last season (37) and ably set up the running game. But injuries took their toll. Center Mitch Morse and guard Laurent Duvernay-Tardiff both had to deal with injuries that limited their playing time. Those two players are essential to this line's success. Tackle Mitchell Schwartz, who has 96 straight starts, is an able blocker for running backs. Tackle Eric Fisher and guard Bryan Witzmann are both solid.
Defense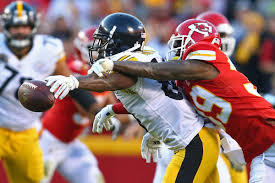 The best stat this D had in 2017 was in turnover differential, which was +15 (2nd NFL). They also posted 16 INTs (T-9th NFL). After that, this side of the ball was fairly lackluster. The team tied for 24th in sacks with 31, and they allowed 21.2 PPG (15th NFL). The D was 25th in rushing yards allowed, 29th in passing yards, and 28th in total yards given up. Our 2018 Kansas City Chiefs NFL betting preview notes that this team has to pick it up quite a bit to ensure a winning mark.
Defensive Line
The D-line was an issue last season, as they offered up on average 118.1 YPG. There have been improvements. NT Derrick Nnadi, who was chosen in this year's draft from Florida State, looks to be an able run stuffer. He'll back up NT Xavier Williams who comes to the Chiefs from the Arizona Cardinals. Williams, who's adroit at bringing down runners, should be a good stabilizing force for the line. Third-year end Chris Jones (6.5 SCKs) has great energy but needs to improve his overall focus and consistency, while veteran end Allen Bailey, who has been dogged by injuries, offers sound leadership. Our 2018 Kansas City Chiefs NFL betting preview sees this group as being a notch up from last year's unit.
Linebackers
Of the three units on this side of the ball, our 2018 Kansas City Chiefs NFL betting preview finds that the LB group is the most solid. In two NFL seasons, ILB Reggie Ragland has proven to be a fine tracker of rushers and a decent pass defender. OLB Dee Ford, who was off-and-on as a pass rusher, ended last season with a back injury. Good health and better consistency will aid him this season. OLB Justin Houston, whose 9.5 sacks led the Chiefs, is the best player on this unit. ILB Anthony Hitchens, now in his fifth NFL season, joins the Chiefs from Dallas. He's an efficient, solid tackler. Rookie Breeland Speaks, who played for Mississippi, is a versatile performer who can also play DE.
Secondary
Turnovers are big for this team. When they can produce them, they tend to make sure they pay off and KC wins. In the 10 regular-season games last year where they produced 24 TOs, the Chiefs were victorious. They lost the other six where they had just two turnovers total. Last season, safety Eric Berry tore his Achilles in game one and was out for the season. He is the leader of this secondary and should be a major force in 2018. Kendall Fuller and David Amerson have been added as corners. Fuller, a premium defender, replaces ball-magnet Marcus Peters (5 INTs). Steve Nelson is most effective as the nickel corner, while safety Eric Murray rounds out the group.
Special Teams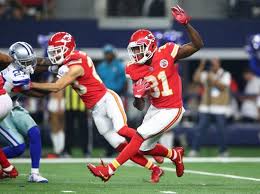 PK Harrison Butker replaced injured vet Cairo Santos last season and was top-notch. Butker is back, as is veteran punter Dustin Colquitt. Colquitt can boom punts or target them to sit within the 20. LS James Winchester is reliable and athletic. Our 2018 Kansas City Chiefs NFL betting preview finds this group to be sound and a real asset with De'Anthony Thomas and Akeen Hunt offering game-changing return ability.
Coaching
Head Coach Any Reid (54-31 Overall with Chiefs, 194-133-1 20 years NFL, 11-13 Postseason) is a smart veteran coach. He's second in wins amongst active NFL coaches and ninth overall. Reid utilizes the West Coast offense and is the play caller on offense. His lack of success in the postseason dogs him, as does his inconsistent clock-management skills.
2018 Kansas City Chiefs NFL Betting Preview: Final Word
How well will this team do? Our 2018 Kansas City Chiefs NFL betting preview notes that the offense has great explosive potential and the defense has been upgraded. A lot will depend upon Mahomes and how he does in replacing the veteran Smith. Last season, the Chiefs came out of the gate quickly. Winning their first five, and then going 1-6 over their next seven. They then took down their final four before losing to the Titans in the playoffs 22-21. Could this be another one of those seasons?
2018 Kansas City Chiefs NFL Betting Preview Projection: 10-6 Record, 1st AFC West
Unit Ratings
Offense:
QB: 7.9, RB: 8.9, OL: 8.0, WR: 9.0, TE: 9.2
Defense
DL: 7.0, LB: 7.8, DB: 7.4
Special Teams
PK: 8.5, PT: 9.0, RT: 8.5
Other
Coaching: 8.8
Intangibles: Mahomes is an unknown at QB
Overall Rating = 8.3
Links