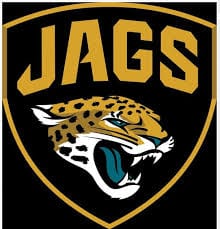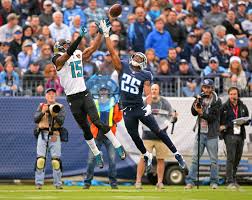 The Jacksonville Jaguars (3-13) have won a total of 17 games in five seasons. In that course of time in their best season they went 5-11. Our Jacksonville Jaguars 2017 NFL preview does not see this team breaking away from that trend. Former Giants and Super Bowl-winning head coach Tom Coughlin has joined the Jags as the team's Executive Vice-President and Head of Football Operations. Last time he was with the team, which was for four years, they made it to the playoffs four times. But Coughlin and his football smarts, which are extensive, may not be enough to get the Jaguars back to the postseason. They need to put a solid team on the field and that means one that can score points.
Offense: 7.0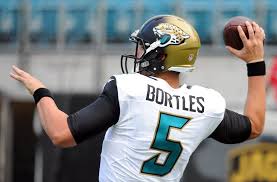 The offense, which was ranked 25th in points scored, averaging 19.9 per game, and 23rd in total yards, which came in at 334.9 per game, needs an upgraded O-line and a more accurate passer. Blake Bortles threw 23 TD strikes last year and 16 picks. He's done extra work to improve his mechanics, but the former number three overall pick of the 2014 NFL Draft has to be able to put some substantial numbers on the board and a lot of W's in the win column. The offensive line is drafty and really needs to tighten up in terms of protecting the QB and opening holes for backs.
For the past four seasons, the Jags have put one of the worst running offenses in the league on the field. For their first pick, and the number four pick overall, Jacksonville choose RB Leonard Fournette (LSU). He's workhorse who can plow through opponent D-lines with power. T.J. Yeldon and Chris Ivory will step in to sub for the rookie when needed. On the receiving end, the Jaguars lost TE Julius Thomas, a resourceful vet. In 2016, WRs Allen Robinson and Marqise Lee each caught passes for over 800 yards of offense with Robinson scoring six TDs and Lee three. Allen Hurns, who missed five games in 2016 due to injuries, averaged 13.6 yards per catch and scored three touchdowns.
Defense: 8.0
Although the Jaguar defense was sixth in total yards last season, they were 25th in points scored, allowing 25.0 per game. The defensive line has depth, but they don't possess a premium pass rusher. The Jags signed a deal with big man, free-agent Calais Campbell who will play left end, while NT Malik Johnson returns as the anchor for this unit. 2017 third-round draft pick Dawuane Smoot (Illinois) will provide sound backup. End Yannick Ngakoue posted eight sacks last season as a rookie. The LB unit includes Myles Jack, Paul Posluszny, and Telvin Smith. Myles did not get much playing time last season, but he's scheduled to start in 2017. Posluszny moves from MLB to strong side. Smith is a durable LB, having missed just two games in three seasons. Posluszny led the team in tackles last season with 133. Smith was third with 118. He also had two picks. Jack takes over the middle spot from Posluszny.
The best part of the defense is the secondary. The Jaguars were ranked fifth on pass defensive and these guys are the main reason why. Corner Jalen Ramsey (2 INTs) is back. Free-agent corner A.J. Bouye joins him. Bouye is one of the best pass defenders around and earned a five-year deal worth up to $67.5 million. Strong safety Barry Church joins free safety Tashaun Gibson, while corner Jalen Myrick (Minnesota) offers extra speed and agility. Despite having a strong pass defense, the Jags were dead last in interceptions with only seven. They should grab a few more in 2017.
Special Teams: 6.0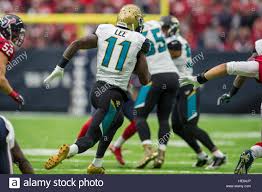 Joe DeCamillis, special teams coordinator, will attempt to improve the punt return unit, which was, 31st, and punt coverage group, which was 32nd. On kick returns, rookie Dede Westbrook will get a look and on punt returns, Myrick will be given a chance. Punter Brad Norman will need to adjust his style and direct his punts more. Placekicker Jason Myers missed seven of 34 field goals while hitting 29 of 32 extra points.
Coaching and Management: 7.5
As noted, Coughlin is back in Jacksonville in an attempt to get this team back on the playoff track. Head coach Doug Marone went 1-1 as in interim last season after Gus Bradley was fired near the end of the season. This is his first full year at the helm for the Jags. Both Todd Walsh and Nathaniel Hackett are back as the respective defensive and offensive coordinators. There are 11 new assistants on staff.
Jacksonville Jaguars 2017 NFL Preview: Last Word
The Jaguars will likely be more competitive this season. If Bortles can become the playmaker he needs to be, this team may take off. Most likely, you'll see an improved defense, a few more points from the offense, and better performing special teams. Our Jacksonville Jaguars 2017 NFL preview finds that this team is a couple of years away from being in the postseason again. It may be a bit longer if they cannot find a solution at quarterback.
Jacksonville Jaguars 2017 NFL Preview Prediction: 4th AFC South; Record: 6-10
GO BACK TO: