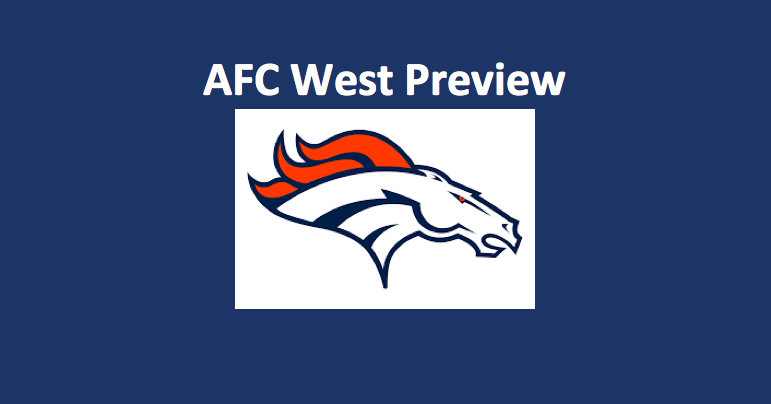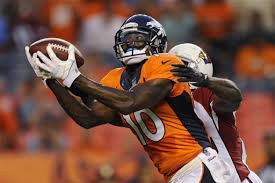 Our AFC West Denver Broncos Preview 2019 notes for the past three years this team has missed the playoffs. In our Denver Broncos Preview 2019, we expect the Broncos will once again not make the postseason. Vic Fangio takes over as head coach. Although this is his first time at the helm of a NFL team, Fangio comes in with a reputation for being a direct communicator. A dozen new coordinators and assistants join him. It was not that long ago, 2015, that the Broncos won it all. But since that Super Bowl win, over the last three years, the Broncos have gone 20-28. This could be the start of a resurrection for this team. But don't expect it to happen overnight.
Denver Broncos Preview 2019 – Team
Last season, the Denver offense and defense were both less than mediocre. Our Denver Broncos Preview 2019 notes that this team has done a lot to improve its defense. On offense, they've replace QB Case Keenum with veteran Joe Flacco (379 ATT, 232 COMP, 2465 YDs, 12 TDs, 6 INTs). That may create some stability on offense.
Denver – Offense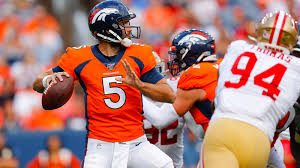 May the 20.6 PPG (24th) said it all for this offense. They could rarely pull the string. Ranked 19th in overall yards (350.1 YPG) and in passing yards (230.9 YPG), the Bronco offense was lethargic. They rushed for 119.2 YPG (12th) and allowed just 32 sacks (T-10th), however their 33% conversion rate on third downs came in at 28th.
Flacco will start and draftee Drew Lock (Missouri) will work hard to develop into the NFL quarterback Denver believes he can be. Flacco is a sound vet, but he has to recapture who he was in 2014 when he completed 62.1% of his passes for 3,986 yards and 27 TDs passes while tossing a dozen picks. There some solid pass catchers on-board, including WRs Emmanuel Sanders (71 REC, 868 YDs, 12.2 AVG, 4 TDs) and Courtland Sutton (42 REC, 704 YDs, 16.8 AVG, 4 TDs). TE Jeff Heurman is a quality player who's been challenged by injuries his first three seasons. RB Phillip Lindsay (192 ATT, 1037 YDs, 5.4 AVG, 9 TDs) showed a huge amount of potential last season. The O-line has its weaknesses. It hoped veteran line coach Mike Munchak, who worked wonders with the Steelers, can make a difference.
Broncos – Defense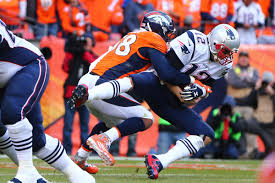 Our Denver Broncos Preview 2019 observes that although the defense gave up a lot of yards, they ranked 20th in passing yards, 21st in rushing yards, and 22nd in total yards allowed, the D tied for eighth in turnover differential (+7) and sacks (44). Their 17 INTs tied for fifth, while they allowed 21.8 PPG (13th).
The defensive line is in transition and needs to find its strength. All three starters enter contract years, which means there really is a lot on the line. Ohio State's Dre'Mont Johnson, drafted this year, could see action at end. They've lacked the ability to pass-rush effectively. The linebacking group is solid and includes Von Miller (14.5 SCKs) and Bradley Chubb (12 SCKs). Chubb also posted 60 tackles. The secondary, which is in transition, includes eight-year vet Chris Harris Jr. (3 INTs). Also, ready to go is safety Justin Simmons (3 INTs, 97 TKLs). Bryce Callahan (123 TKLs, 4 SCKs, 4 INTs), who is questionable, joins the team from the Bears. If he's healthy, he'll be a difference-maker.
Special Teams
This Denver Broncos Preview 2019 sees this group as having numerous issues. Still, coordinator Tom McMahon did some decent work in improving the unit last season. PK Brandon McManus (35-35 XP, 20-25 FG) is a solid performer. In his rookie season last year, punter Colby Wadman had a tough start but ended up averaging 44.7 YPP. The coverage teams have been problematic and return game needs to find its feet.
Denver Broncos Preview 2019 – Prediction
With Chicago, Green Bay, and Minnesota on the schedule, our Denver Broncos Preview 2019 finds that this team has some big challenges ahead of it. The Broncos are in a transition year. Flacco could be a big help in easing that transition. An 8-8 mark would mean this team's made some solid progress.
Our Ratings
Quarterbacks – 7.3
Running Backs – 7.7
Receivers – 7.2
Offensive Linemen – 6.3
Defensive Linemen – 7.6
Linebackers – 8.3
Secondary – 7.9
Special Teams – 6.2
Coaching – 7.2
AFC West Denver Broncos Preview 2019 – Projection
Denver Broncos Third in AFC West
LINKS