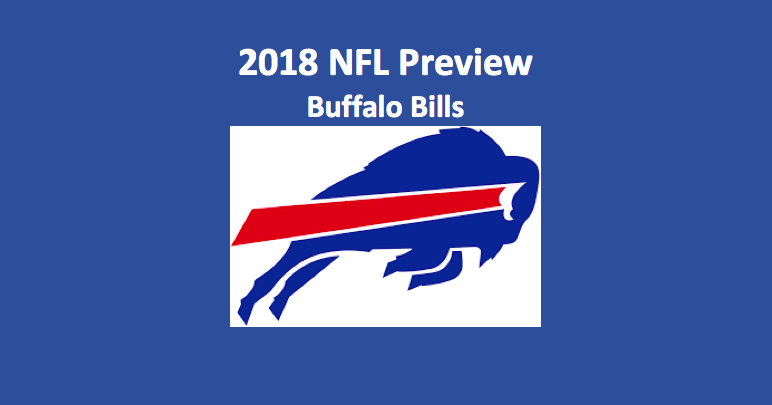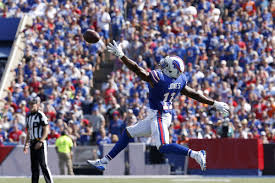 For the first time since 2014, the Buffalo Bills (9-7) posted a winning record. That 9-7 mark was identical to their 2014 record. The big difference was last season, AFC East Buffalo actually made it into the playoffs as a wild card. In their first game, they met and lost to Jacksonville 10-7. Our 2018 Buffalo Bills NFL betting preview is hopeful that this team can once again make it back into the postseason. However, there are no free passes in the NFL, and we see some real roadblocks in their way.
Offense
The Bills had the 31st ranked passing offense last year. They averaged just 176.6 YPG. But their rush attack, which was good for 126.1 YPG, was ranked sixth. The team placed 22nd in PPG with 18.9, and they were 29th in total yards (302.6 YPG). They had a solid third-down conversion rate of 42% (T-6th NFL), but Buffalo struggled in protecting the QB. The Bills allowed a total of 47 sacks, tying them for 24th.
Quarterbacks and Running Backs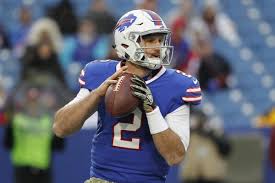 Consistency at quarterback would help. After a rough start last year, Nathan Peterman returns for a second season. Also on-hand is A.J. McCarron, who is in his fifth NFL season. Our 2018 Buffalo Bills NFL betting preview finds that this team is very high on rookie QB Josh Allen. Allen, from Wyoming, could be the franchise signal caller that this team has been searching for. However, at this point in time, the signal calling spot is in transition mode. That makes the offense very dicey.
Receivers and Tight Ends
LeSean McCoy (287 ATT, 1,138 YDs, 4.0 YPA, 6 TDS) is a magnificent rusher and a fine pass receiver. He led the team in both areas last season, as along with his rushing stats, he caught 59 passes for 448 yards and two scores. McCoy turns 30 this season, which is often the time running backs start to decline. However, he's still a massive offensive weapon. Explosive and powerful Chris Ivory will handle short yardage situations, while FB Patrick DiMarco, who joined the team last season as a free agent, may become an impact player in 2018.
Offensive Line
Two quality players, center Eric Wood and left guard Richie Incognito, retired unexpectedly, leaving some big holes in the O-line. Free agent Russell Bodine, formerly with the Bengals, will attempt to fill the center spot. Now in his fifth pro season, the versatile Ryan Groy will take up Incognito's place. Tackle Dion Dawkins did good enough in his first season to earn that starting spot, while Jordan Mills takes on the other tackle position. This group is a notch down from last year's. Plus, they could use more depth.
Defense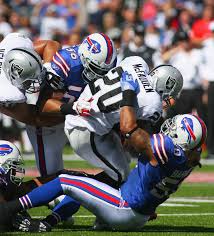 The best parts of the Bill D had to do with their turnover differential, as they were seventh at plus-nine, and their picks, as they grabbed 18 interceptions, which tied them for sixth in the league. Buffalo allowed 355.1 total yards of offense, which was 29th and 124.6 on the ground, which earned them a ranking of 29th. Passing D was a bit better. The Bills were ranked 20th, as they gave up 230.5 YPG. This is a defense that is looking to show marked improvement in 2018.
Defensive Line
DT Star Lotulelei comes from the Panthers to the Bills as a $50 million free agent. He will anchor the frontline, and it's hoped vastly improve it. Ends Trent Murphy and Jerry Hughes could have an impact on the pass rush. Buffalo notched just 27 QB bring-downs last season, which tied them for 29th in the NFL. Tackle Kyle Williams is back for his 13th season. He took a million dollar pay cut to be a part of the line.
Linebackers
Our 2018 Buffalo Bills NFL betting preview observes that the Bills managed to make a cool deal in this season's draft. After trading up from the 22nd to the 16th overall pick, they snagged Virginia Tech LB Tremaine Edmunds. He'll play the middle, and it's expected the 6-foot-5, 250-pound defender will have an immediate impact. OLB Matt Milano was consistent in his rookie season and earns the start, while veteran OLB Lorenzo Alexander plays his 12th season. Look for him to be an avid pass rusher.
Secondary
The secondary is the best part of this defense. Last season, the Bills started two free-agent safeties, Micah Hyde and Jordan Poyer. Together, they were a formidable duo. Each grabbed five picks. Rookie corner Tre'Davious White, who took in four interceptions, was a defensive-rookie-of-the-year candidate in 2017. Vontae Davis, formerly with Indy and a previous Pro Bowler, will try to come back from groin surgery. He should be a solid addition.
Special Teams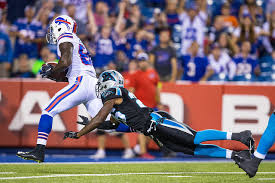 The special teams are a highlight for the Bills. PK Stephen Hauschka connected on seven field goals from 50-plus yards last season. That was an NFL-best. He was also 29-of-29 on extra points. Colton Schmidt's punts have distance, accuracy, and a generous hang time. This
2018 Buffalo Bills NFL betting preview finds that long snapper Reid Ferguson proved to be the real thing in his first season. There's depth in the run back area.
Coaching
Head coach Sean McDermott (9-8 Buffalo and Overall, 0-1 Postseason) had a good debut last season, as the Bills saw some very positive changes. After his first season, McDermott relieved O-C Rick Dennison of his duties and brought in 17-year coaching vet Brian Daboll. There have been other changes in offensive assistants. Hopefully, these moves will make a big difference on that side of the ball. In term of style, during a game, McDermott does not take a lot of chances, and he tends to be less aggressive than most other NFL coaches.
2018 Buffalo Bills NFL Betting Preview: Final Word
Our 2018 Buffalo Bills NFL betting preview actually sees this team as backsliding a bit. The QB situation is uncertain, which makes the entire offensive thrust of this team tenuous. The rushing game should once again be quite good. But losses on the O-line could prove to be this team's undoing. The D offers a fine secondary, but the guys upfront will need to put more pressure on the QB for it to be truly effective.
2018 Buffalo Bills NFL Betting Preview Projection: 5-11 Record 4th AFC East
Unit Ratings
Offense:
QB: 6.5, RB: 8.9, OL: 6.0, WR: 6.8, TE: 6.5
Defense
DL: 7.2, LB: 7.0, DB: 8.0
Special Teams
PK: 8.5, PT: 8.9, RT: 8.0
Other
Coaching: 7.2
Intangibles: Might McDermott suffer a second-season slump?
Overall Rating = 7.4
Links